Fauci Warns Herd Immunity Will Kill People: 'An Unacceptable Pathway'
Dr. Anthony Fauci has said the controversial approach of letting the coronavirus spread in order to achieve so-called herd immunity is an "unacceptable pathway" that will kill people.
The National Institute of Allergy and Infectious Diseases (NIAID) director's comments were followed by a report in The Daily Beast that claimed the Trump administration was basing policy on the idea. The White House has denied the claim.
Top immunologist Fauci was asked to comment on the pro-herd immunity open letter the Great Barrington Declaration, during a recently Q&A session with the editor of JAMA.
Traditionally, the term herd immunity describes using vaccines to protect a big enough chunk of a population from an infectious disease so that it can no longer spread.
However, the term has taken on new meaning in the COVID-19 pandemic. The scientists who authored the Great Barrington Declaration suggest it can be achieved by stopping lockdowns and letting the virus spread, while those most vulnerable are protected.
In a video of the exchange, published on Wednesday, Fauci said: "You know how many deaths you're gonna have before you get there? That's an unacceptable pathway. We get to herd immunity from a vaccine, that's how you get to hurt immunity. Not by letting everybody get infected," said Fauci.
Avoiding lockdowns and protecting the vulnerable are like motherhood and apple pie, Fauci said. However, it is estimated that between 70 to 75 percent of a population would need to get the coronavirus in order for herd immunity to be achieved, he added.
Fauci also highlighted the difficulty of protecting vulnerable people. He said conservative estimates suggest more than 30 percent of the U.S. population is at risk of COVID-19 complications, because they have underlying conditions including diabetes, obesity, high blood pressure, or chronic renal disease, or because they are elderly.
According to the Kaiser Family Foundation non-profit, around four in ten adults (37.6 percent) of over 18s have a higher risk of becoming seriously ill due to COVID-19, amounting to 92.6 million people.
The NIAID director said it may be possible to shield those in nursing homes, but he asked "how are you going to protect the people in society?" Fauci said: "for goodness sakes take a look at the data."
His concerns echo those of Dr. Mike Ryan, executive director of the World Health Organization's (WHO) Health Emergencies Program, who said on Monday that protecting the vulnerable has been the WHO's primary aim since the start of the pandemic, but it is tough as the "vast majority of vulnerable people live amongst us in multi-generational households."
Earlier this month, WHO Director-General Tedros Adhanom Ghebreyesus similarly warned against letting the virus circulate unchecked, partly because previously fit and healthy people have been known to suffer from "long COVID."
Dr. Jay Bhattacharya, professor of medicine at Stanford University, who co-authored The Great Barrington Declaration, told Newsweek: "Dr. Fauci is flatly mistaken, and his comment reflects a failure in thinking creatively about how to protect the population at risk from the virus."
Bhattacharya said lockdowns have "manifestly failed to protect vulnerable people in the U.S. from COVID, with many unnecessary deaths in nursing homes and older 'essential' workers forced to choose between feeding their families and risking viral exposure."
He said lockdowns had caused people to die from conditions unrelated to COVID-19, and said their implementation "will lead in the short and intermediate term to more death and human misery than a focused protection strategy."
White House strategy
Fauci's comments were followed by a Daily Beast report citing three unnamed senior health officials working with the White House coronavirus task force, who claimed that President Donald Trump and his advisers had accepted the notion of herd immunity, and were using it as a basis for policy.
The website reported that Trump administration officials cited the Great Barrington Declaration in a recent call with reporters, and said that "protecting the vulnerable" was its focus as "most people do extraordinary well."
Fauci recently claimed the president has not met with the White House coronavirus task force, of which Fauci is a member, for "several months."
Deputy White House press secretary Sarah Matthews told Newsweek: "The president is routinely briefed about the coronavirus each and every day. The relevant information is brought to him on the big decisions, and then he moves forward in the way that's best for our country."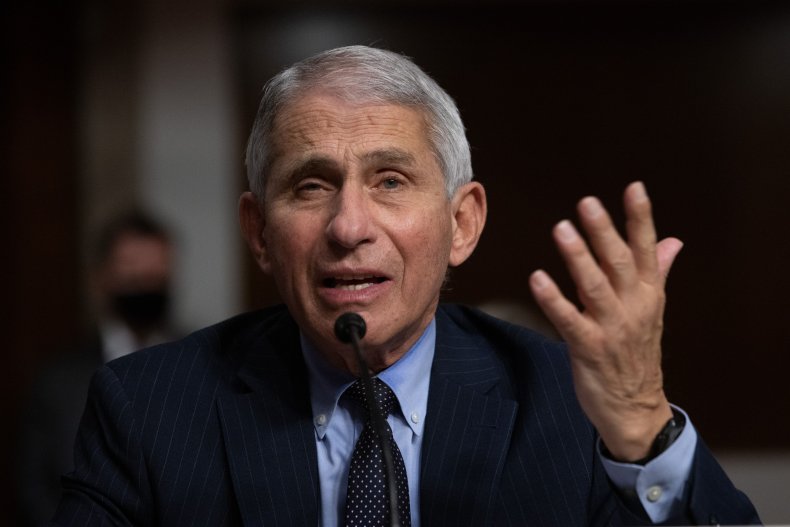 Dr. Scott Atlas, a coronavirus advisor to the White House who does not have expertise in infectious disease or epidemiology, has reportedly pushed the concept of herd immunity to the Trump administration. Atlas has repeatedly denied this claim.
"This is all Atlas," an unnamed health official told The Daily Beast. "I find it disturbing... bordering on ludicrous. Everything that comes out of Atlas' mouth is geared towards letting it rip and then just worry about protecting the vulnerable."
Appearing to refer to the concept in September, Trump said during an ABC News townhall: "you'll develop [...] like a herd mentality it's going to be [...] herd developed and that's going to happen."
The next day, Press Secretary Kayleigh McEnany told a press briefing "herd immunity has never been a strategy here at the White House. The President last night was noting herd immunity is over a period of time."
McEnany also denied that Atlas had proposed herd immunity as a strategy.
Dr. Scott Atlas told Newsweek on Thursday: "the goal is to protect as many people as possible from both the virus and the devastating effects of lockdowns. As we have specifically stated many times on the record and in print, we emphatically deny that the White House, the president, the Administration, or anyone advising the president has pursued or advocated for a wide-open strategy of achieving herd immunity by letting the infection proceed through the community. That has never been advised to the president nor has it ever been part of any policy of the president."
This article has been updated with comment from the White House, Dr. Scott Atlas, and professor Jay Bhattacharya.