Dr. Anthony Fauci, the leading infectious disease expert on President Donald Trump's coronavirus task force, said he was "really confident" that people who recover from the novel coronavirus gain immunity against reinfection.
The National Institute of Allergy and Infectious Diseases (NIAID) director told Comedy Central's The Daily Show with Trevor Noah on Thursday night that he would be "willing to bet anything" on those who recover from COVID-19 being "really protected" against another bout of the virus.
But he also cautioned that there was not "100 percent" certainty on the matter as a full study had not been carried out.
"Do we know yet if getting corona and surviving corona means that you're now immune to the disease, or is there a chance of reinfection?" Daily Show host Trevor Noah asked.
Dr. Fauci responded: "We don't know that for 100 percent certain cause we haven't done the study to see... whether they've been protected.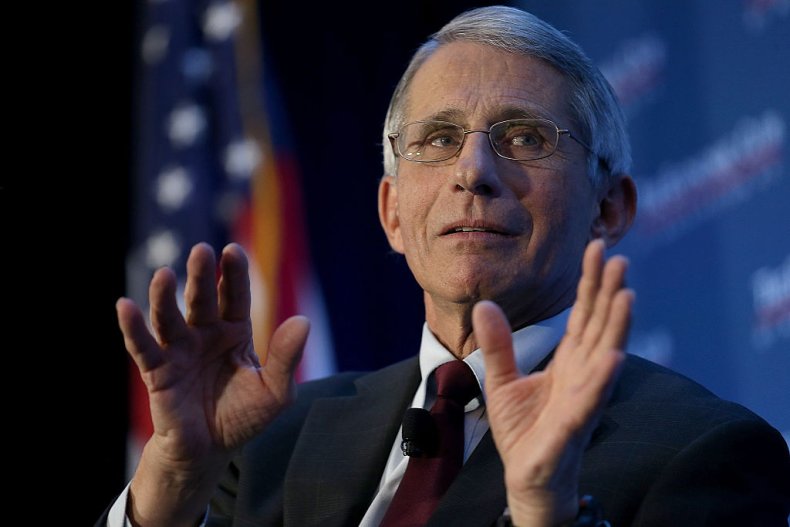 "But I feel really confident that if this virus acts like every other virus that we know, once you get infected, get better, clear the virus, then you'll have immunity that will protect you against re-infection.
"So it's never 100 percent, but I'd be willing to bet anything that people who recover are really protected against re-infection."
Speaking about people trying to use existing anti-viral drugs such as hydroxychloroquine to treat COVID-19, Fauci said: "Right now, today, as we speak, there is no proven safe and effective direct therapy for coronavirus disease.
"There are a number of clinical trials that are trying to, by randomized controlled trials, get a definitive answer as to what works and what does not work, what's safe and what's not safe.
"Superimposed upon that, there are drugs that are already approved for other things, like hydroxychloroquine for malaria and certain autoimmune diseases. There have been anecdotal stories, by anecdotal I mean people kind of think they work, but they haven't really proven they work."
He also cautioned people to be "careful" about taking such drugs as it could cut the supply for people who have the diseases they're used for, and said "there may be some toxicity."
The NIAID director later poured cold water on authorities "arbitrarily" telling people things would be OK in a certain number of weeks.
"It depends on the kinetics of the outbreak. Right now, take New York City, they are getting hit really hard... you can't predict when it will make that turnaround and start coming down."
Newsweek has contacted the NIAID for further comment and will update this article with any response.
Dr. Fauci's remarks contrasted with an announcement by President Trump at a Tuesday briefing. The commander-in-chief said he wanted the U.S. to be "opened up and raring to go" by Easter.
"It's such an important day for other reasons but I'll make it an important day for this too. I'd love to have the country opened up and raring to go by Easter," Trump said.
The president added that America was "not built to shut down" and worried that continued business closures would "destroy" the country.
Dr. Fauci told NPR yesterday that Trump was "flexible" on when the U.S. would resume business as usual, and added that he was not "absolutely wed" to his Easter ambition.