Dr. Anthony Fauci, a member of the White House coronavirus taskforce and one of the country's top infectious disease experts, has said it is "disturbing" that the U.S. is regularly breaking records for new coronavirus cases.
Fauci, the Director of the National Institutes of Allergy and Infectious Diseases, made the comments while speaking to Dr. Howard Bauchner, Editor in Chief of the science journal JAMA.
Bauchner asked Fauci what direction he thinks the country is going in as 49,932 new coronavirus cases were reported on Wednesday, and 642 people died. By Thursday, that figure had risen to 53,000, according to a New York Times database, marking a new daily record for the sixth time in nine days. The U.S. continues to lead the world in confirmed cases, at 2.7 million out of 10.8 million worldwide, according to the Johns Hopkins University tracker.
"I think it's pretty obvious, Howard, that we are not going in the right direction. There are so many conflicting things going on right now."
Fauci said there is, among some, an "all or none phenomenon, where you're either a lockdown or you're just going to say, you know, the devil may care and let it all go." He pointed to people congregating in crowds and going to bars without masks on, and said it was "highly predictable" such areas would get into trouble.
The immunologist went on that the U.S. had experienced a "disturbing" week, with areas in Florida, Arizona, Texas, and California together making up about 50 percent of infections in the entire country. But other locations not seeing substantial surges are also vulnerable, as although the country may be heterogeneous, it is still connected. "The whole enterprise could be at risk," Fauci said.
The country would be in "serious difficulty" if people do adhere to guidelines, he continued.
"Right now if you look at the number of cases, it's quite disturbing. We're setting records practically every day of new cases in the numbers that are reported. That clearly is not the right direction."
Fauci said repeatedly that he did not blame people for their actions, but stated that people were innocently putting the vulnerable at risk, such as immunocompromised cancer patients.
"We have to take some society responsibility, and that's the things that I hope these sobering numbers that were seeing are getting people to be jolted into realizing that not only we have a responsibility to ourselves, we have a societal responsibility to help put an end to this epidemic."
Asked why the ratio of deaths to cases had improved since New York was a hotspot, Fauci said there were three factors at play: that younger people were getting sick; improvements had been made in protecting the elderly; but that there may also be a delay in the number of deaths.
Fauci made the comments after appearing at a Senate Health, Education, Labor and Pensions Committee hearing on Tuesday where he warned that the U.S. could be hit by 100,000 new cases a day.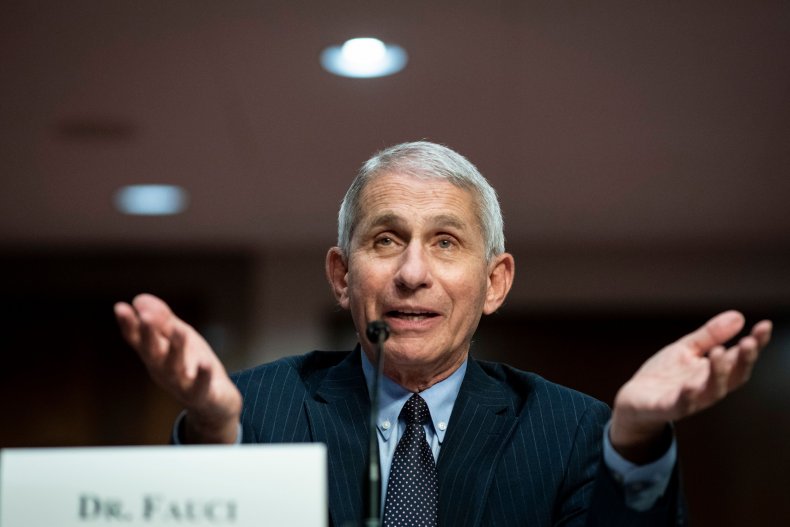 Uncommon Knowledge
Newsweek is committed to challenging conventional wisdom and finding connections in the search for common ground.
Newsweek is committed to challenging conventional wisdom and finding connections in the search for common ground.
About the writer
Kashmira Gander is Deputy Science Editor at Newsweek. Her interests include health, gender, LGBTQIA+ issues, human rights, subcultures, music, and lifestyle. Her work has also been published in the The Independent, The Independent on Sunday, The i Newspaper, the London Evening Standard and International Business Times UK.