Dr. Anthony Fauci said Saturday that President Joe Biden's "strikingly different tone" on the coronavirus pandemic will help the nation rev up vaccination efforts and could pave the way for some normality this fall.
Speaking to MSNBC's Alex Witt, Fauci echoed Biden's promise that the new administration will be more transparent to the American people, and work to fix vaccination flaws rather than "pointing fingers and making blame."
"Instead of pointing fingers and making blame, we're going to try and fix it. So the idea is transparency, and honesty with the American people, and to always make the scientific data and the facts guide," he said.
"That's a different tone, actually that's strikingly different," he said, in comparison to former President Donald Trump's approach.
Fauci went on to explain that Biden's plan to combat COVID-19, which was formally rolled out last Friday, will help the country supply more doses through new community vaccination centers, and a greater use of pharmacies and mobile vaccination units.
"You're going to see a really revving up of the capability and actually the implementation of getting much larger numbers of people vaccinated," he said.
In the first month of his administration, Biden said he would order the Federal Emergency Management Agency (FEMA) to set up community vaccination centers, and the federal government will deploy mobile vaccination units throughout the country—an effort Biden compared to FEMA deployments after natural disasters.
Biden has also promised to open up vaccinations to more priority groups than the Trump administration had recommended, and to release more vaccines when they are available. Ultimately, the president's goal is to get 100 million shots administered in his first 100 days in office.
"Our plan is as clear as it is bold," Biden said on January 15. "This will be one of the most challenging operations ever undertaken by our country, but you have my word, we're gonna manage the hell out of it."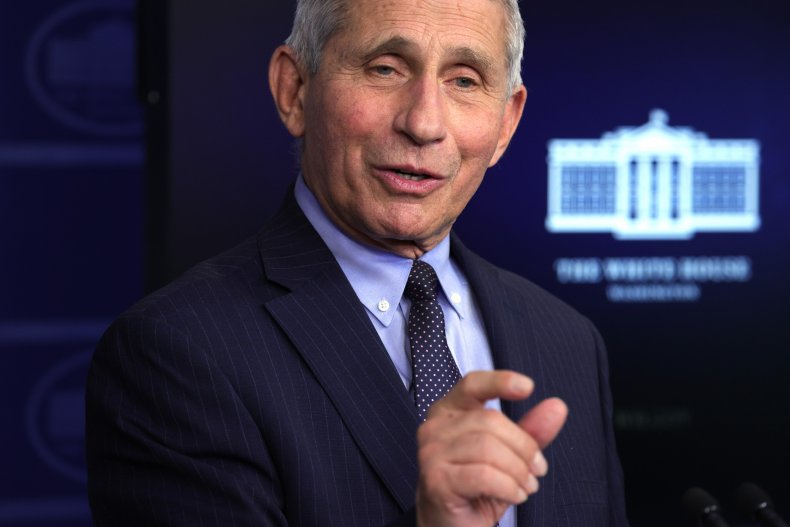 Fauci said Saturday that he believes Biden's approach to let "science speak" could help pave the way for a semblance of normality by the fall.
"I think we can approach a degree of normality as we get into the fall of 2021," he said, noting that it could also depend on how many Americans will be willing to get inoculated in the coming months.
Fauci, who serves as the director of the National Institute of Allergy and Infectious Diseases, had butted heads with Trump a number of times, and has since described working with the new administration to be "somewhat liberating."
He said Saturday that he and other officials working in the Trump administration were often put in "difficult" positions and forced to publicly contradict the president when he would make statements that were misinforming or untrue.
"That is not a comfortable situation. But I had to do it because I felt that the only way that I could maintain, not only my own credibility, but the credibility of the scientific enterprise, was to speak the truth all the time," he said.
On Friday, Fauci told MSNBC's Rachel Maddow that the Trump administration had even blocked him from speaking about the coronavirus pandemic on her show.
"I've been wanting to come on your show for months and months. You've been asking me to come on your show for months and months, and it's just gotten blocked. Let's call it what it is. It just got blocked because they didn't like the way you handle things and they didn't want me on," Fauci said.
Fauci told Witt that it was difficult to "always be wondering" whether or not his statements would please the president or not, and said that Trump's approach was "not the right thing to do."
"[Now] you could tell the truth based on science, based on data, based on evidence, and you wouldn't upset anybody," he said of Biden's administration on Saturday.