Fauci Says End of Pandemic Could Come Soon, But Warns About Current Surge
Dr. Anthony Fauci warned this week about rising COVID-19 cases in some parts of the country, but he maintained that the pandemic could come to an end as soon as next year if more Americans get vaccinated.
Speaking during a Reuters Total Health conference on Tuesday, Fauci said the coronavirus could be downgraded to an endemic—or a level of infection that is so low it would not affect daily life—by the spring of 2022 if enough adults receive a vaccine and booster shot.
"To me if you want to get endemic, you have got to get the level of infection so low that it does not have an impact on society, on your life, on your economy," Fauci said. "People will still get infected. People might still get hospitalized, but the level would be so low that we don't think about it all the time and it doesn't influence what we do."
"Look what other countries are doing now about adopting a booster campaign virtually for everybody. I think if we do that, and we do it in earnest, I think by the spring we can have pretty good control of this," the infectious disease expert added.
However, a day earlier, Fauci also warned that the virus is starting to climb in some areas after stabilizing from this summer's delta surge. On Sunday, the U.S. reported a seven-day average of more than 82,000 new cases, up 11 percent from the week before, according to a CNBC analysis of data.
"The only thing that's a little bit disconcerting is that we're beginning to plateau," Fauci said during a Monday interview hosted by the Bipartisan Policy Center. "In other words, the deceleration of cases is now plateaued, and in some areas of the country, we're starting to see a bit of an uptick."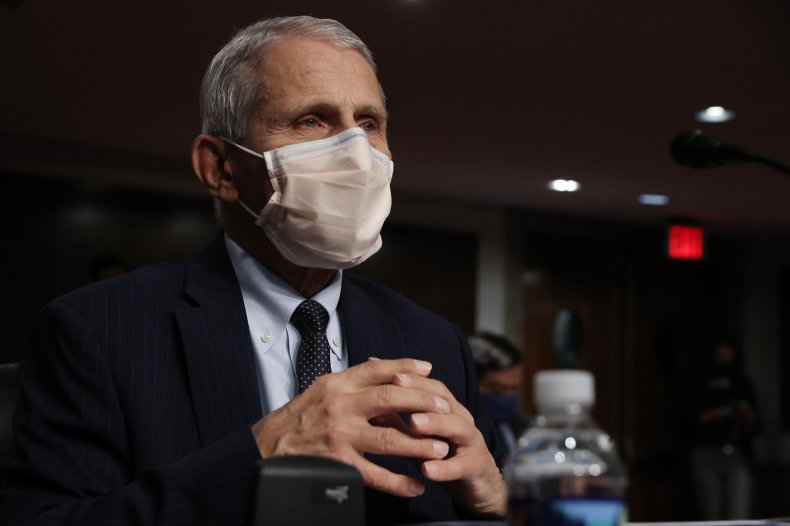 Across the Midwest and Northeast in the past week, average daily cases have jumped by 19 percent and 37 percent respectively, according to Johns Hopkins data. In Minnesota—currently the state with the worst coronavirus outbreak—new positive cases this week have reached pre-vaccine levels.
However, overall hospitalizations and deaths in the U.S. have remained flat in the past week. Currently, about 47,000 patients with the virus are being hospitalized, while roughly 1,150 fatalities are reported each day, according to CNBC.
Fauci added on Monday that the U.S. will have to be careful this winter as more Americans will go inside to socialize in the colder weather. However, the infectious disease expert said that those who have been vaccinated should feel comfortable to gather with loved ones for the upcoming Thanksgiving holiday.
"When you're with your family at home, goodness, enjoy it with your parents, your children, your grandparents," he said. "There's no reason not to do that."
So far, over 68 percent of the U.S. population has received at least one dose of the COVID-19 vaccine, while nearly 59 percent are fully vaccinated, the Centers for Disease Control and Prevention reports.