Fauci Says Trump's Coronavirus Task Force Meetings Claim Testing, PPE Issues Are 'Corrected,' But He Admits They're Not
More than six months after the first coronavirus infection was confirmed in the U.S., the country continues to face shortages in testing and personal protective equipment (PPE). Yet Dr. Anthony Fauci, a key member of the White House's coronavirus task force, said this reality is different from what is communicated at White House meetings about the pandemic.
"We keep hearing when we go to these task force meetings that these [issues] are being corrected," Fauci, director of the National Institute of Allergy and Infectious Diseases, told ABC News in an interview set to broadcast on Tuesday evening. "But yet when you go into the trenches, you still hear about that."
Fauci said that he "cannot explain" the problem and that he does not have a "good answer." However, he pointed out that "many of the things that we needed were not produced in the United States," which was a major part of the problem in the pandemic's early days.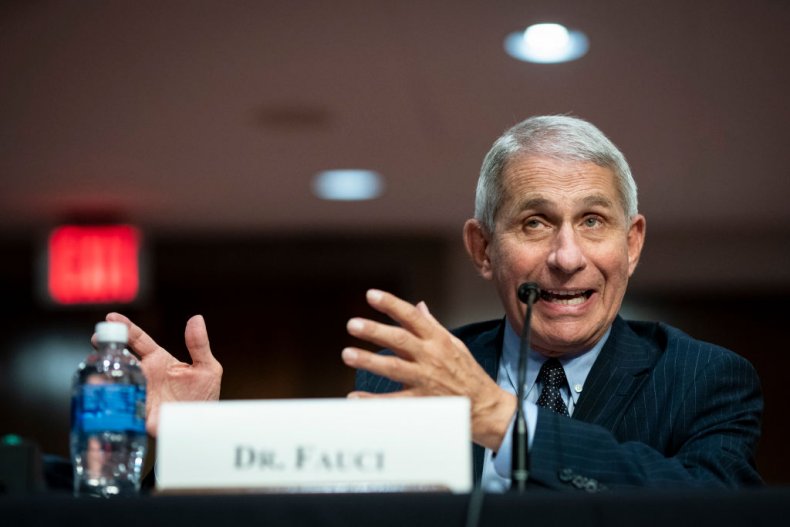 Concerns about testing shortages have plagued the Trump administration since February, when the country struggled to roll out tests. Public health experts have said this lack of testing at the outset of the U.S. outbreak allowed for infections to spread rapidly and remain relatively undetected.
Then, when the pandemic exploded in early hot spots like New York City, officials realized that the country did not have an adequate supply of PPE for medical professionals on the front lines. Now, as new infections surge in states across the country, those concerns from February and March have returned.
Fauci's remarks about testing and PPE appear to be at odds with what President Donald Trump said last Thursday during a White House briefing. The U.S. has significantly increased its testing capacity and is "very strong on supplies," he noted.
"Remember I used to say the cupboards were bare?" Trump asked. "Well, now the cupboards are the opposite."
The president said that "we're doing very well all over the country," even as the numbers of coronavirus cases and new daily deaths continue to surge, particularly in Southern and Western states.
Newsweek reached out to the White House for comment on Fauci's remarks, but it did not respond in time for publication.
More than a week and a half ago, Representative Maxine Waters, a California Democrat who chairs the House Financial Services Committee, wrote a letter to Trump's Cabinet calling on the administration to utilize the Defense Production Act to produce more PPE to address shortages.
"Trump, it's been 11 DAYS since I sent Cabinet a letter asking U to use the Defense Production Act to get more personal protective equipment to our hospitals & clinics so desperately in need of equipment to deal with surge in #Coronavirus infections," Waters tweeted on Sunday.
Earlier this month, Mick Mulvaney, Trump's former acting chief of staff who now serves as the Trump administration's special envoy for Northern Ireland, wrote an op-ed for CNBC warning that there were still problems with coronavirus testing. He admitted, however, that raising concerns about testing was not "popular" within "some Republican circles."
"We still have a testing problem in this country," Mulvaney wrote. "My son was tested recently; we had to wait five to seven days for results. My daughter wanted to get tested before visiting her grandparents, but was told she didn't qualify. That is simply inexcusable at this point in the pandemic."