Fauci Says Vaccinated People Don't Need Masks Outdoors, as CDC Criticized for Exaggerating Outdoor Transmission Rates
Dr. Anthony Fauci, the nation's top infectious disease expert, confirmed that vaccinated people don't need masks outdoors days—after the Centers for Disease Control and Prevention (CDC) was criticized for exaggerating the outdoor transmission rate of COVID-19.
"We gotta make that transition. If you are vaccinated, you don't have to wear a mask outside," Fauci told CBS News' Gayle King on Thursday morning. "We're a very unusual situation. If you are going into a completely crowded situation, where people are falling all over each other, then you wear a mask. But any other time, if you're vaccinated and you're outside, put aside your mask. You don't have to wear it."
His comments come as the nation's health protection agency, which has issued guidelines relating to coronavirus throughout the pandemic, is coming under scrutiny after a New York Times report published Tuesday called the CDC out for releasing misleading figures about infection transmission in outdoor spaces.
Last month, when releasing new masking recommendations, the CDC announced that "less than 10 percent" of COVID-19 transmissions occurred outdoors. However, the Times' David Leonhardt reported that the rate is actually below 1 percent and may be below 0.1 percent, according to multiple epidemiologists.
"Saying that less than 10 percent of Covid transmission occurs outdoors is akin to saying that sharks attack fewer than 20,000 swimmers a year. (The actual worldwide number is around 150.) It's both true and deceiving," Leonhardt wrote.
CDC Director Rochelle Walensky defended the CDC's claim of 10 percent on Tuesday when pressed during a Senate hearing about the report.
"The top line result of all studies included in the systematic review said less than 10 percent of cases are transmitted outdoors," Walensky told GOP Senator Susan Collins, who asked about the benchmark. "It was a published study that synthesized study from many places."
Collins pointed out that conflicting guidance about the risk of COVID-19 transmission has caused the American people to lose trust in the CDC's public health recommendations.
"The conflicting, confusing guidance from your agency has undermined public confidence and contradicts the scientific guidance of many experts," she told Walensky. "I used to have the utmost respect for the guidance from the CDC. I always considered the CDC to be the gold standard. I don't anymore."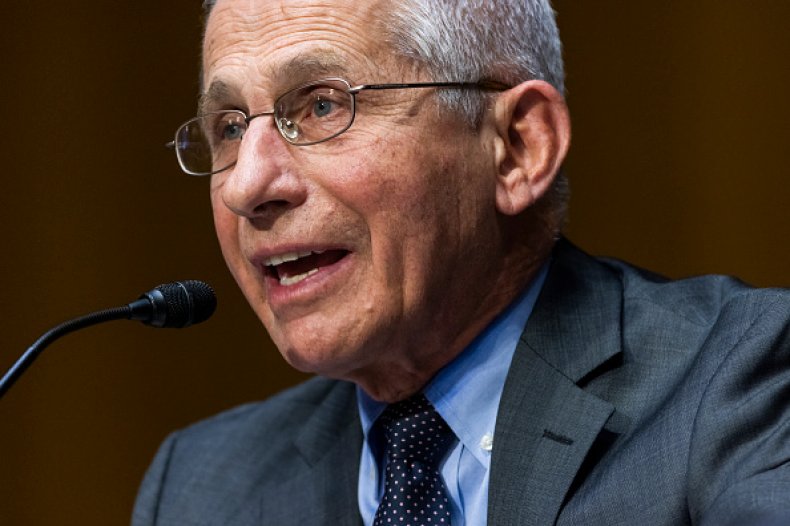 While Fauci's guidance on outdoor masking for vaccinated people follows the recommendations the CDC made last month, the expert has also been critical of other rules released by the agency.
The CDC received heavy pushback from a number of pediatricians when their summer camp guidance stated that masks need to be worn at all times, even by outdoors and by vaccinated adults and children as young as two. The recommendations also instructed kids to remain three feet apart.
Fauci told NBC's Today show co-host Savannah Guthrie that the rules looked "a bit strict, a bit stringent, but that's the reason why [the CDC] keep looking at that and trying to reevaluate literally in real time whether or not that's the practical way to go."
Over the weekend, Fauci suggested that it may be time to not only ease outdoor mask guidance, but also guidance for indoor settings.
"As you get more people vaccinated, the number of cases per day will absolutely go down. We're averaging about 43,000 a day, we've got to get it much, much lower than that. When that gets lower, the risk of any infection indoor or outdoor diminishes dramatically," Fauci told ABC's George Stephanopoulos on Sunday.
Newsweek reached out to the CDC for comment, but did not hear back before publication.