Fauci Thinks White House Realizes Their Attacks on Him Have Backfired, Says It's 'Completely Wrong Nonsense'
Infectious disease specialist Dr. Anthony Fauci responded to the White House's attempts to invalidate his pandemic guidance on Wednesday, calling the efforts "nonsense" and suggesting Trump administration officials have recognized their error.
In interviews with The Atlantic, Fauci, the director of the National Institute of Allergy and Infectious Diseases (NIAID), shared his thoughts on the recent wave of criticism from White House officials. The magazine published Fauci's remarks in a Q&A on Wednesday afternoon.
In it, Fauci said the administration's pushback against his COVID-19 recommendations this week were "bizarre," describing them as "nonsense" and "completely wrong."
"I cannot figure out in my wildest dreams why they would want to do that," Fauci told The Atlantic. His remarks referenced a White House memo that was reportedly leaked to news outlets over the weekend, which questioned the credibility of Fauci's expertise. White House press secretary Kayleigh McEnany denied allegations of "opposition research [about Fauci] being dumped to reporters" during a news briefing on Monday.
"I think they realize now that that was not a prudent thing to do, because it's only reflecting negatively on them," Fauci said in the article, adding: "When the staff lets out something like that and the entire scientific and press community push back on it, it ultimately hurts the president."
His comments came one day after Peter Navarro, President Donald Trump's trade adviser, wrote an op-ed for USA Today that claimed Fauci was "wrong about everything I have interacted with him on." Navarro criticized the NIAID director's approach to COVID-19 management dating back to January, specifically pointing to Fauci's stance on face masks, hyroxychloroquine and the relationship between mortality rates and economic reopening.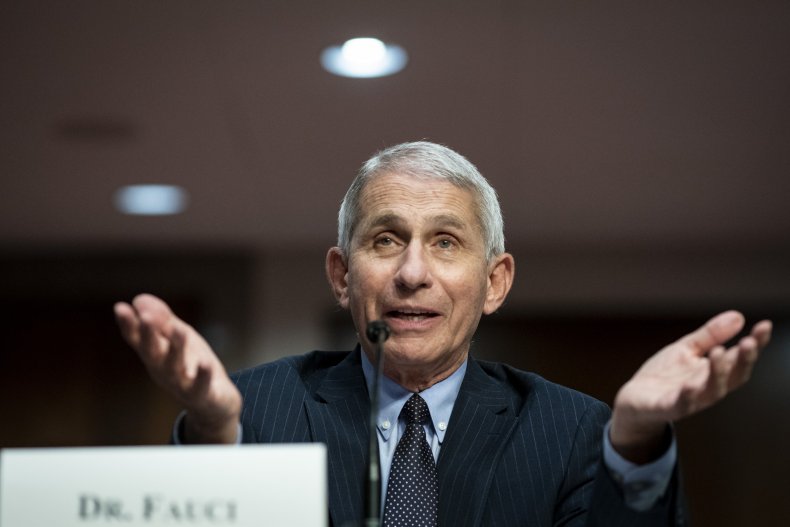 The White House later clarified it did not share all of Navarro's opinions.
"The Peter Navarro op-ed didn't go through normal White House clearance processes and is the opinion of Peter alone," Alyssa Farrah, director of strategic communications at White House, tweeted on Wednesday. "[Donald Trump] values the expertise of the medical professionals advising his Administration."
Fauci has served as NIAID director for more than three decades. Ahead of the coronavirus pandemic, he helped craft the U.S. response to three significant global disease outbreaks. With the onset of COVID-19, he became an integral member of the White House's Coronavirus Task Force, sharing outbreak projections, health data and public safety recommendations for leaders and individuals to manage the virus' spread.
Newsweek reached out to the White House and NIAID for comments but did not receive replies in time for publication.