Anthony Fauci has said that the spread of a more highly transmissible coronavirus variant in the United States should be a "clarion call" for Americans to get vaccinated and "double down" on following public health guidance.
The director of the National Institute of Allergy and Infectious Diseases, who will serve as President-elect Joe Biden's Chief Medical Adviser on COVID-19, was referring to a variant of the novel coronavirus—dubbed B.1.1.7—first detected in the U.K. toward the end of last year that has now been identified in more than a dozen U.S. states.
Scientists think that the new variant could be around 50 percent more transmissible than the original, although it does not appear to cause more severe disease.
Fauci told NBC's Meet The Press on Sunday: "When you have a variant that's really very, very different in the sense of it's more contagious, it tells you to do two things: One, double down on the public health measures that we've been talking about all the time."
These public health measures include mask-wearing, social distancing and avoiding large gatherings of people.
"But also another important thing, the easiest way to evade this negative effect of these new isolates is... when the vaccine becomes available, people should get vaccinated—boy, if ever there was a clarion call for people to put aside vaccine hesitancy. If we can get the overwhelming majority of the population vaccinated, we'd be in very good shape and could beat even the mutant," Fauci said.
On Friday the CDC published a report suggesting that the new U.K. variant is likely to experience "rapid growth" in early 2021, becoming the dominant one in the United States by March.
The report said increased transmission of the SARS-CoV-2 virus might "threaten" strained health care resources, require "extended and more rigorous implementation of public health strategies" and increase the percentage of population immunity needed to control the pandemic.
"Taking measures to reduce transmission now can lessen the potential impact of B.1.1.7 and allow critical time to increase vaccination coverage," the report said.
Fauci told NBC that Americans shouldn't "panic" over the new variant but said authorities were treating the issue "really very seriously."
"Obviously, the Brits have made it very clear that it's more contagious. They say that it isn't more virulent but we've got to be careful," he said.
"Because the more cases you get, even though on a one to one basis, it's not more virulent—meaning it doesn't make you more sick or more likely to die—just by numbers alone, the more cases you have, the more hospitalizations you're going to have. And the more hospitalizations you have, the more deaths you're going to have."
Fauci said that experts were also looking "carefully" at whether or not the new strain will reduce the effectiveness of COVID-19 vaccines.
"If it does, then we're going to have to make some modifications. But we're all over that. We're looking at that really, very carefully," he said.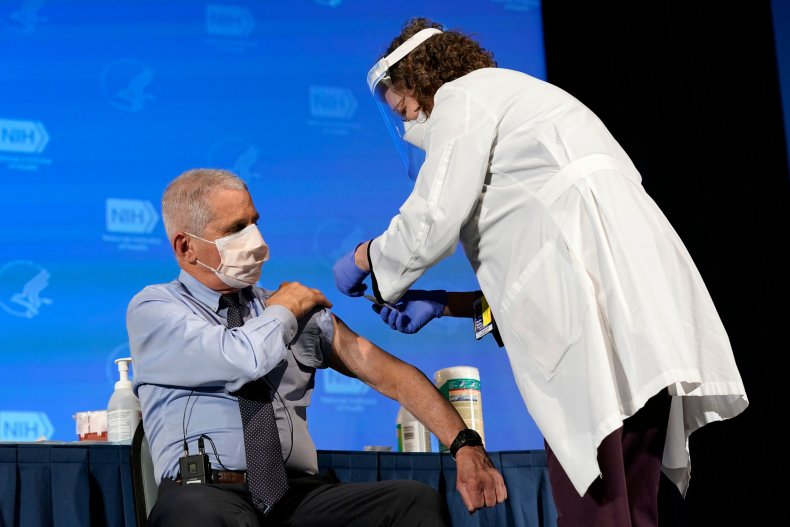 Uncommon Knowledge
Newsweek is committed to challenging conventional wisdom and finding connections in the search for common ground.
Newsweek is committed to challenging conventional wisdom and finding connections in the search for common ground.
About the writer
Aristos is a Newsweek science reporter with the London, U.K., bureau. He reports on science and health topics, including; animal, mental health, and psychology-related stories. Aristos joined Newsweek in 2018 from IBTimes UK and had previously worked at The World Weekly. He is a graduate of the University of Nottingham and City University, London. Languages: English. You can get in touch with Aristos by emailing a.georgiou@newsweek.com.