Fauci Says U.S. Is Not 'Doing Great' in Tackling Coronavirus Pandemic
Dr. Anthony Fauci, the government's top infectious disease expert, has said the U.S. response to the COVID-19 pandemic does not compare favourably to the rest of the world, in a podcast interview.
Fauci, who heads the National Institute of Allergy and Infectious Diseases (NIAID,) said some parts of the country, such as New York, are "doing really well" and had the situation "under control." However, this did not apply to the nation as a whole.
"As a country, when you compare us to other countries, I don't think you can say we're doing great. I mean, we're just not," Fauci told FiveThirtyEight's PODCAST-19.
Currently, the country is seeing a surge in the number of infections, with more than 64,000 new cases reported on Thursday—a record high—with western and southern states, such as Arizona, California, Florida and Texas particularly hard-hit.
asked why there had been a significant spike in some states, Fauci said it could be a mix of politicians not following reopening guidelines and some citizens not adhering to public health measures.
"It is both. I mean, it's not a unidimensional thing. It's complicated," he said. "There are some governors and mayors that did it perfectly correctly...They wanted to open up, so they went through the guidelines of opening up their state. But what happened is that many of the citizenry, said, 'You know, well, I'm either going to be locked down or I'm going to let it all rip.'
"And you could see from just looking, documented on TV and in the papers of still photos of people at bars and congregations, which are a perfect setup, particularly if you don't have a mask. Then there are some times when despite the guidelines and the recommendations to open up carefully and prudently, some states skipped over those and just opened up too quickly."
In an another interview set to air on Friday at 2 p.m. ET on SiriusXM's Doctor Radio—which has partnered with NYU Langone Health—Fauci said people should not be concerned about a second wave of the virus because the first wave has yet to subside in the U.S.:"I keep telling people, what are you talking about a second wave? We are actually knee-deep in the first wave. We've never really gotten out of it if you look at the numbers as a country.
"Again the thing that confuses people, not only in our own country, but throughout the world, we have a very large country, and it is very heterogeneous. The New York metropolitan area is very, very different from Casper, Wyoming or a town in Montana or a city in the Southwest. So things happen at different paces and different things really evolve."
Fauci said partisanship in America could be making the response to the virus more difficult. The issue of wearing masks, in particular, has become controversial in the past months, with some people refusing to use them.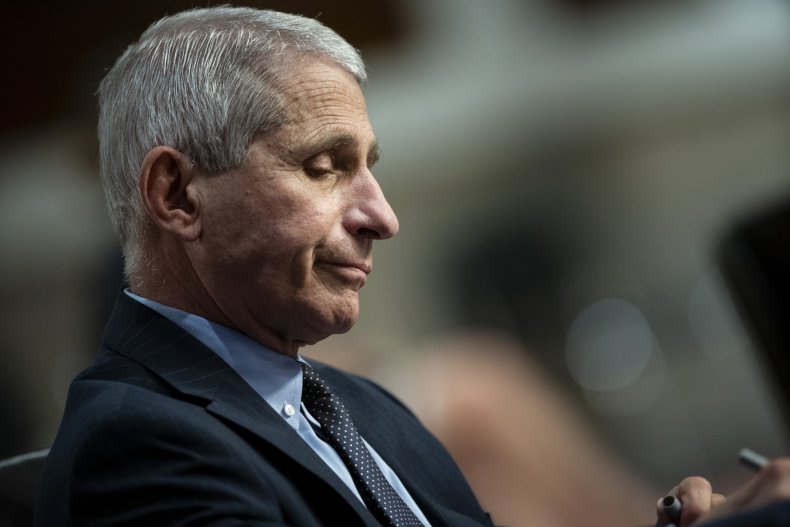 "You have to be having blindfolders on and covering your ears to think that we don't live in a very divisive society now, from a political standpoint," he told FiveThirtyEight. "I mean, it's just unfortunate, but it is what it is. And you know, from experience historically, that when you don't have unanimity in an approach to something, you're not as effective in how you handle it. So I think you'd have to make the assumption that if there wasn't such divisiveness, that we would have a more coordinated approach."
Fauci said it would likely be difficult to keep the virus under permanent, sustained, control without a vaccine because the pathogen is "spectacularly efficient" at transmitting from person to person.
On Wednesday, the infectious disease experts told a virtual United Nations event he is cautiously optimistic that a COVID-19 vaccine with some level of effectiveness will be ready by the end of 2020 or early 2021.
There are currently around 160 vaccine candidates being investigated around the world by several groups, with 21 of these in various stages of human clinical trials.
"The early data on these trials have a cautious optimism that we will be successful at least in developing a vaccine with some degree of efficacy by the end of the year, the beginning of 2021," he said.