Fauci 'Very Concerned' Sturgis Rally Will Lead to COVID Surge as Delta Variant Spreads
Anthony Fauci, director of the National Institute of Allergy and Infectious Diseases, said Sunday he's "very concerned" that the annual Sturgis Motorcycle Rally in South Dakota will lead to a new surge in COVID infections.
The rally kicked off Friday in South Dakota's Black Hills and is expected to attract roughly 700,000 people for a 10-day event geared toward motorcycle enthusiasts. But as the highly contagious Delta variant continues to spread across the country, Fauci and other public health officials are sounding the alarm that the rally could cause a massive new outbreak.
"I'm very concerned that we're going to see another surge related to that rally," Fauci said Sunday on NBC's Meet the Press.
"It's understandable that people want to do the kinds of things they want to do, they want the freedom to do that. But there comes a time when you're dealing with a public health crisis that could involve you, your family, and everybody else—that something supersedes that need to do exactly what you want to do," Fauci added.
A team of researchers from the Centers for Disease Control and Prevention (CDC) said last year's Sturgis rally resulted in a "super spreader event" after more than 460 attendees became infected with COVID-19.
Now, public health officials and some local residents worry that that the rally will again lead to a surge in cases. Just days before the event kicked off, South Dakota reported a 68 percent rise in COVID cases, largely due to the Delta variant. Furthermore, only about 46 percent of adults who live in the county that hosts the Sturgis rally are fully vaccinated, according to the CDC.
Regardless, several rally attendees this weekend said they are not concerned with the risk of infection.
"We're out in the wide open," Pam Williamson, an attendee from Kansas, told the Associated Press. "It's just nice to see everybody out and about, being able to just be friends with everybody." Others told the news outlet that they went to the rally to "live free" and said they will not allow the pandemic to prevent them from having fun.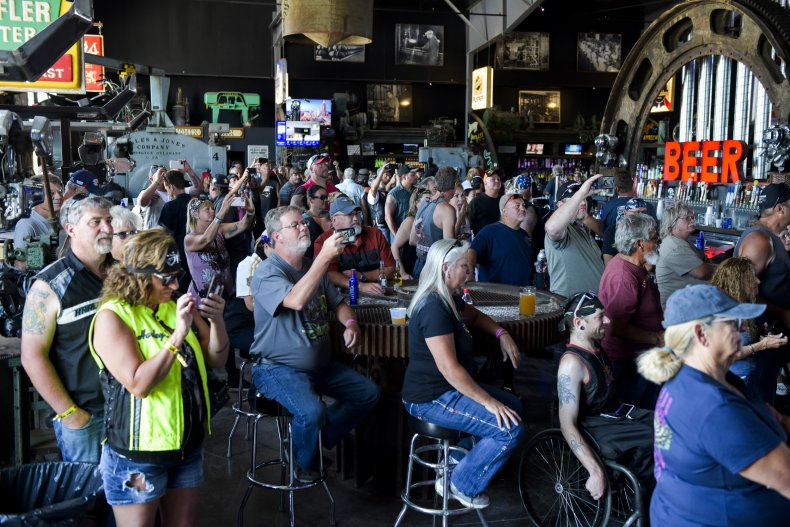 There are no vaccine or mask requirements to attend the rally, but officials state the event offers access to coronavirus tests, face masks and hand sanitizer stations, in addition to doses of the Johnson & Johnson COVID-19 vaccine. The city is also allowing attendees to drink on public property, in the hopes of preventing indoor crowding.
But as hundreds of thousands of people gathered for the event this weekend, Fauci warned that the U.S. needs to "get this pandemic under control before we start acting like nothing is going on."
"Something bad is going on and we've got to realize that," he added.
According to data from Johns Hopkins University, the U.S. is averaging more than 100,000 new daily COVID-19 cases each day, which is the highest its been in nearly six months. By Friday, more than 63,250 coronavirus patients were in U.S. hospitals, a number that has been increasing since late June.
Earlier this week, Fauci predicted that by the fall, there will be up to 200,000 new daily COVID-19 cases driven by the Delta variant.
"What we're seeing, because of this increase in transmissibility, and because we have about 93 million people in this country who are eligible to get vaccinated who don't get vaccinated—that you have a significant pool of vulnerable people," Fauci said. "And so when you look at the curve of acceleration of seven-day averages of cases per day, it is going up in a very steep fashion."
According to data from the CDC, 50.1 percent of all Americans are fully vaccinated, while 70.8 percent of adults have received at least one dose.