Fauci Warns 'Don't Spike the Ball on the 5-Yard Line' as COVID Restrictions Eased
Dr. Anthony Fauci cautioned against loosening COVID-19 restrictions prematurely in new interview comments, which acknowledged the potential for an oncoming resurgence of virus cases if continued mitigation measures are not observed.
"You know that metaphor that people say, 'If you're going for a touchdown, don't spike the ball at the 5-yard line. Wait until you get into the end zone,'" Fauci told NBC News' Chuck Todd during an appearance on the network's Meet the Press program Sunday morning.
Noting the inclination to lift public health orders aimed at curbing transmission of the respiratory disease, in response to a general downturn in daily diagnoses, the expert warned, "We're not in the end zone yet."
Fauci, the longtime director of the National Institute of Allergy and Infectious Diseases (NIAID) and President Joe Biden's chief medical adviser, urged state leaders and members of the public to practice vigilance as the U.S. vaccination initiative forges ahead.
Biden announced plans last week to expand vaccine eligibility so that all Americans meet criteria for immunization by May 1. His deadline should put the nation on track to return to some semblance of normalcy, hopefully, by early July.
In the interim, Fauci underscored that another spike in COVID-19 infections remains possible, especially given the emergence of variant strains. The leading health official told Todd that he is less concerned about production issues thwarting Biden's vaccination timeline than he is about the likelihood of an uptick in cases.
"In the last couple of weeks, we've had a plateauing of infections," Fauci said, referencing the generally stagnant daily case numbers reported nationwide over the past month, following a steep decline throughout the month prior.
The U.S. is currently averaging about 60,000 new infections per day, a level that Fauci believes could precede another serious outbreak if mitigation guidance is dismissed.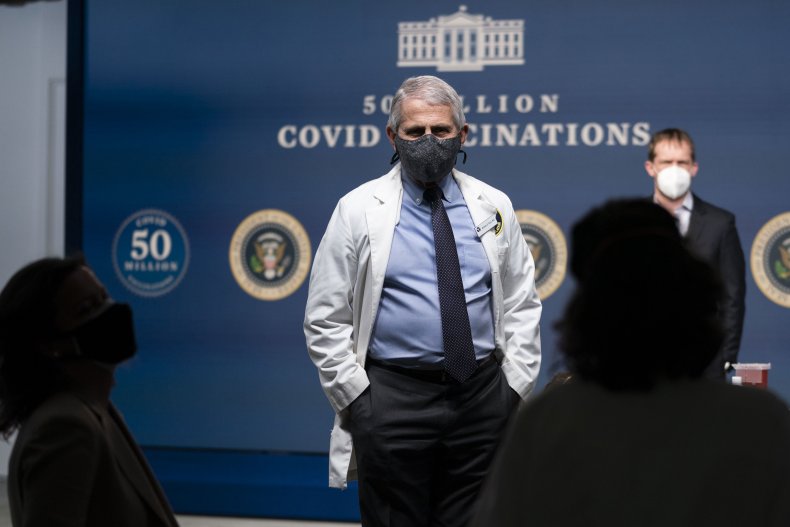 "That's why I get so anxious when I hear, pulling back completely on public health measures, like saying 'no more masks, no nothing'...I mean, that is a risky business when you do that," he added, as states begin to lift previous restrictions. Iowa, Mississippi, Montana, North Dakota and Texas have already repealed their respective statewide mask mandates—while others, like Florida, are pushing to roll back regulations.
Newsweek, in partnership with NewsGuard, is dedicated to providing accurate and verifiable vaccine and health information. With NewsGuard's HealthGuard browser extension, users can verify if a website is a trustworthy source of health information. Visit the Newsweek VaxFacts website to learn more and to download the HealthGuard browser extension.