Tfue Update:
Tfue has been banned once more, right after hitting a 30,000 subscriber milestone on Twitch.
It's unclear as to why the streamer was banned currently, though some online believe it be a hack or in response to a feud with fellow streamer NotVivid. Either way, Tfue will be releasing a video explaining his situation, like he's done before.
Full Story:
Turner "FaZe Tfue" Kenny has been banned from Twitch for 30 days for using a racial slur in reference to another player while playing Fortnite on stream. The clip has since been shared thousands of times online, with the post hitting the top of the livestreamfails subreddit.
In the clip, Tfue is fighting in close quarters with a player, building a floor to dodge incoming fire. "Where did this coon go?" Tfue asks, jumping through the floor of a dilapidated building.
In a later video, embedded below, Tfue claims his opponent's camo-covered Havoc Twitch Prime skin looked like a raccoon. "The guy was playing like a snake, like a raccoon," he says in an attempt to justify his actions. "I didn't mean to say it in a racist way, I'm sorry if I offended anyone." He adds that a Twitch representative contacted him, informing him the ban was for saying the word targeted at a "black character."
In the video, Tfue keeps saying the slur, as if to push the point that he wasn't intentionally using it in a racist way and was unaware that the term could be used as anything other than a nickname for the small, furry animal. In the ultimate bit of cluelessness, he insists that "Slipstream, one of my mods who's black" knew he wasn't racist.
When reached for comment, Twitch told Newsweek the platform doesn't issue statements about individual bans.
Being banned from Twitch isn't going to stop Tfue's upload schedule on YouTube. He still plans to post daily content, mostly Fortnite clips, tips and tricks alongside the rest of the members of FaZe Clan. Tfue is currently playing in Keemstar's "Friday Fortnite" tournament, alongside dozens of other popular content creators. His teammate, FaZe Cloak, will not be streaming their games for fear of getting banned himself. During his finals match against Ninja, Tfue was wearing the "Recon" skin.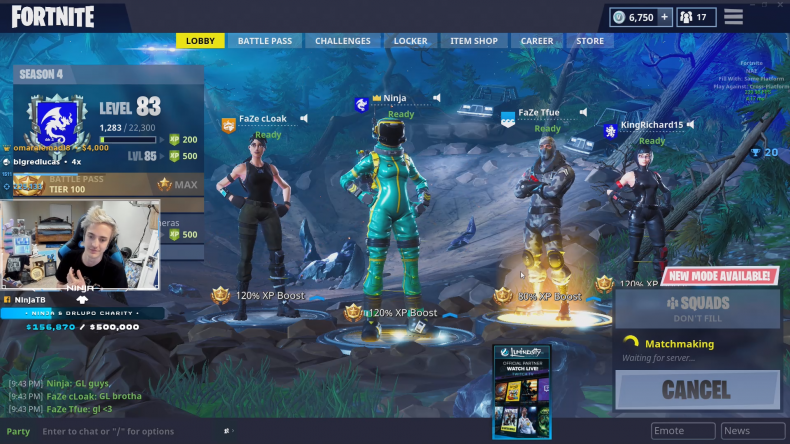 The use of racial slurs by Twitch streamers is a growing problem. Pewdiepie and Ninja, two of the largest content creators on YouTube and Twitch, have each blurted out the n-word while streaming to tens of thousands of viewers. Gaming culture has wrestled with issues of toxicity for much of its existence, with slurs and trash talk ingrained in the competitive nature of these games. In some instances, players have said things in the heat of the moment that they immediately regretted. But in any case, social media and video platforms need to hold streamers accountable for their actions to prevent the proliferation of hate speech.