FBI Issued Warrant to Apple to Obtain Sen. Richard Burr's iCloud Account as Part of Stock Sales Probe
The FBI obtained a warrant for Sen. Richard Burr's Apple iCloud account as part of a probe into his stock trades, according to the Los Angeles Times.
An unnamed law enforcement official told the Times that FBI agents served Apple with the warrant and got hold of data that was then used as evidence to obtain a second warrant for the North Carolina senator's cellphone.
According to the Times, the FBI seized the Republican lawmaker's cellphone on Wednesday night to assist with a Department of Justice investigation into stock sales Burr made at the start of the novel coronavirus pandemic.
The newspaper also reported that Justice Department investigators were looking at the North Carolina senator's conversations with his stock broker.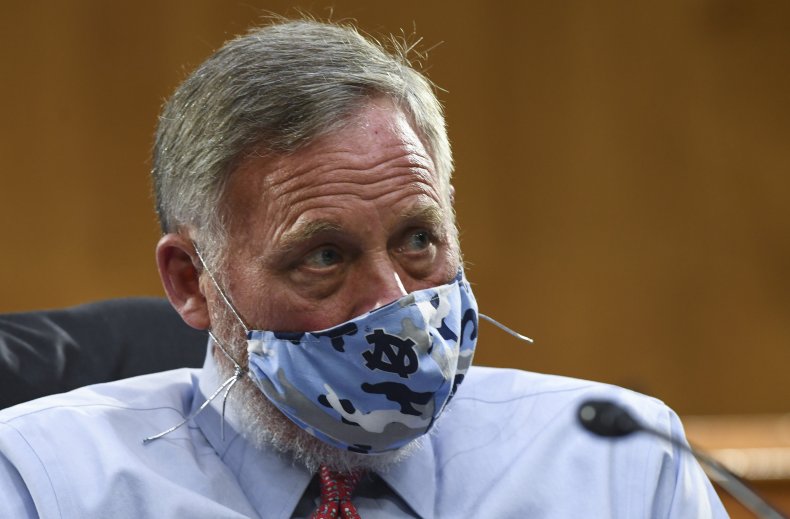 Newsweek has contacted Sen. Richard Burr's office for comment and will update this article with any response. Apple and the FBI have also been contacted for confirmation on the reported warrants against the Republican lawmaker.
In March Sen. Burr had sold between $628,000 and $1.7 million worth of stock in his portfolio on February 13 as he received coronavirus briefings in two Senate committees.
The controversial sales, first reported by ProPublica, took place before the stock market tumbled as the novel coronavirus began spreading across the country.
Sen. Burr's brother-in-law Gerald Fauth also reportedly dumped between $97,000 and $280,000 worth of stock on the same day. Sen. Burr has repeatedly denied any wrongdoing or coordination with his brother-in-law relating to the trades.
The North Carolina Republican also asked the Senate Ethics Committee to open an investigation into his stock trades in mid-March, claiming that he "relied solely on public news reports" when making a decision on the trades.
"I closely followed CNBC's daily health and science reporting out of its Asia bureaus at the time," Burr said in a March statement.
The GOP lawmaker was one of only three senators to oppose the 2012 STOCK Act that bans insider trading by congressional lawmakers. The bill also requires certain transactions to be reported to congressional officials.
A shareholder in Wyndham Hotels and Resorts filed a federal lawsuits against Burr in late March, alleging that the senator had used confidential briefing information to guide stock trades.