Senators Richard Burr and Kelly Loeffler have faced calls to resign after it was revealed that the Republican lawmakers sold off stock holdings before the COVID-19 epidemic crashed markets.
Both of the senators reportedly attended briefings on the novel coronavirus outbreak and publicly sought to calm nerves as they dumped chunks of their portfolios ahead of market turmoil in March.
ProPublica reported on Thursday night that North Carolina Sen. Burr, the Senate Intelligence Committee chairman, sold between $628,000 and $1.7 million worth of stock on February 13.
The stock dump came days after he co-authored a Fox News op-ed claiming the United States was "better prepared than ever before to face emerging public health threats, like the coronavirus."
Following the news of Sen. Burr's stock sell off, the Daily Beast reported that Sen. Loeffler of Georgia recorded a sale of stock on January 24—the day of an all-senators briefing with administration health officials that covered the COVID-19 outbreak.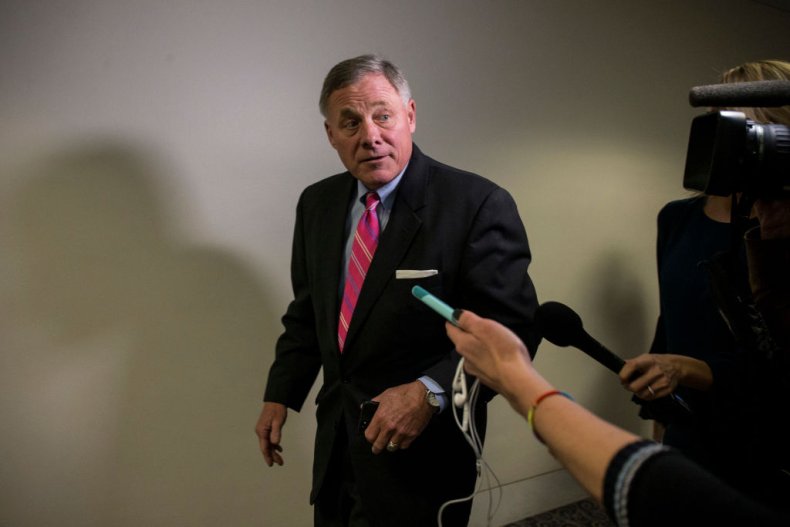 In a Thursday night Twitter post reacting to the news of the stock dumps, former Democratic primary candidate Andrew Yang said: "If you find out about a nation-threatening pandemic and your first move is to adjust your stock portfolio you should probably not be in a job that serves the public interest."
"Burr knew how bad it would be. He told the truth to his wealthy donors, while assuring the public that we were fine," Rep. Alexandria Ocasio-Cortez (D-NY) tweeted on Thursday. "THEN he sold off $1.6 million in stock before the fall. He needs to resign."
The freshman congresswoman also called on Sen. Loeffler to resign over her stock dump in a later tweet.
"Senators Burr and Loeffler should be investigated by authorities and the Senate Ethics Committee," the Obama-era Housing Secretary Julián Castro said. "If the evidence suggests they engaged in insider trading, they should be charged and stand trial."
Preet Bharara, former U.S. Attorney for the Southern District of New York, simply tweeted: "Members of Congress should not own individual stocks, period."
The Republican lawmakers were also hit with criticism from the right, with the Students for Trump Chair Charlie Kirk calling on them to resign and saying: "I don't care if you're Republican or Democrat. If you trade with inside info to enrich yourself during a crisis you are a disgrace."
Fox News host Tucker Carlson also called for Burr to leave office if he had no "honest explanation" for his decision to dump millions in stocks before the COVID-19 pandemic struck markets.
"He had inside information about what could happen to our country, which is now happening. But he didn't warn the public," Carlson said on his show last night.
He later added: "Instead, what did he do? He dumped his shares in hotel stocks so he wouldn't lose money, and then he stayed silent. Now, maybe there's an honest explanation for what he did. If there is, he should share it with the rest of us immediately. Otherwise, he must resign from the Senate and face prosecution for insider trading."
Reacting to a clip of Carlson condemning the senators, the author Matt Stoller said: "Tucker Carlson is calling for an important Republican Senator to be put in jail for #PandemicProfiteering. He's right. And it's not a partisan issue. This behavior is rancid."
At the time of writing, Burr is ninth in the U.S. Twitter trending charts amid criticism of his reported stock sell-off.
Newsweek has contacted the offices of both senators for comment, and will update this article with any response.
In a statement posted on social media over night, Sen. Loeffler said: "This is a ridiculous and baseless attack. I do not make investment decisions for my portfolio. Investment decisions are made by multiple third-party advisors without my or my husband's knowledge or involvement."
Sen. Loeffler also claimed that she was informed of the sales "three weeks after they were made."
"Senator Burr filed a financial disclosure form for personal transactions made several weeks before the U.S. and financial markets showed signs of volatility due to the growing coronavirus outbreak," his spokesperson told ProPublica.
"As the situation continues to evolve daily, he has been deeply concerned by the steep and sudden toll this pandemic is taking on our economy."