Two House Democrats on Monday requested a criminal investigation into a call President Donald Trump made to Georgia Secretary of State Brad Raffensperger over the weekend regarding the state's presidential election results.
The January 2 phone call, audio of which was originally obtained by The Washington Post, featured pleas from the president for Raffensperger to "find" more than 11,000 votes cast for Trump. The specific number of votes Trump requested—11,780—would give him one more vote than President-elect Joe Biden received in the state.
Representatives Ted Lieu of California and Kathleen Rice of New York announced on Monday they sent a criminal referral to FBI Director Christopher Wray in response to the leaked phone call.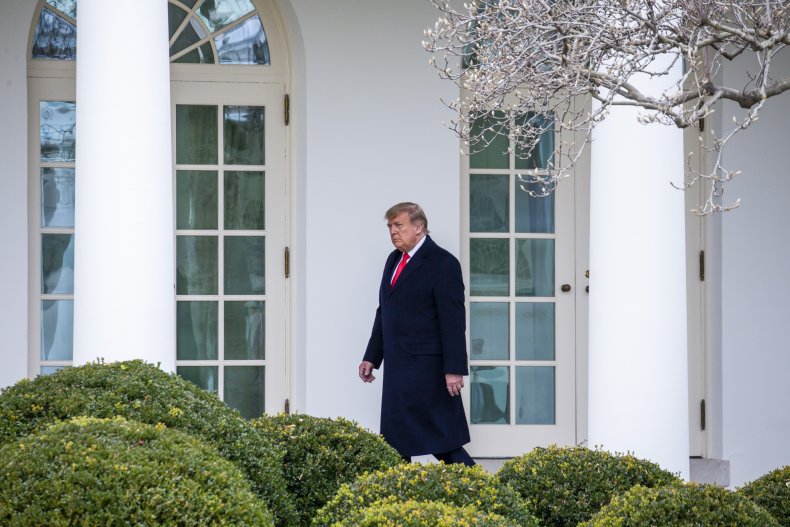 "The President of the United States, in an approximately one-hour-long phone call, threatened and berated Georgia Secretary of State Brad Raffensperger to 'find 11,780 votes' to overturn the President's defeat in the state," Lieu and Rice wrote in their letter to Wray.
"As Members of Congress and former prosecutors, we believe Donald Trump engaged in solicitation of, or conspiracy to commit, a number of election crimes. We ask you to open an immediate criminal investigation into the President," the letter continued.
In the recorded phone call, Trump can be heard referencing allegations of voter fraud, which have been widely debunked, and calling upon Raffensperger to locate enough votes to make up the difference between his vote tally and Biden's.
"I just want to find 11,780 votes, which is one more than we have because we won the state," Trump said at one point during the call.
In response to the president, Raffensperger can be heard citing specific investigations into the Trump team's allegations. Those investigations found a lack of evidence for widespread voter fraud, he said.
"We believe that we do have an accurate election," Raffensperger told the president. Under his direction, election officials in Georgia have conducted multiple recounts, each of which have confirmed Biden's win. The president-elect's victory marks the first time a Democratic presidential candidate has won Georgia since 1992.
In the hours since the audio leaked, some Democrats suggested Trump's behavior necessitated another impeachment inquiry, while Georgia Lieutenant Governor Geoff Duncan, a Republican, told CNN on Monday that he was "disappointed" to hear the content of the call.
In their letter to Wray, Lieu and Rice referenced specific laws they said Trump broke by asking Raffensperger to change the outcome of Georgia's election results. They alleged that Trump solicited and threatened Raffensperger in his effort to overturn Georgia's election results.
"The evidence of election fraud by Mr. Trump is now in broad daylight. The prima facie elements of the above crimes have been met. Given the more than ample factual predicate, we are making a criminal referral to you to open an investigation into Mr. Trump," the letter concluded.
Newsweek reached out to the White House for comment but did not hear back before publication.
This story has been updated with additional information and background.