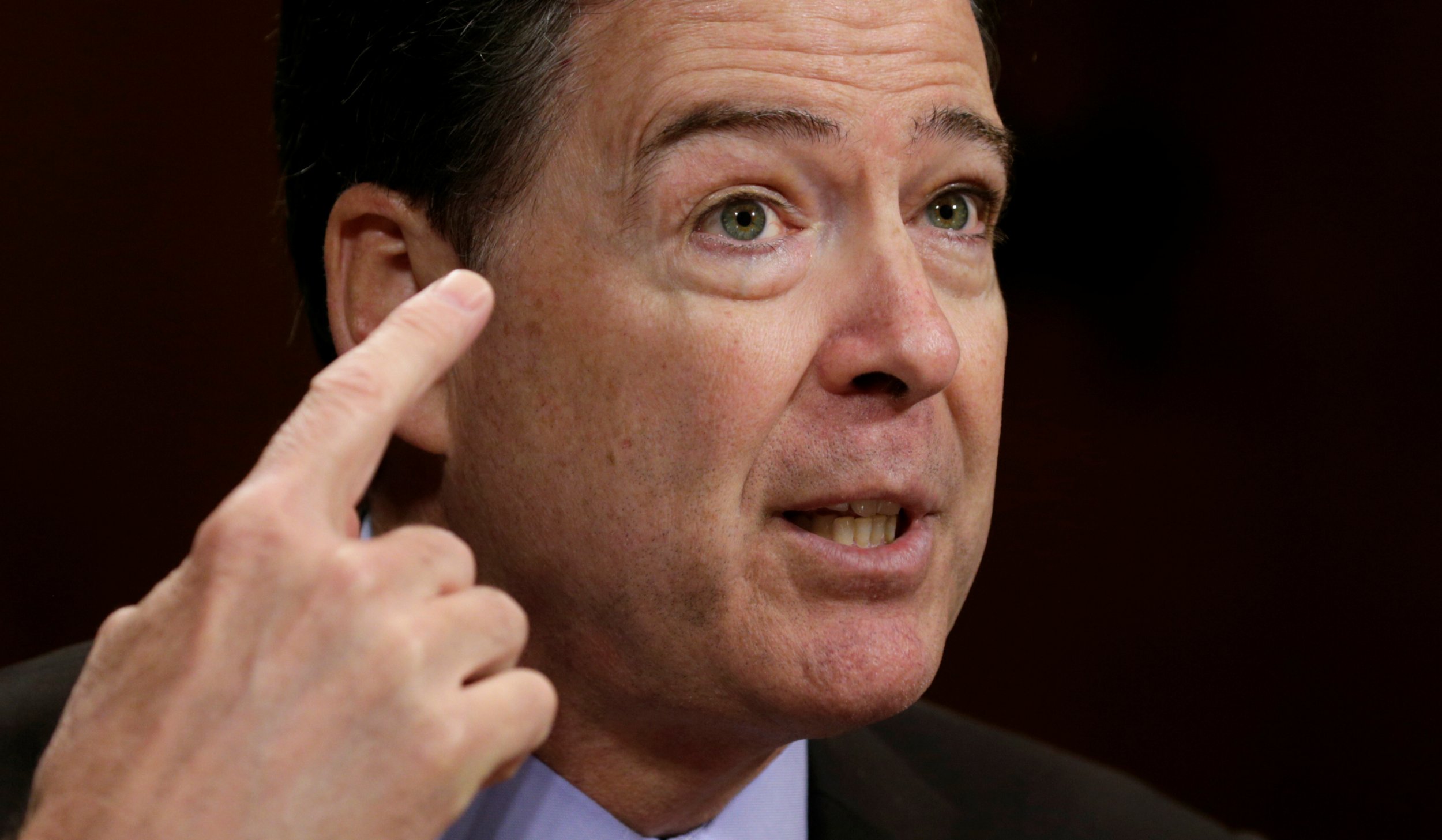 Updated | FBI Director James Comey told lawmakers Wednesday that he stands by his decision to announce new evidence in what had been a completed investigation into the Hillary Clinton emails days before the presidential election, but said the thought that he might have affected the election makes him feel sick.
Comey's October 28 letter to Congress about the Clinton emails prompted widespread criticism, including from former United States Department of Justice officials, who said his decision broke from the agency's rules and norms.
Related: Can Comey escape the Clinton email debacle?
Testifying before the Senate Committee on the Judiciary, Comey explained how on October 27 investigators involved in the emails probe asked to meet with him. They told him they had found "thousands of Secretary Clinton's emails" on former U.S. Representative Anthony Weiner's computer, which investigators had seized in a separate case, "including what they thought might be the missing emails from her first three months as secretary of state," Comey said.
"I faced a choice. And I've lived my entire career by the tradition that if you can possibly avoid it, you avoid any action in the run-up to an election that might have an impact, whether it's a dog catcher election or president of the United States," Comey told the committee. "But I sat there that morning and I could not see a door labeled 'no action here.' I could see two doors, and they were both actions. One was labeled 'speak,' the other was labeled 'conceal.'"
Having repeatedly told Congress that the bureau had finished its investigation, he believed that not alerting the lawmakers about the new potential evidence would be concealment, he said Wednesday. "[To] speak would be really bad—there's an election in 11 days," he said. "[But] concealing, in my view, would be catastrophic, not just to the FBI but well beyond. And honestly, as between really bad and catastrophic, I said to my team, 'We've got to walk into the world of really bad. I've got to tell Congress that we're restarting this.'"
The FBI director went on to tell the Senate committee how he feels now about his decision, which Clinton has repeatedly said she believes helped cost her the election. "This was terrible. It makes me mildly nauseous to think that we might have had some impact on the election. But honestly, I wouldn't change the decision," he said. "Even in hindsight, and this has been one of the world's most painful experiences, I would make the same decision."
Echoing earlier comments, Clinton spoke with CNN's Christiane Amanpour on Monday about Comey, saying his October 28 letter to Congress was among the reasons she believes she lost. "If the election had been on October 27, I would be your president," she said.
President Donald Trump was likely responding to those remarks Tuesday night when he tweeted, "FBI Director Comey was the best thing that ever happened to Hillary Clinton in that he gave her a free pass for many bad deeds."
Referring to Comey's March 20 announcement during a House Permanent Select Committee on Intelligence hearing that the FBI is investigating Russia's tampering with the election and its possible collusion with Trump associates, Trump added: "The phony Trump/Russia story was an excuse used by the Democrats as justification for losing the election. Perhaps Trump just ran a great campaign?"
Trump had previously told Fox Business Network that "it's not too late" to fire Comey.
Comey will continue to have to answer for his handling of the Clinton emails matter; it is under review by the Department of Justice's Office of the Inspector General. Should the inspector general discover that Comey violated department rules or guidelines, the finding would give Trump a reason to call for his resignation.
The FBI director is scheduled to speak before the House Intelligence Committee on May 4 in a closed session about the Russia investigation. He is also scheduled to appear before the Senate Judiciary Committee again, on May 8.
This article has been updated to clarify that it was former Justice Department officials who accused James Comey of breaking from the rules and norms of the agency.