FBI Questions Brett Favre Over Mississippi Welfare Money Amid Water Crisis
Hall of Fame quarterback Brett Favre's lawyer said his client has been questioned by the FBI in a Mississippi welfare fraud case, according to a Thursday report.
The news resulted in online backlash from people criticizing state leaders for giving money to the wealthy quarterback rather than updating the state's aging water system as residents of Jackson continue to reel from the effects of a water crisis.
In 2020, former Mississippi Governor Phil Bryant, a Republican, was accused of paying Favre $1.1 million that was taken from a Temporary Assistance for Needy Families (TANF) program for promotional work, including motivational speeches. (Also implicated in the fraud case was former WWE wrestler Ted DiBiase Jr.) Mississippi Auditor Shad White also accused Favre of never fulfilling the speeches he was paid to give.
Favre has denied being paid for events he didn't attend and is not facing criminal charges. The former football star also paid back the $1.1 million but not $228,000 in interest fees ordered by White.
NBC News reported that Bud Holmes, a lawyer representing Favre, said the former Green Bay Packer legend was questioned by the bureau. Holmes also maintained that Favre did nothing wrong and was not aware the money he received from the state was originally earmarked for poor children.
The revelation of Favre being questioned by the FBI came on the same day Mississippi deployed 600 members of the National Guard to aid water distribution to residents of Jackson, the state's capital. The city continues to struggle with a water crisis after bad weather caused major service interruptions at the local water plant, and residents are advised to not drink the water from the pipes.
Favre was born in Gulfport and later played college football at the University of Southern Mississippi from 1987-90. He was drafted by the Atlanta Falcons in 1991 and was later traded to the Packers where he would go on to win three NFL MVP awards and Super Bowl XXXI.
"At a time when Jackson residents don't have clean water, this is disgusting," Timothy McBride, a health economist and professor at Washington University in St. Louis, Missouri wrote on Twitter. "Mississippi has millions to pay Brett Favre and other pro athletes from welfare money but not money for clean water in #Jackson. Shame on you."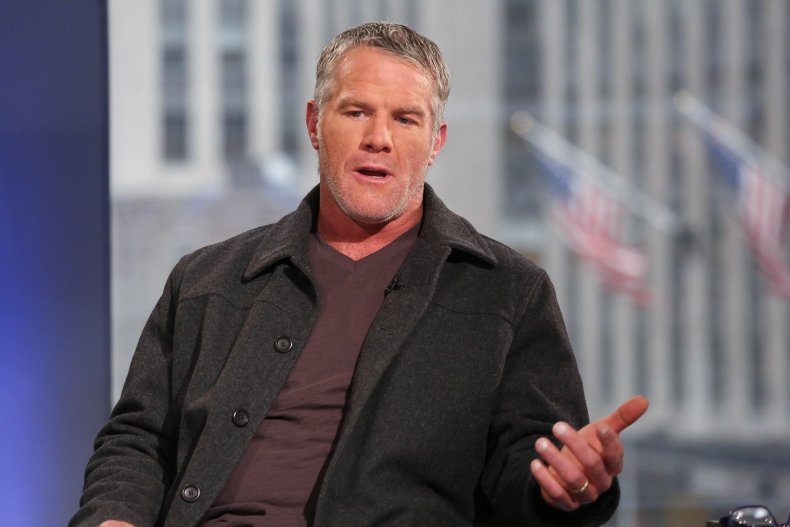 "$70 million in federal welfare funds went to Brett Favre, a volleyball complex, and a former pro wrestler. Meanwhile, the capital currently lacks clean water," Dr. Jacquelyn Gill, a noted paleoecologist, wrote on Twitter. "The GOP aren't the party of fiscal responsibility. They're just racist grifters."
"Mississippi Republicans won't provide clean water for predominately [B]lack Jackson, but they had no problem letting people like Brett Favre, who made $140 million in the NFL, embezzle millions," writer/entrepreneur Adam Best tweeted.
Comedian D.L. Hughley also weighed in on Twitter. He wrote, "Ain't it weird how the state of Mississippi has millions to give #BrettFavre for speeches, but no money to make sure Jackson has a water treatment plant that works?"
Newsweek reached out to Bud Holmes for comment.