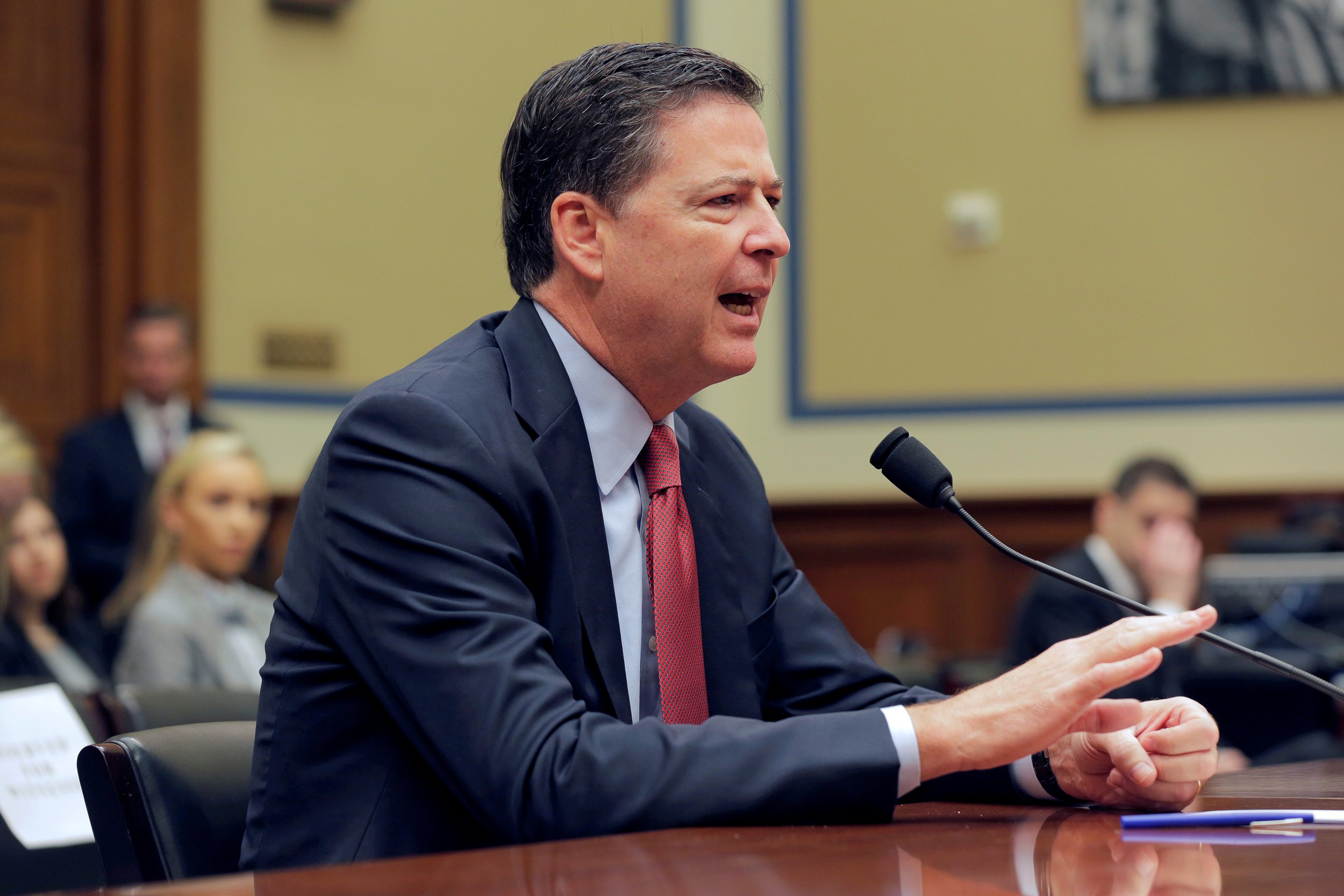 The FBI is standing by its initial decision not to seek charges against Hillary Clinton or members of her team over the handling of a private email server.
FBI Director James Comey informed Congress Sunday that he stands by his prior assessment after the completion of a renewed probe that was sparked by the discovery of potentially thousands of emails on devices owned or handled by key Clinton aide Huma Abedin.
Comey told Congress that the FBI worked "around the clock to process and review a large number of emails" found after FBI agents investigating disgraced Congressman Anthony Weiner's texting scandals came across them while searching devices he owned. "I am very grateful to the professionals at the FBI for doing an extraordinary amount of high-quality work in a short period of time," Comey said, according to Reuters.
Republican Congressman Jason Chaffetz, the chairman of the House Committee on Oversight and Government Reform, tweeted Sunday that Comey informed Congress that, "Based on our review, we have not changed our conclusions that we expressed in July with respect to Sec. Clinton."
Clinton communications director Jennifer Palmieri told reporters aboard Clinton's campaign plan that, "We are glad the matter is resolved," Reuters reported. Trump was at a rally in Minnesota when the news broke, which he didn't mention to the crowd. "Hillary Clinton will be under investigation for a long long time," he said, before chants of "Lock her up!" from the crowd.
House Minority Leader Nancy Pelosi in a statement said she hoped that Comey's announcement would end "this Republican sideshow.
"While the original letter allowed days of innuendo and falsehood by Republicans desperate to divert attention from themselves, the FBI's swift and thorough review should finally close the door on this Republican sideshow. The American people will decide this election on the merits of the candidates—their values and their vision for America. Donald Trump is unfit to be Commander-and-Chief and unworthy of the office of President of the United States."
Critics of Comey's decision to stick by his initial assessement of no criminal wrongdoing were vocal on social media, with many presumptive Trump supporters and Senator Bernie Sanders diehards saying the conclusion is "proof" of corruption. "RT (retweet) if you also think that FBI Director Comey should be impeached for blocking the investigation & abetting a criminal," wrote the "unofficial Twitter" of Tennessee Republicans.
Comey offered lengthy testimony before Chaffetz's congressional committee this summer after concluding his investigation with a media briefing in which he announced that while "there is evidence of potential violations of the statutes regarding the handling of classified information, our judgment is that no reasonable prosecutor would bring such a case." He was cheered and jeered in different quarters for his decision to label Clinton and her aides "extremely careless" in their handling of classified information while she served as secretary of state.
While the email issue was a constant on the campaign trail, it roared back into full focus on October 28, when Comey decided to notify Congress of the existence of newly found emails. The FBI director was roundly criticized for raising the possibility of wrongdoing at a time when the bureau had not yet examined any of the evidence.
Since then, the race between Clinton and Republican Donald Trump has tightened considerably, with Clinton, who very recently held a 5-point-plus lead in polling, ahead of Trump by less than 2 points in the Real Clear Politics average of state and local polls.