FBI to Reveal 'Worldwide Threats' Facing U.S.
The Senate Intelligence Committee is holding a hearing this week featuring top intelligence officials to discuss the greatest global dangers facing the U.S.
This follows the incident of a Chinese surveillance balloon shot down off the coast of South Carolina and other unidentified objects in American airspace.
Senate Intelligence Committee Chairman Mark Warner and Ranking Member Marco Rubio are calling for greater transparency from intelligence agencies and Warner is introducing bipartisan legislation to address foreign threats.
Top intelligence officials will testify about the greatest global dangers facing the U.S. as part of the Senate Intelligence Committee's annual hearing on "Worldwide Threats" this week.
On Wednesday, the nation's highest-ranking security agency officials, including FBI Director Christopher Wray, will appear before the congressional panel to detail the national security concerns posed by countries like China. The public portion of the hearing will begin at 10:00 a.m. ET, followed by a closed session.
Other witnesses slated to testify include Director of National Intelligence Avril Haines, CIA Director William Burns, NSA Director Paul Nakasone and Director of the Defense Intelligence Agency Scott Berrier.
The hearing comes a month after the U.S. shot down a Chinese surveillance balloon off the coast of South Carolina. The incident, along with a string of other unidentified objects that were identified in the days that followed, have prompted calls for greater transparency from lawmakers on both sides of the aisle, including Senate Intelligence Committee Chairman Mark Warner and Ranking Member Marco Rubio.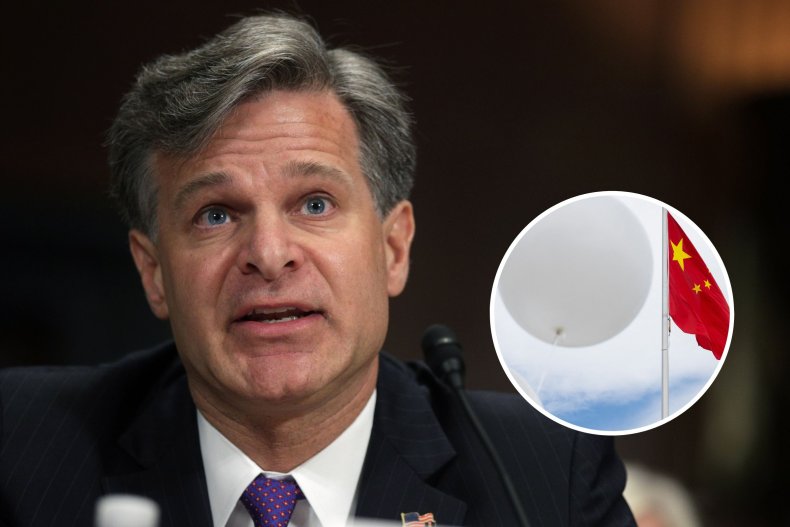 The spy balloon that was detected floating over Montana received national attention and sparked criticism of the Biden administration's decision to delay shooting it down. The revelations that there were more unidentified objects in American air space further raised concerns over public disclosure from intelligence agencies.
Leaving a classified briefing last month, Rubio told reporters that there was "no reason" that "99 percent" of the information that senators were briefed on could not be shared with the American people.
"I think the public needs and deserves to know more," Senator Richard Blumenthal agreed. "A lot of what we've been told are facts that the American people could know and should know, without any harm to our national security."
The Senate Appropriations Committee held a hearing on the Chinese spy balloon back in February, taking testimony from top Pentagon officials, who defended the administration decision to wait for the orb to transit over the U.S. before shooting it down due to the safety risk it would have posed to civilians on the ground.
"We think before we shoot. And in this case, we thought before we shot," Lieutenant General Douglas Sims, the director for operations of the Joint Staff, told senators last month. "Once you shoot, you can't take it back."
On Sunday, Warner told Fox News Sunday that he would also introduce bipartisan legislation addressing foreign threats this week.
"For a long time, the conventional wisdom was the more you bring China into the world order, the more they're going to change, and that assumption was just plain wrong." the Democrat said. "China even changed their laws in 2016 to make it explicitly clear that every company in China, their first obligation is to the Communist Party."
"We have never had a potential adversary like China," Warner said.
The legislation, which is being co-sponsored by GOP Senator John Thune, would propose a systemic framework to banning or prohibiting foreign technology, like TikTok, if necessary.