FBI Seizes Items From Laredo, Texas, Home of Congressman Henry Cuellar
The FBI has seized items from the Laredo, Texas, home of Democratic Representative Henry Cuellar.
Federal vehicles were seen at Cuellar's southeast Texas residence on Wednesday afternoon. Over a dozen FBI agents went in and out of his home, removing "cases and other items." It's unclear whether anyone was at the house when the agents arrived. The agents continued working into the night, according to the regional news publication The Monitor.
While the FBI acknowledged its presence at Cuellar's home, the agency didn't explain what they were doing there. An FBI spokesperson said the agents' presence was part of "an ongoing investigation."
"The FBI was present in the vicinity of Windridge Drive and Estate Drive in Laredo conducting court-authorized law enforcement activity. The FBI cannot provide further comment on an ongoing investigation," FBI spokesperson Roseanne Hughes said.
In a statement, Cuellar's office told The Monitor, "Congressman Cuellar will fully cooperate in any investigation. He is committed to ensuring that justice and the law are upheld."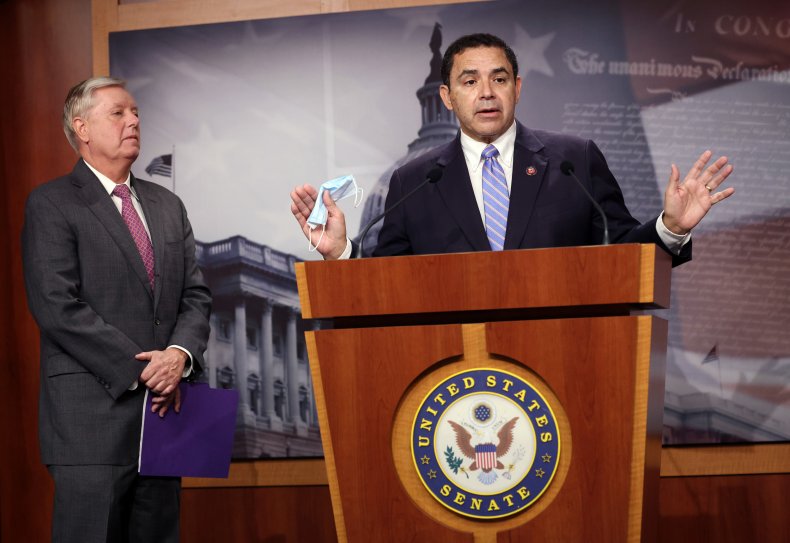 Cuellar was first elected to national office in 2004 after serving as a former Texas state legislator and Texas secretary of state. He currently sits on the House Appropriations Committee, which is responsible for funding of most of the functions of the federal government.
Cuellar has a reputation as one of the most conservative Democrats in the House, according to the San Antonio Express News. He is up for re-election in 2022 and will face immigration and human rights attorney Jessica Cisneros in the Democratic primary for the seat.
In his district, which is 78 percent Hispanic, Cuellar emphasizes his opposition to open borders, pledges to help continue oil and gas jobs and supports money for health care and education.
In the past, Cuellar has warned Democrats about focusing primarily on urban rather than rural voters. He has also long criticized Democratic President Joe Biden's handling of the migrants coming to the southern border.
He said that the Biden administration shouldn't allow undocumented immigrants to stay in the United States. He has also urged Biden and Vice President Kamala Harris to visit the border and speak with local law enforcement, elected officials and business leaders to better understand the local impact of migrants at the border.
In late September 2021, Cuellar was the lone House Democrat to vote against the Women's Health Protection Act, a bill supporting women's rights to choose.
The bill would "protect a person's ability to determine whether to continue or end a pregnancy, and to protect a health care provider's ability to provide abortion services." Democrats sought to pass the bill as the Supreme Court's current conservative lean threatens to undo Roe v. Wade, the landmark 1973 court ruling that legalized abortion nationwide.