FDA Lucky Charms Cereal Probe as Over 2,400 Illnesses Reported
The Food and Drug Administration (FDA) has launched an investigation following more than 2,400 reports made to a consumer website claiming they became ill after eating Lucky Charms cereal.
FDA officials are investigating whether the cereal after thousands of people complained on consumer website iwaspoisoned that they had become ill.
Newsweek found dozens of consumers had complained about having suffered cases of vomiting, diarrhea and nausea, all symptoms of food poisoning.
According to the Associated Press (AP), the FDA said in a Saturday, April 16 statement: "The FDA takes seriously any reports of possible adulteration of a food that may also cause illness or injury."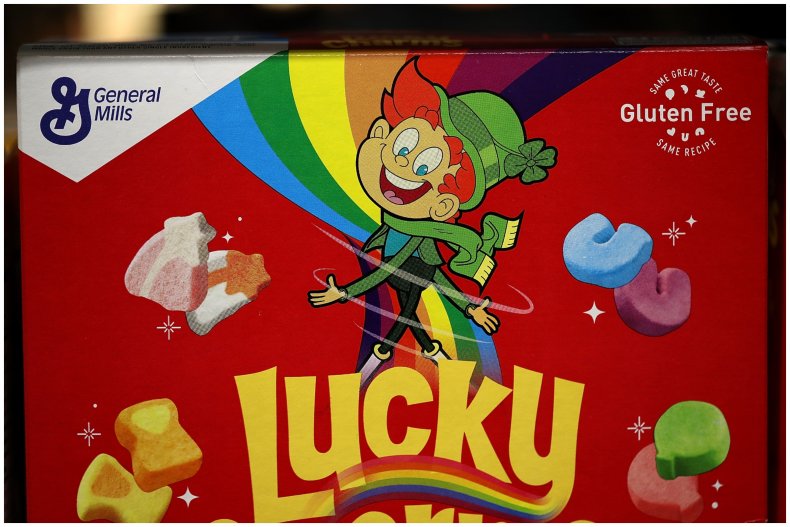 The FDA added it had received more than 100 complaints related to the cereal this year, the news agency reported.
A General Mills Inc spokesperson told Newsweek: Food safety is our top priority. We take the consumer concerns reported via a third-party website very seriously.
"Through our continuing internal investigations, we have not found any evidence of consumer illness linked to the consumption of Lucky Charms.
"We encourage consumers to please share any concerns directly with General Mills to ensure they can be appropriately addressed."
An FDA spokesperson told Newsweek: "The FDA is aware of consumer complaints regarding illnesses associated with Lucky Charms cereal and is currently investigating these complaints. The FDA takes seriously any reports of possible adulteration of a food that may also cause illnesses or injury.
"Complaints of a less serious nature or those that appear to be isolated incidents are monitored and the information may be used during a future inspection of a company to help the FDA identify problem areas in a production plant. The complaints are also discussed with company management during these inspections."
Neither the FDA or General Mills has ordered a recall of the product, according to Fox Business.
The FDA often announces product recall on numerous over fears consumption of them could make people ill.
Earlier this year, the FDA recalled several brands of pancake and waffle mix across 17 states after possible "cable fragments" were found inside them.
Continental Mills issued several recalls that started with two lots of pancake and waffle mix that were sold at Kroger.
The company said in a statement: "Fragments from a cable used to clear the processing line were discovered in a limited amount of product."
Consumption of any contaminated product could result in food poisoning and can have anywhere from mild to serious effects on the body.
The Centers for Disease Control and Prevention (CDC) said it could take hours or days to develop symptoms of food poisoning.
According to the CDC, people who suspect they are suffering from food poisoning should see a doctor if they have the following symptoms.
Bloody diarrhea
High fever (temperature over 102°F, measured in your mouth)
Frequent vomiting that prevents keeping liquids down (which can lead to dehydration)
Signs of dehydration, including little or no urination, a very dry mouth and throat, or feeling dizzy when standing up
Diarrhea that lasts more than 3 days