At least 28 dogs have died and another eight fallen ill after consuming poisonous pet food that is now being urgently recalled by regulators.
The Food and Drug Administration (FDA) is recalling certain Sportmix products after batches were found to contain potentially fatal levels of aflatoxin.
Aflatoxin is a toxin produced by mold that can grow on corn and other grains used as ingredients in pet food.
Symptoms can include sluggishness, loss of appetite, vomiting, jaundice, and diarrhea. Pets may also suffer liver damage but not show symptoms, the FDA said.
Both cat and dog food products are among those being recalled. No cat or human illnesses have been reported, the FDA notes. The items were sold nationally and online.
The names and lot codes, which may be found on the back of the items, of the products being recalled are:
50# Sportmix Energy Plus Lots Exp 03/02/22/05/L2, 03/02/22/05/L3, 03/03/22/05/L2
44# Sportmix Energy Plus Lots 03/02/22/05/L3
50# Sportmix Premium High Energy Lots 03/03/22/05/L3
44# Sportmix Premium High Energy Lots 03/03/22/05/L3
31# Sportmix Original Cat Lots 03/03/22/05/L3
15# Sportmix Original Cat Lots 03/03/22/05/L2, 03/03/22/05/L3
Each of the products is produced by Midwestern Pet Foods, a company based in Evansville, Indiana.
It is not yet clear how the dangerously high levels of aflatoxin came to be in the pet food. The FDA has launched an investigation.
When contacted by Newsweek, Midwestern Pet Foods said "the situation is currently unfolding and we are making information available as quickly as we can."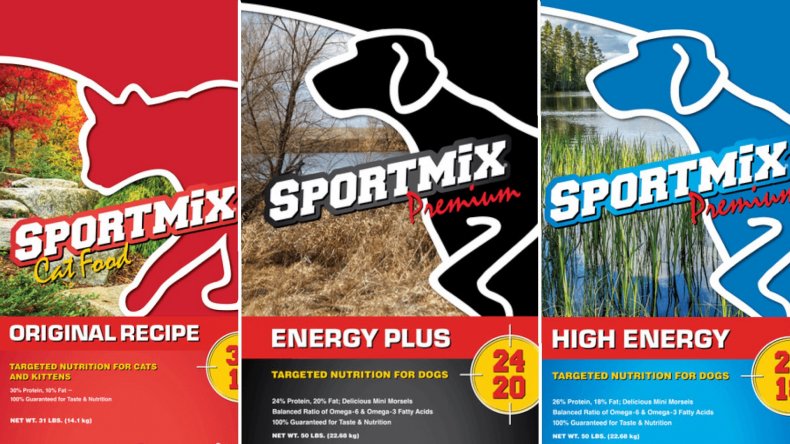 Amber McCoig, deputy director of the FDA's Center for Veterinary Medicine Division of Compliance, warned the levels of aflatoxin found "are potentially fatal."
"We are working quickly on this developing situation and will continue to update the public as new information becomes available," she said. "This is in service of FDA's mission to protect human and animal health."
Pet owners are being urge not to give their animals the recalled products and to consult their veterinarian, especially if the pet is showing symptoms or any sign of illness.
The latest pet food recall follows a similar case involving aflatoxin in pet food in October.
Dog food manufacturer Sunshine Mills Inc., which is headquartered in Red Bay, Alabama, recalled some of its products over concerns about the mold byproduct.
The company and FDA issued a recall of specific items—including some Champ, Field Trial and Good Dog products—in a list that was expanded in November.