The U.S. Food and Drug Administration (FDA) has given the go ahead for a pharmaceutical company to start a clinical trial exploring whether an experimental drug could prevent hospitalized COVID-19 patients from becoming so sick they need a ventilator to breathe.
In its trial named Vangard, U.S.-based biopharmaceutical firm PhaseBio will see if a drug called PB1046 is safe and effective in COVID-19 patients who are at high risk of rapidly deteriorating and developing acute respiratory distress syndrome (ARSD). The life-threatening syndrome happens when the lungs fail to provide enough oxygen to the vital organs. Generally, these patients are admitted to intensive care units and hooked up to ventilators.
The move comes as scientists around the world race to create the first treatment specifically for COVID-19, the disease caused by the coronavirus. Five months into the COVID-19 pandemic, more than 5.7 million cases have been conformed worldwide, according to Johns Hopkins University. More than 356,200 people have died—including 100,000 in the U.S.—and over 2.3 million people are known to have survived.
Doctors will give participants PB1046 once a week via an injection. The drug contains a type of molecule found in the body which, among other things, is known to have anti-inflammatory and anti-scarring properties, as well as the ability to open the airways.
In addition, the molecule, called vasoactive intestinal peptide, has been shown to regulate proteins which can be involved in cytokine storms, where the immune system dangerously overreacts. This condition is characteristic of COVID-19 patients with ARDS, according to PhaseBio.
Usually, vasoactive intestinal peptide only lasts for about two minutes in the human body. But PhaseBio were able to extend its half-life to days so it can be given to patients once a week.
The company hopes to enrol 210 patients at 20 sites across the U.S. and start the double-blind, parallel group, randomized trial by the end of June. It is aims to report results by late fall. The team will be looking to see if the drug can help patients survive and avoid respiratory failure, by targeting specific receptors in the cardiovascular, pulmonary and immune systems.
PhaseBio, which specializes in drugs for heart and lung conditions, submitted an investigational new drug application for PB1046 to the FDA under a program aimed at speeding up drug development for COVID-19. The firm announced it was given clearance on Wednesday.
The team were already investigating the potential of PB1046 in patients with high blood pressure in lung arteries. It has also been given to more than 70 patients with high blood pressure or a history of cardiovascular disease, and found to have no serious side effects to date.
"Physicians are in desperate need of new options to treat COVID-19 patients facing rapid deterioration of lung function and before progressing to a ventilator," John Lee, chief medical officer at PhaseBio, said in a statement.
"The impact of the pandemic on the global healthcare system has been overwhelming during the past few months and the importance of new treatment options that could help reduce this burden cannot be overstated."
He said the prognosis for people with COVID-19 and acute respiratory distress syndrome, who end up needing ventilation is "exceptionally poor."
"Early mitigation by PB1046 of the effects of inflammatory cytokines that can cause acute lung injury, is a promising strategy that could prevent patients from declining to the point where they require mechanical ventilation and help alleviate the strain on critical care infrastructure that we're witnessing," Lee said.
As the graph by Statista below shows, the U.S. is the country with the most known COVID-19 cases.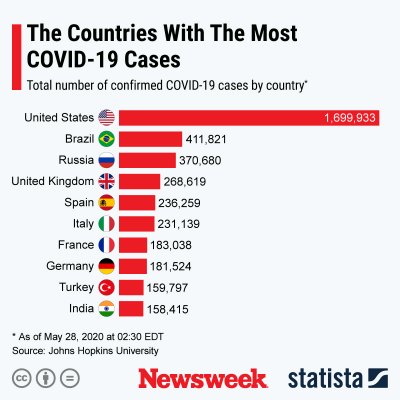 About the writer
Kashmira Gander is Deputy Science Editor at Newsweek. Her interests include health, gender, LGBTQIA+ issues, human rights, subcultures, music, and lifestyle. Her work has also been published in the The Independent, The Independent on Sunday, The i Newspaper, the London Evening Standard and International Business Times UK.