Fear As Respiratory Illness Leaves One Dog Dead and 17 Sick at Shelter
A dog has died after a canine respiratory illness was discovered at The Animal Foundation shelter in Las Vegas, Nevada this week.
First discovered on September 28, the dog was with a foster family when it first exhibited signs of the illness. The shelter said that the dog's symptoms were so severe that it had to be euthanized.
Just two days later, test results revealed that the dog had tested positive for two types of canine infectious respiratory disease (CIRD)—Strep Zoo and Canine Pneumovirus.
Strep Zoo is an upper respiratory bacterial infection that can cause severe illness in animals. Most commonly impacting horses, more dogs are becoming infected with the infection and it is particularly prevalent in shelter environments where illness can spread quickly.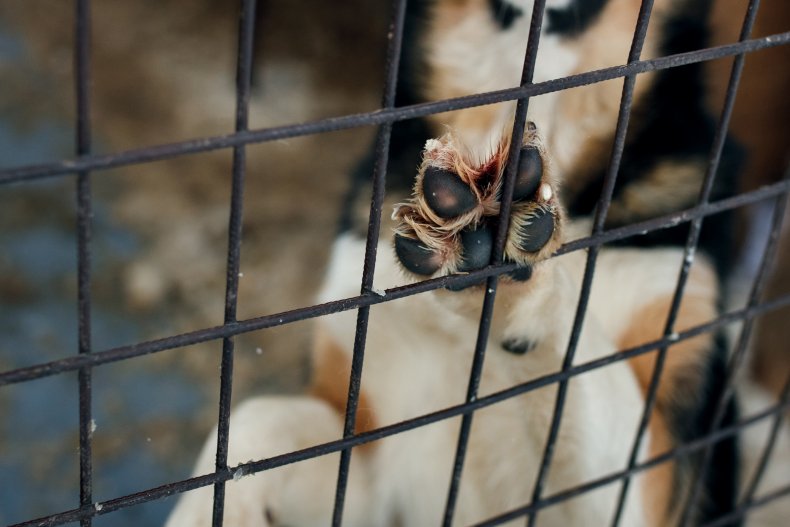 Infected dogs often exhibit signs including sudden fever, sneezing, rapid and shallow breathing, lethargy, and reluctance to eat.
Canine Pneumovirus is another respiratory disease found in dogs, first detected in the U.S. in 2010. While some patients with the condition will not require any treatment, some dogs can be severely affected and require hospitalization and aggressive treatment.
Because these forms of CIRD are very easily transmitted between animals, the shelter immediately notified anyone who had left the facility with a dog that had possibly been in contact with the sick animal.
Katherine Polak, Vice President of Companion Animals at Humane Society International, told Newsweek: "CIRD can be a significant issue in many animal shelters due to the ease in which these pathogens can spread, close contact between animals, and high levels of stress."
"The veterinary team has been closely monitoring our shelter animals and because we are seeing an increase in upper respiratory disease we have submitted more diagnostic tests to the lab," said The Animal Foundation in a post on Facebook.
Alongside the deceased dog, 17 further dogs at the Foundation are showing signs of upper respiratory illness and have all been started on a series of antibiotics.
"Respiratory disease is often highly correlated with the time an animal stays in the shelter. Getting an animal out of the shelter and into a foster or adoptive home can be an effective disease management tool," explained Polak.
The Animal Foundation informed the public on Tuesday: "Based on advice from our veterinary team we have put a pause on adoptions, transfers, and fosters out of an abundance of caution, while we move dogs throughout the campus that may have been exposed to a respiratory illness. There is an inherent risk in sheltering stray animals because, as an organization, we often know very little about them."
This comes as other shelters across the U.S. have reported a mystery respiratory illness affecting dogs, as veterinarians also report an uptick in cases of kennel cough.
Meanwhile, just days earlier The Animal Foundation put out a crisis appeal on social media due to the number of animals in their care. On September 27, the foundation said they had "more than 100 cats and 200 dogs who need out of the shelter ASAP," as they urged the public to come and foster animals and called for volunteers to help at the shelter.
While CIRD is known to spread rapidly in shelters, the good news is that there are plenty of tools to prevent and diagnose illness in dogs.
"One of the most important management practices that a shelter can take is to ensure dogs are vaccinated immediately or even before intake against common respiratory viruses," said Polak.
She also reassured pet owners and said: "While respiratory illness can be common in shelter dogs, most infections are self-limiting and rarely fatal, meaning that most cases resolve on their own. One of the best treatments for a dog with mild illness is to get them into a warm, stress-free home. Most dogs recover in this environment within a couple of weeks.
"It is important for new adopters to be aware however that CIRD can spread to other dogs in the home, so it's important to make sure that all dogs in the home are up to date on vaccines to reduce their chances of illness. Vaccinated, healthy dogs in a home usually develop mild, if any, clinical signs but owners should consult with their veterinarian if they have any concerns."