Fearing an Insider Attack, FBI is Vetting Guard Troops for Inauguration
Amid concerns for another violent attack at the Capitol building in Washington D.C., the FBI is vetting National Guard troops ahead of President-elect Joe Biden's inauguration, according to the Associated Press.
As nearly 25,000 members of the National Guard come to Washington from areas across the U.S., officials fear that some of the people assigned to protect the city may pose a threat to Biden or other inauguration attendees.
Army Secretary Ryan McCarthy told the outlet Sunday that officials are aware of the potential threat and are actively on the lookout for any internal problems.
"We're continually going through the process, and taking second, third looks at every one of the individuals assigned to this operation," McCarthy said.
The official added that the vetting process has not produced evidence of an internal threat so far. Other leaders have also not seen any evidence to suggest problems from within their ranks.
McCarthy said, nonetheless, National Guard members are being trained to identify potential insider threats.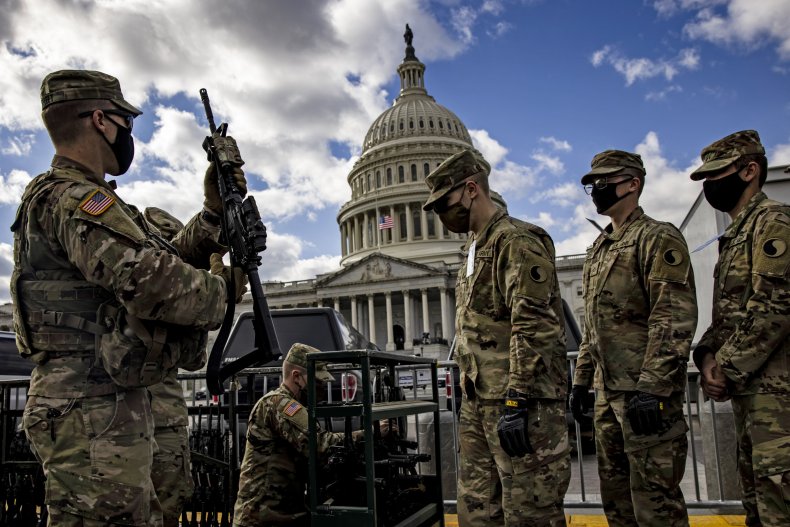 David Gomez, a former FBI national security supervisor, told the AP that the bureau's vetting process would involve running people's names through multiple databases and watchlists to see if they connect to any prior investigations or terrorism-related concerns.
The FBI reportedly began screening the troops over a week ago and will likely finish the process by inauguration day.
"The question is, is that all of them? Are there others?" said McCarthy. "We need to be conscious of it and we need to put all of the mechanisms in place thoroughly [to] vet these men and women who would support any operations like this."
General Daniel Hokanson, chief of the National Guard Bureau, said that if the FBI finds "any indication that any of our soldiers or airmen are expressing thing that are extremist views, it's either handed over to law enforcement or dealt with the chain of command immediately."
On January 6, pro-Trump rioters stormed the Capitol building in Washington D.C. The rioters broke through windows, fought with police, occupied congressional offices and delayed the certification of Electoral College votes cementing Joe Biden's victory. Federal prosecutors have since said that the rioters planned to "capture and assassinate" elected officials.
After the siege, there have been fears that another attack could take place before or during Biden's inauguration on January 20.
In a widely-shared message posted to Parler—a social media site largely used by far-right conservatives that has been suspended by Amazon, Apple and Google Play—a QAnon supporter with a significant following said that armed "patriots" would travel back to the Capitol the day before the inauguration.
Multiple states, including Texas, California, Illinois and Pennsylvania, have also increased security or shuttered their capitol buildings in anticipation of potential violence.
"This is a national priority. We have to be successful as an institution," McCarthy said. "We want to send the message to everyone in the United States and for the rest of the world that we can do this safely and peacefully."
Newsweek reached out to the FBI's National Press Office.