Multiple states are shuttering capitol buildings and declaring states of emergency in anticipation of violence surrounding President-elect Joe Biden's inauguration next week.
Biden is set to begin his presidency after being inaugurated on January 20. Law enforcement has identified a number of threats from violent extremists who support outgoing President Donald Trump and false claims that the election was "stolen" from him, leading to plans for massively increased security two weeks after the deadly January 6 storming of the U.S. Capitol.
The threats are not limited to Washington, D.C. and state capitols across the country are closing as a result of extremists planning armed protests during the inauguration. Capitols in Texas, California, Virginia, Indiana, Illinois, Oregon, Ohio, Pennsylvania, Kansas, Utah, Washington, Wisconsin and Maine are among those that will be closed to the public on Inauguration Day.
Many states had already closed public access to the capitols due to the COVID-19 pandemic but will be bolstering security, including some declaring states of emergency and summoning the National Guard, in order to subdue any potential violence. Local law enforcement is also working with the FBI to counter possible threats.
"The Texas Department of Public Safety is aware of armed protests planned at the Texas State Capitol this week and violent extremists who may seek to exploit constitutionally protected events to conduct criminal acts," Texas Department of Public Safety Director Steven McCraw said in a statement. "As a result, DPS has deployed additional personnel and resources to the Capitol and are working closely with the Federal Bureau of Investigation and the Austin Police Department to monitor events and enforce the rule of law."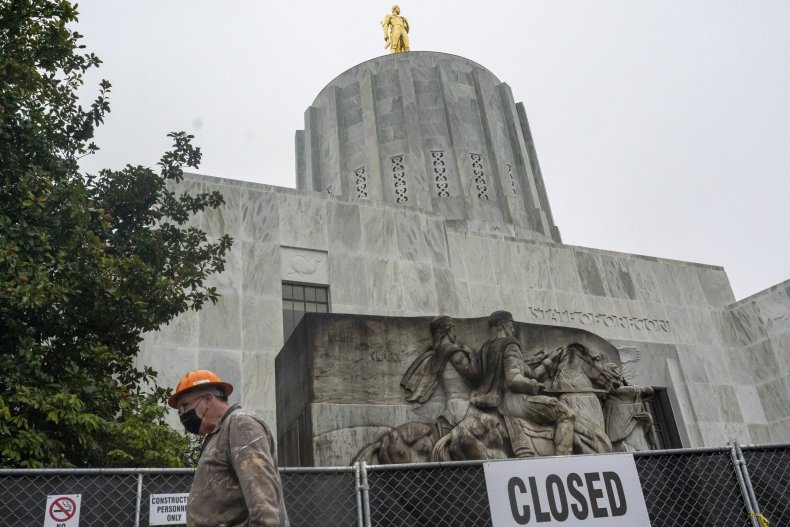 California Governor Gavin Newsom announced Thursday that he was deploying 1,000 California National Guard troops to help protect the state capitol, in addition to the already large numbers of law enforcement officers and security measures expected to be in effect.
"In light of events in our nation's capital last week, California is taking important steps to protect public safety at the State Capitol, and across the state," Newsom said in a statement. "Our State Operations Center is actively working with federal, state and local law enforcement partners in assessing threats and sharing intelligence and information to ensure those disgraceful actions are not repeated here."
A number of states that have announced capitol closings will also close the buildings and boost security measures for several days before and after January 20 due to the possibility of violence extending before or beyond the inauguration itself. The Boogaloo Bois, a group of armed far-right extremists, are said to be planning pro-Trump rallies in multiple states on Sunday. The group was granted a permit to hold a protest in Utah, according to The Salt Lake Tribune.
"We respect the right of Utah residents to peaceably assemble as guaranteed in the U.S. Constitution," Utah Governor Spencer Cox told The Associated Press. "But we draw the line at threats to physical safety or to the Utah Capitol building. No violence of any kind will be tolerated."
The FBI has indicated that "online chatter" suggests violence is being planned around the inauguration and reportedly issued an internal bulletin warning that several groups are expected to hold armed demonstrations at the U.S. Capitol and at all 50 state capitols in the days leading up to the event.
"As of 10 January, armed protests are being planned at all 50 state capitols from 16 January through at least 20 January, and at the US Capitol from 17 January through 20 January," the bulletin states.
The U.S. Capitol riot saw multitudes of Trump supporters, enraged over the outgoing president's election loss and false claims that the election was "stolen," violently storm the building as Congress was meeting to certify Biden's win. At least five people died as a result of the riot and Trump was quickly impeached for allegedly inciting insurrection, becoming the only president to ever receive the dishonor twice.