Fears That 'Beloved' Kangaroo Will Be Shot for Pet Food Sparks Protest
Local residents gathered at the Melbourne-area Heritage Golf and Country Club on Tuesday night, fearing the death of a "beloved" kangaroo at the hands of those hoping to use his body for pet food.
Big Al, as the creature is known, would be a victim of "culling," a practice in Australia that allows people to shoot the kangaroos in order to control their population size. The culls reportedly help protect grasslands and the population sizes of other creatures, like lizards.
Yahoo News Australia reported that on Tuesday morning, flyers were distributed warning residents of the area to stay away, as a kangaroo cull would be underway that night. Despite the message, 60-80 protesters, including Big Al's former caretaker, Manfred Zabinskas, showed up to protect the gentle giant.
Because Big Al is, as his name suggests, quite a large creature, there were anxieties that he would be targeted in the cull, as his body would provide a large quantity of meat. Refrigerated trucks were reportedly spotted at the golf course, in anticipation of storing the animals' corpses.
"Big Al would be the absolute easiest target for the shooters, he'd just stand there, there's no way he'd runoff," said Zabinskas. "He's so familiar with cars and people that he would have no flight response whatsoever, so we're terrified he might end up being in their sights."
When protestors heard loud "bangs" in the area around 8 p.., they believed the cull had begun. They prepared "to put their bodies between the kangaroos and the shooters," said Yahoo News.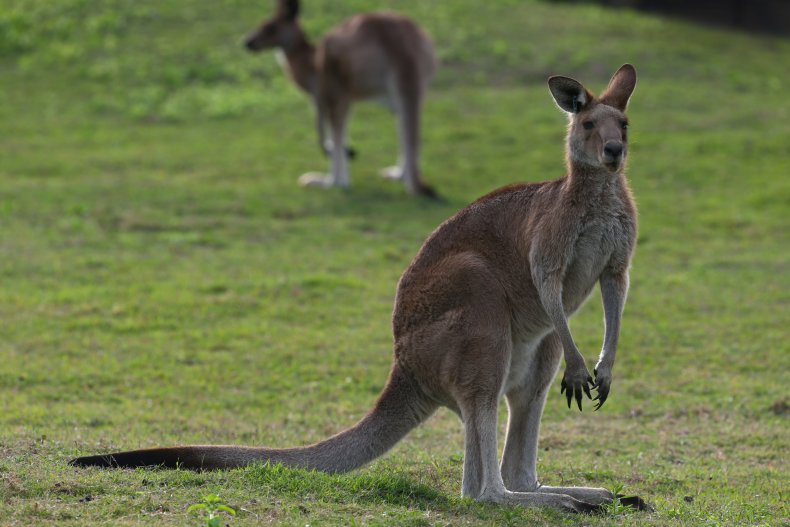 "We're prepared to wait it out until they give up, doing so in a non-violent, non-aggressive way," said an anonymous spokesperson from Melbourne Hunt Saboteurs, an animal rights group.
Meanwhile, the CEO of Wildlife Victoria, Lisa Palma, traveled to the Melbourne-area golf course after hearing about the situation.
"It's our understanding they are going to be killed for pet food, and we are particularly devastated worrying about Big Al and the outcome for him," she said.
Finally, protestors gathered at the scene learned that the cull had been postponed—but that doesn't mean that Big Al is out of danger. The Department of Agriculture in Victoria reportedly confirmed that kangaroo culls are still authorized in the area.
Meanwhile, those opposing the cull are hoping that the possibility of Big Al's killing might lead to lasting change. Animal Justice Party MP Andy Meddick spoke on the issue, noting that the incident "took everybody by surprise."
"Why would you just automatically reach to just killing them, why would you not investigate other things?" he asked.
"The proprietor of the golf course and perhaps the government even too have really misread the room on this," Meddick added. "The population of Victoria wants to see kangaroos protected, not shot."