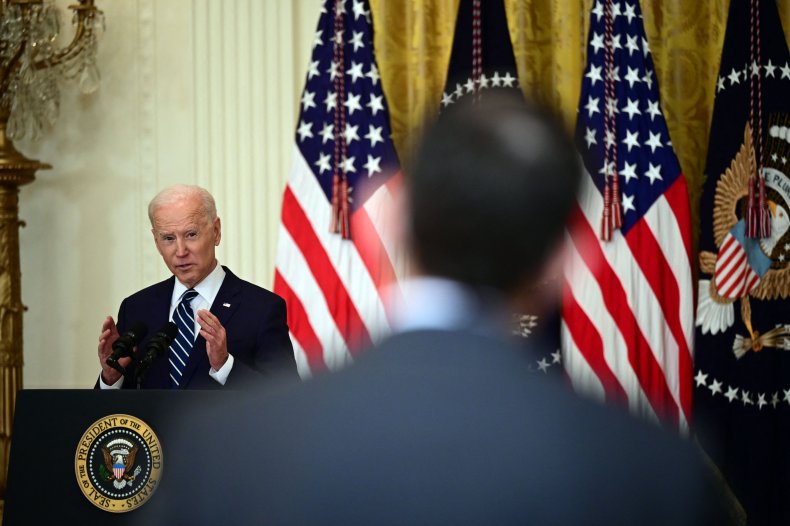 Most migrant families were not turned away at the southwest border last month, despite claims by President Joe Biden that his administration "is sending back the vast majority of the families that are coming."
All eyes are on the Biden administration as it grapples with the question of housing and processing the immigration cases of thousands of unaccompanied migrant children. But now a rising issue will be the number of families waiting in immigration custody.
In his first official press conference on Thursday, Biden said not only are immigration officials expelling families, but that they "not getting across the border."
The Biden administration has claimed to draw a hard line on migrant families. In a statement last week, Department of Homeland Security Secretary Alejandro Mayorkas said that families are either expelled to Mexico or put on planes to their home country under Title 42, a provision that gives immigration authorities the power to reject migrants for public health reasons. Exceptions are provided only when "a family member has an acute vulnerability."
Data from U.S. Customs and Border Protection (CPB) suggests otherwise, though. According to CBP, the Biden administration rapidly expelled only 41 percent of "family units"—groups with at least one parent and one child—in February under Title 42. FactCheck.org pointed out that CBP data actually shows a decrease in the number of families rejected between February and January, when 62 percent of families were expelled.
The discrepancy between Biden's language and CBP's data suggests that less than a majority of the 19,246 family units encountered in February were in fact sent back, and an increasing number of families were permitted to enter the country and await an immigration hearing this winter.
The number families admitted is a symptom of Mexico's inability to handle groups of parents of children when they are rejected from the U.S.—rather than new policy from Biden, The Washington Postreported. Biden said to reporters on Thursday his administration is "trying to work out now" with Mexico how that country could handle surges of expelled families.
The latter may prove to be more difficult. Mexican President Andrés Manuel López Obrador was critical of Biden in a press conference on Tuesday, saying "expectations were created that with the Government of President Biden there would be a better treatment of migrants."
López Obrador blamed Biden for leading Central Americans to journey to the border "thinking that it is easier to do so."
CNN's Daniel Dale pointed out in an interview following Biden's press conference that CBP data on March is not yet available, and could demonstrate otherwise when it comes to the Biden administration expelling family units this month.
Newsweek reached out to CBP for comment on the number of families expelled at the border, but did not receive a reply by publication time.