More than seven out of 10 total encounters at the border in February resulted in expulsions until "Title 42," a Trump-era program invoked by the Centers for Disease Control and Prevention in March 2020 as a COVID-19 preventive measure.
While the Biden administration is keeping all unaccompanied migrant children, most single adults and family units have been expelled under Title 42. The public health provision allows U.S. immigration authorities to close the border to "nonessential" travel and immediately deport migrants caught at the Southwest border
Unlike Trump, Biden allows most children who arrive alone to stay and releases them to sponsors or guardians in the U.S. with notices to appear in immigration court. Under this policy, nearly 9,500 children arrived at the border in February, more than 60 percent than in January. But surges of child arrivals have overwhelmed U.S. immigration authorities, and many kids are forced to wait for days in border stations before transfer to shelters where their cases are processed.
Meanwhile, nine out of 10 single adult encounters resulted in expulsions under Title 42 in February. An unknown system used by the Biden Administration determines which migrants may stay in the U.S. and who will be expelled, the Associated Press reported. Title 42, a little-understood law, further obscures Biden's stance at the border and empowers border authorities to send thousands of migrants away.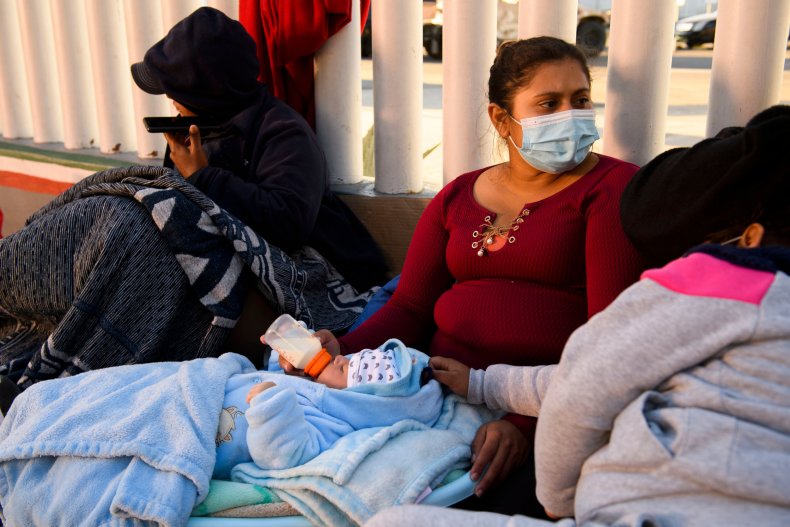 President Joe Biden's use of Title 42 is considered a necessary measure given the ongoing pandemic while his administration rebuilds a "humane asylum system." But the unilateral power immigration authorities receive under the rule has given them the ability to return citizens of Mexico, Guatemala, Honduras and El Salvador to Mexico within two hours, while other nationalities are rapidly flown home, according to the Associated Press.
"The unique challenges of the pandemic require additional authorities, such as…Title 42 to allow [Department of Homeland Security] to effectively protect both the health and safety of migrants and our communities from the spread of COVID-19," a spokesperson for U.S. Customs and Border Protection wrote to Newsweek. "The border is not open, and the vast majority of people are being returned under Title 42."
But seemingly random decision-making when it comes to expulsions has left migrants guessing who will get to stay and who will be forced to go. The Associated Press reported the criteria to be allowed into the U.S. are a close-held secret and Homeland Security Secretary Alejandro Mayorkas has mentioned only adults with certain "acute vulnerabilities" qualify them to stay in the U.S.
The CBP spokesperson wrote to Newsweek that acceptances are based on the sum of a number of immigration, legal and public health criteria, including COVID-19 protocols, capacity in U.S. facilities, U.S. legal standards and health of the migrants.
But the opacity of Biden's policy at the border has drawn criticism. He's promised to build a pathway to citizenship for undocumented immigrants and has worked to repeal Trump-era policies that separated families or kept asylum seekers waiting in Mexico. But the use of Title 42 has made the extent to which Biden plans to overhaul policy at the border less clear, and when a better, more "humane" standard will be announced.
The Associated Press reported that despite pushback for clearer policy, the Biden Administration has reason to keep its criteria secret.
"We know that once the criteria is made known, migrant decisions follow," Theresa Cardinal Brown, a former Homeland Security Department official, said to the Associated Press.
Thousands of migrants will keep trying to match that criteria in the effort to leave behind economic and public health crisis in their home countries; the number of family arrivals at the border reached 19,200 in February, more than double from the month before.