Joe Biden's Handling of U.S.-Mexico Border Upsets Both Friend and Foe
Issues at the southern border have sparked criticism of President Joe Biden and his administration from across the political spectrum.
There is usually a surge of migrants in spring and this year there have been boosted numbers. The U.S. is on course to see a 20-year high of people arriving at the southern border.
Republicans have branded the situation a crisis, a term the administration has avoided, and attributed it to Biden's stances on immigration.
"This entire border crisis has been created simply by Joe Biden's actions and words," House Minority Leader Kevin McCarthy (R-CA) tweeted on Sunday.
Several of his GOP colleagues have issued similar condemnations of Biden.
McCarthy previously wrote to Biden asking for a meeting and urging bipartisan work to address the situation. He also pushed for resumption of the construction of the border wall—which Biden put a pause on at the start of his presidency.
Along with this, Biden has pushed for a widespread revision of immigration policies. His administration and allies have blamed issues on his predecessor, former President Donald Trump, branding the system handed to Biden as broken.
Such comments have welcomed further criticism, with former White House Chief of Staff Mark Meadows questioning such remarks and Trump himself issuing a rebuke of this.
Trump said in a statement on Sunday that the Biden administration had been "handed" the "most secure border in history." He also called for wall construction to begin again, urging its completion.
On the administration's stances, there have been calls for clarity on its messaging. Democrat Rep. Henry Cuellar (D-TX) last week urged "strong, clear, and consistent messaging that our border is closed to irregular migration."
Republicans have also taken issue with messaging, suggesting remarks urging people not to come to the border came "too late."
Biden last week, speaking in an ABC News interview, told people to refrain from travelling to the border.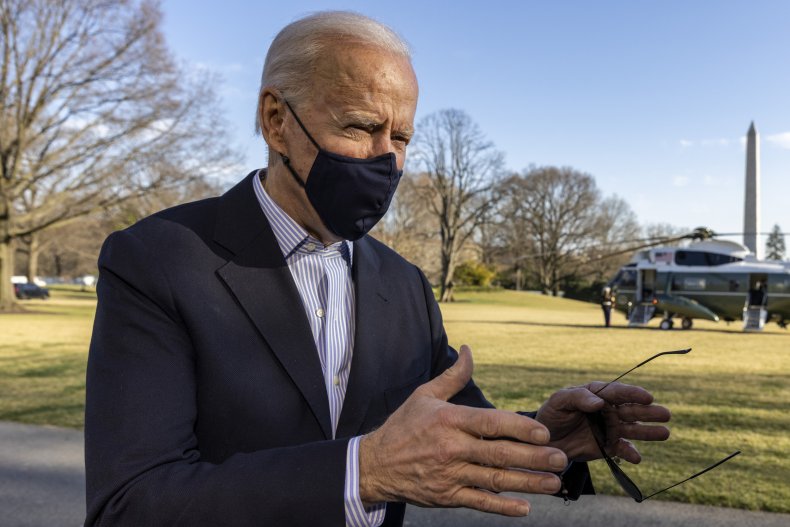 A major concern amid the surge has been the increase in unaccompanied minors being detained, with FEMA being sent to assist with this issue. Questions have been raised over the number placed in custody and the conditions they are kept in.
Progressive Democrats in particular took issue on this point, stating the use of certain facilities for children "never has been okay." There has been criticism of the treatment of minors as being rights violations. Thousands of children have been kept in detention beyond the legal time limit.
On the matter of detention centers, Amanda Elise Salas, a progressive political operative based in Texas who worked on Biden's presidential campaign, told the Associated Press: "I have chosen to not allow myself to get into my feelings about how there are still these detention centers being popped up by this administration because it makes me very, very angry."
Senator Chris Murphy (D-CT) branded the facilities children are being kept in as places "you wouldn't want your child in for more than 10 minutes," in an interview with NPR.
But he has defended the administration's actions and said his team was "doing the best they can." He also suggested the crisis was based on Trump having "dismantled the asylum system," in tweets on the matter.
Rep. Sheila Jackson Lee (D-TX) similarly defended the administration, but acknowledged there were issues. She told MSNBC's The Sunday Show Biden and his team has a plan, even if it might not appear to be functioning as desired at present.
"We do have issues with any number of children. The numbers are coming up. But I will say that the Biden administration has met with members of Congress. They have a plan," Jackson Lee said. "The plan does not look like it's working at this time, but you have to get it implemented."
Another layer of criticism for Biden's policies has also come from advocacy groups who feel some of these have fallen "seriously short," as previously reported by Newsweek. They have urged him to go further in altering policies at the border regarding prosecutions and the termination of contracts with private prisons in regard to detentions.
Rep. Ilhan Omar (D-MN) on Sunday also urged for an end to deportations under the administration.
Sharing a screengrab of an article which spoke of "deportation as usual," Omar tweeted: "I wish this wasn't true, but Biden is definitely deporting people and it needs to stop."
There had been a push for a deportation moratorium though this has faced legal hurdles.
On the point of immigration generally, recent CNN/SSRS polling showed Biden facing majority disapproval from independents on this point.
Democrats and Republicans are polarized on the issue, in line with the partisan split on issues across the nation.
Overall, 49 percent of those asked said they disapprove of how Biden is handling immigration.
For independents, 53 percent of those asked disapproved. For Republicans, it was 91 percent and Democrats 13 percent. The polling was conducted March 3 to 8 among 1,009 respondents.
Newsweek has contacted the White House and the lawmakers mentioned for comment.
The graphic below, from Statista, shows the number of children and family units apprehended at the border.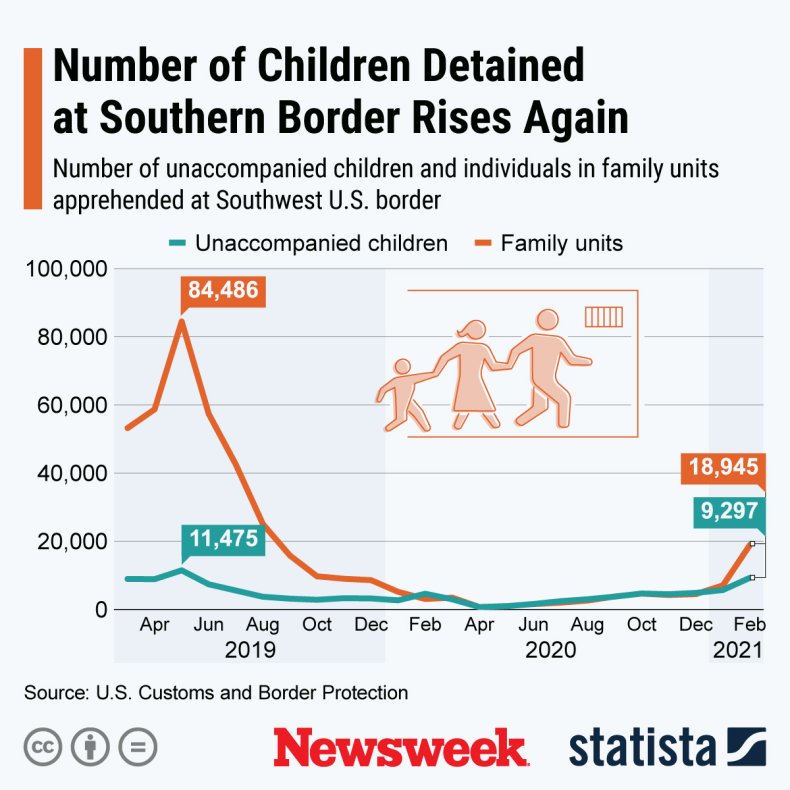 Update 3/22/21, 7:20 a.m. ET: This article was updated to include and infographic.