Texas Democratic Representative Henry Cuellar Demands Clarity on Biden's Border Plan
A Texas Democrat has publicly criticized President Joe Biden's messaging regarding the influx of migrants arriving at the U.S.-Mexico border.
Henry Cuellar (D-TX) said on Fox News on Tuesday that the Biden Administration needs to clarify its border policy in three ways. He said the first issue that needs to be dealt with is confusion as to whether or not now is the time for migrants to come to the U.S.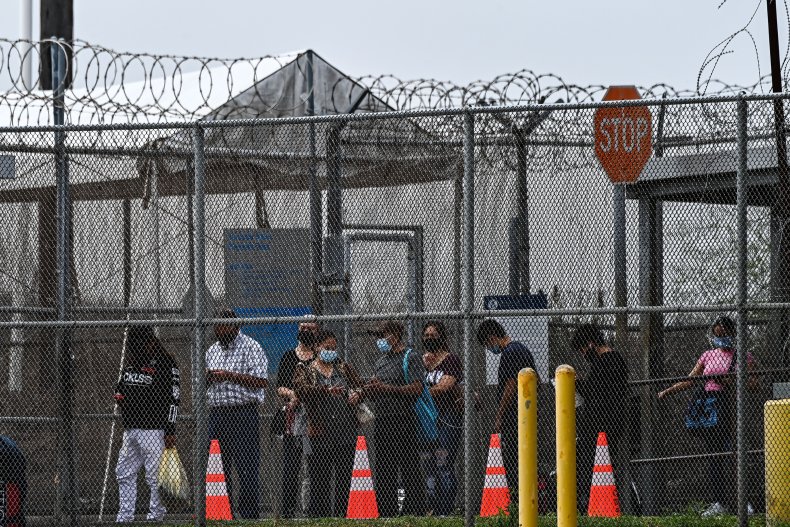 Cuellar said, "If you tell people don't come now, come later," there needs to be a more "concise, clear" message correctly qualifying who is able to arrive at the border at the present moment.
Because Biden has repealed former President Donald Trump's Migrant Protection Protocol, many people who were waiting for their cases to be heard are now arriving. Department of Homeland Security Secretary Alejandro Mayorkas said in a statement Tuesday that the U.S. is "on pace" to encounter more individuals at the border than in the past 20 years.
But few of those individuals will qualify for entry to the country. Biden made his stance clear in an interview with ABC News on Tuesday. "Don't come over," Biden said. "What we're in the process of getting set up, and it's not going to take a whole long time, is to be able to apply for asylum in place. So, don't leave your town or city or community."
Biden added that his administration was "sending back" most of the families and single adults attempting to cross the southwest border. He also urged others to refrain from making the journey to the border.
While on Fox News, Cuellar said the second point that needs to be clarified is the discrepancy between what migrants might see in images in the media and what is actually reflected in Biden's policy.
"What they are hearing down there is, 'Hey, people are coming across,'" Cuellar said. "[Migrants] see images of people coming across the river, so of course they're going to listen to that."
Cuellar also said that the third reason there needs to be more consistent messaging is that "criminal organizations" are taking advantage of the current situation.
"The criminal organizations are aggressively marketing it because the more people that they get, the more money they make," Cuellar said. "The message for the administration is not taken over there, but when they see people coming across or the criminal organizations that are marketing, that's what they are hearing down there."
Surges in arrivals of unaccompanied minors are a direct result of traffickers who have exploited the administration's opaque policy. Biden reversed the Trump-era policy of turning away unaccompanied migrant children, but has continued to ask for "time" to decide on the structure for receiving, processing and transferring minors safely and humanely. Experts have said that, in the meantime, smugglers are able to capitalize on the confusion over Biden's policy to influence more families to send their children to the U.S., and often charge between $6,000 to $10,000.
Newsweek has reached out to Cuellar for further comment.