The Biden administration continues to reject accusations that its recent action toward migrant children is anything like President Donald Trump's immigration policies.
"It's absolutely not the same thing," White House press secretary Jen Psaki told Meghan McCain in an interview Thursday on The View.
More than 400 migrant children were reportedly referred to Department of Health and Human Services (HHS) shelters on Tuesday alone—a rate that's higher than the 30-day average of children referred in 2019 under Trump.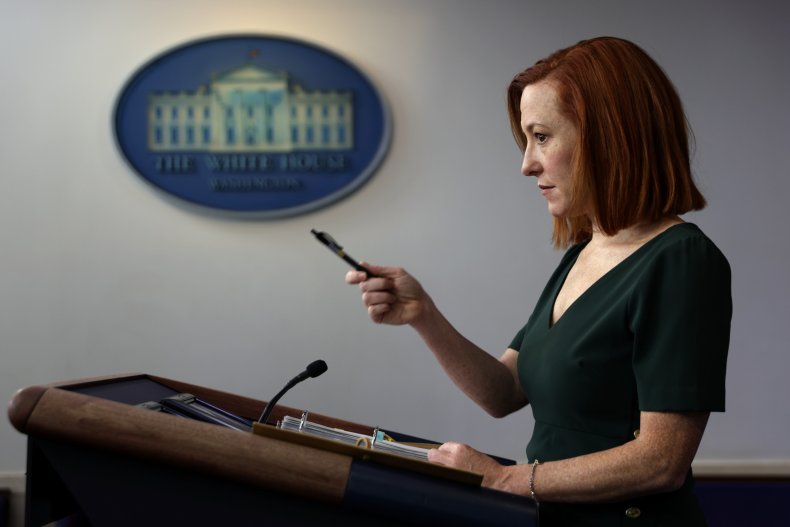 McCain then pressed Psaki, asking why a Texas facility that operated under Trump for only a month in September 2019 was reportedly reactivated temporarily by Joe Biden to hold as many as 700 children ages 13 to 17, especially given that the president and Vice President Kamala Harris have spoken against child separation policies.
"We are not ripping children from the arms of their parents. That is horrible and immoral and something we saw in the last administration," Psaki told McCain.
Psaki added that the Biden administration has struggled with how to "humanely" treat unaccompanied minors who have fled conflict in their home countries and are arriving at the border amid a pandemic.
The U.S. has seen an influx of arrivals of unaccompanied minors, who are often escaping poverty and violence in their home countries, according to data from the Council on Foreign Relations (CFR). A concern for the children's safety reportedly compelled the Biden administration to reopen and "revamp" the Texas facility to offer medical, education and legal services for migrant children who have arrived in the U.S.
"This is incredibly difficult, it's heart-wrenching...but this is the best decision we felt we could make to keep these kids safe and get them into the right places and right homes," Psaki said.
McCain followed up by asking Psaki to further clarify if children were being detained in separate facilities. The press secretary's response didn't deny that the children were being sent to different facilities: "This is kids going to a facility, run by HHS."
McCain's question concerned whether Biden has taken steps similar to Trump's regarding migrant children. In 2018, Trump's Justice Department announced a zero-tolerance policy, which required authorities to detain and criminally charge all adults entering the U.S. without authorization, leading to law enforcement separating minors from parents or guardians, who had to wait for trials. The CFR reported that at least 4,300 migrant families were separated from June 2017 to June 2018.
But Biden's plan looks much different. He officially ended Trump's zero-tolerance policy last month and took executive action to reform the national immigration system, including creating a task force to reunite families affected by the policy.
Despite this, McCain also brought up reactions from Democrats and activists, who have been quick to condemn Biden's reopening of the detention facility in Texas.
"This is not okay, never has been okay, never will be okay — no matter the administration or party," Representative Alexandria Ocasio-Cortez (D-N.Y.) tweeted.
Psaki reiterated in response that the administration's decision was a matter of safety for migrant kids and said "it's going to take some time" before an ideal solution could be found for them.
Psaki also said data the Trump administration failed to collect has made it increasingly difficult for the Biden administration to reunite children with their families. She repeated that Biden's actions were primarily taken in the name of safety.
"We're absolutely not doing what the former president did and what, frankly, the current president and the current vice president objected to, which is ripping kids from the arms of their parents," Psaki said. "That is not the policy of this administration and not something we would do."
Newsweek reached out to HSS and the White House for comment on the status of the Texas facility but did not hear back before publication.