Federal Reserve Chair Jerome Powell testified before the Senate Banking Committee Wednesday amid rising inflation.
Powell said a recession is "certainly possible" but not in the near term. He said the U.S. economy is strong and businesses are "in good shape."
The Federal Reserve announced its largest interest rate hike in 28 years last week in an attempt to curb rising inflation.
Food and gas prices would not be lowered by rising rates, Powell said.
The benchmark interest rate was raised by three quarters of a percentage point, to a range of 1.5% to 1.75%.
Rising inflation is fueling concerns of an upcoming recession. Goldman Sachs estimated this week that the likelihood of a recession is at 30 percent over the next year and 48 percent over the next two years.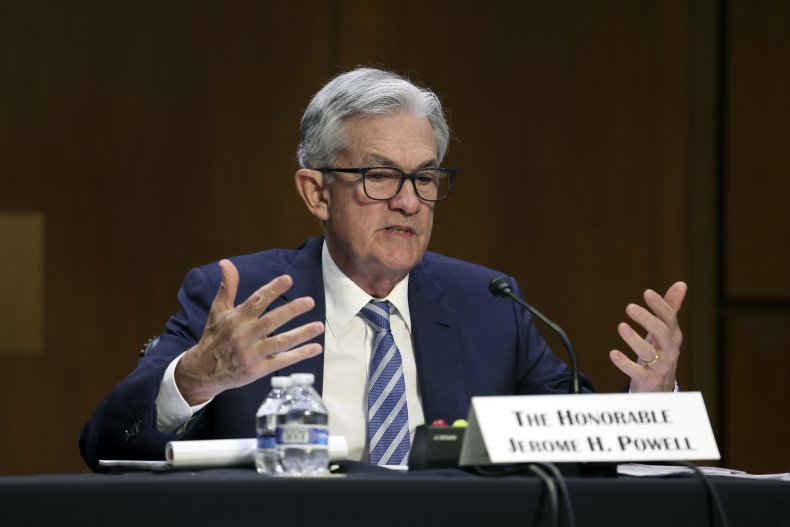 The live updates for this blog have ended.
U.S. Not at the Point of Recession in Near Term, Powell Says
The U.S. economy is not at the point of a recession in the near term, Federal Reserve Chair Jerome Powell said Wednesday.
"I don't see the likelihood of a recession as particularly elevated right now," he said.
Powell said "no one is good at forecasting recessions very far out."
Right now, Powell said the U.S. economy is "strong," as is spending. He said business and consumers are "in good shape."
Powell said the Fed's primary goals are to reduce inflation and achieve what he called a "soft landing." This means lowering inflation and slowing growth without triggering a recession or high unemployment.
A soft landing, however, will be "very challenging," Powell said.
"I don't think we need to provoke a recession," he said. "But we do think it's absolutely essential that we restore price stability, really for the benefit of the labor market as much as anything else."
Decisions about the pace of future interest rate hikes will depend on whether inflation begins to decline. The Fed will assess this on a "meeting-by-meeting" basis.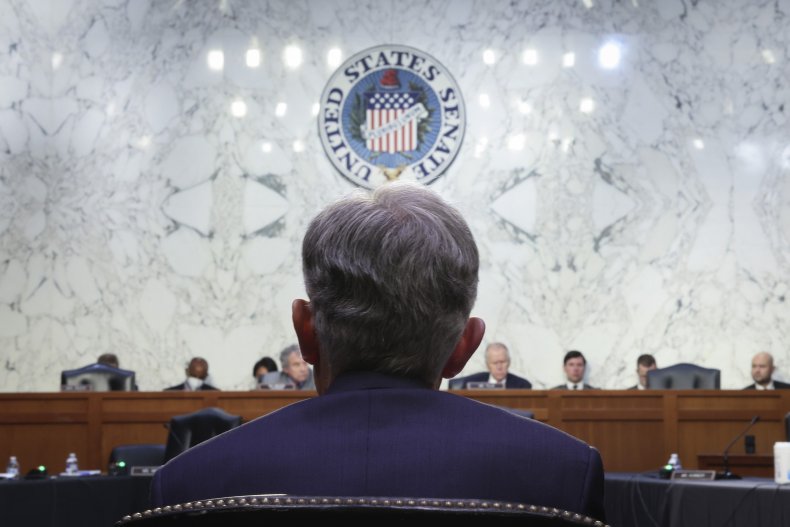 Powell Calls for Better Cryptocurrency Regulation
Jerome Powell said the Federal Reserve is tracking the "volatility" of the cryptocurrency market.
"We're tracking those events carefully," Powell told the Senate Banking Committee, adding the the Fed is not seeing "significant macroeconomic implications" from the crypto market crash so far.
Powell said this "innovative new space" needs a better regulatory framework.
"The same activity should have the same regulation no matter where it appears," he said. "Many digital products are the same products that exist in financial markets but are not regulated."
He later said stablecoins "sounds a lot like a money market fund" but does not have a fit-for-purpose regulatory scheme that it needs to.
Powell said Congress would need to clarify who has authority over what when it comes to crypto and stablecoins.
He said the Fed is not directly involved in regulating cryptocurrency. The Fed regulates and supervises banks and can only have a say in what Fed regulated banks do with crypto assets on their balance sheets.
Housing Market Is Slowing, Powell Says
Federal Reserve Chairman Jerome Powell said there are signs the housing market is beginning to slow during his Wednesday appearance before the Senate Banking Committee.
Powell noted there have been "very, very large" housing price increases since the start of the COVID-19 pandemic. But now, mortgage rates are beginning to rise, which Powell said is an indication that the market is shifting.
"You're actually seeing demand move down quite significantly," he told the committee. He said there are "many indicators" that suggest fewer people are visiting homes on the market, wait times for housing sales are increasing and home sales are beginning to decline.
"Overall, it's a slowing in the housing market," Powell said. He noted many market forecasts are predicting "the increase in housing prices to slow pretty significantly."
While it has become common over the last couple of years for homes across the country to receive multiple bids above asking price shortly after going on the market, Powell said that is "cooling off now to a more sustainable pace."
The housing market is a "classic part of the economy" that is "very sensitive to interest rates," Powell added.
"You're going to see a moderation in housing demand, you're going to see declining, slower increases, at least in housing prices," he told the committee.
Powell Disputes Biden's Claim that Ukraine War is Driving Inflation
Federal Reserve Chair Jerome Powell disputes President Joe Biden's claims that the war in Ukraine is the main cause of inflation in the United States.
Republican Senator Bill Hagerty of Tennessee asked Powell if he agreed that the war in Ukraine was the primary driver of inflation in America.
"No, inflation was high certainly before the war in Ukraine broke out," Powell said.
Biden has repeatedly blamed Russia's invasion of Ukraine for high gas prices and inflation in the U.S.
Republicans have attributed soaring prices in the country to Biden and his economic policies. According to I&I/TIPP's monthly survey, a majority of Democrats, about 53 percent, also believe Biden's policies are to blame for rising inflation.
Powell Says Recession is 'Certainly Possible'
Federal Reserve Chair Jerome Powell said a recession is "possible."
Democratic Senator Jon Tester of Montana asked Powell if the rapid interest rate hikes could cause a recession.
"It's certainly a possibility," Powell answered. "It's not our intended outcome, but it's certainly a possibility."
Powell said earlier in his testimony that the Fed needs to restore price stability in order to sustain maximum employment in the long term. He said he does not think "we need to provoke a recession."
Sen. Kennedy Says High Inflation Has People 'Coughing up Bones'
Republican Senator John Kennedy of Louisiana said he is more concerned about how inflation is impacting his constituents than people in other countries.
"Inflation is hitting my people so hard, they're coughing up bones," he told Federal Reserve Chair Jerome Powell. "I don't care what the inflation is in other parts of the world. I'm sorry they're having inflation in other parts of the world. But them in misery doesn't make my people feel better. They're still miserable."
Kennedy said that right now, Powell is "the most powerful man in the U.S., maybe in the world."
He pressed Powell on what Congress can do in the short term to help reduce inflation, asking if freezing spending until the Fed can control demand.
"Give me some help here, tell me what we can do," Kennedy asked.
Powell said the Fed should focus on what they can do before doling out advice to others.
"I feel like giving you advice on what to do when we're not getting our own job done — I feel like maybe a better thing to do would be for us to get our house in order and do the job you assigned us," Powell said.
China Lockdown Could Still Impact Inflation
Jerome Powell said the inflation in the United States is different that the inflation impacting other countries.
He said U.S. inflation is about demand, while inflation in other parts of Europe is more tied to energy prices.
"We're focused on the part of [inflation] that we can address, and that is, there's a job to do on demand here," he said. "There are parts of the economy where demand exceeds supply and that's where we think our tools can help. That's what we're focused on."
Powell added that the COVID-19 lockdowns in China may still have a large impact on the global economy.
"We don't think we've seen the full effect of lockdowns in China yet," he said.
He said the bottlenecks in China are impacting the global supply chain. China, however, is coming out of their latest lockdown, Powell said. He added that there is evidence of growth picking up and the Chinese economy recovering.
'Really Not Anything' Fed Can Do About Oil Prices
The Federal Reserve essentially has no ability to change oil prices, Chairman Jerome Powell testified Wednesday, when pressed on record gas prices across the U.S.
"There's really not anything that we can do about oil prices," Powell said. "Food prices, it's a bit more mixed. But for oil prices, they're set at the global level."
Nevada Senator Catherine Cortez Masto pressed Powell on consolidation within the oil industry and companies making record profits off of current skyrocketing gas prices.
"I think we see that the global oil prices, which have very important effects on gas prices here at home, are set on the global market," Powell said.
"There's a large cartel that is responsible, to a significant extent, for setting those prices."
Powell Blames Ukraine Invasion, China Lockdowns for Inflation
Federal Reserve Chair Jerome Powell said he understands that inflation is bringing "hardships" to Americans.
"At the Fed, we understand the hardship high inflation is causing," he told the Senate Banking Committee Wednesday. "We are strongly committed to bringing inflation back down, and we are moving expeditiously to do so."
He said the Fed has both the tools needed and the "resolve it will take" to restore price stability on behalf of American families and businesses.
Powell blames Russia's invasion of Ukraine for skyrocketing gas prices and COVID-19 lockdowns in China for exacerbating ongoing supply chain disruptions.
The Fed is looking for "compelling evidence" that inflation is going down, Powell said, consistent with inflation returning to the Fed's two percent objective.
"We anticipate that ongoing rate increases will be appropriate; the pace of those changes will continue to depend on the incoming data and the evolving outlook for the economy," he said.
Powell said a tighter monetary policy will be an effective tool against inflation, adding that the U.S. economy is well positioned to handle higher interest rates.
The economy evolves in unexpected ways, Powell said, and further surprises may be in store. But Powell said the Fed will strive to avoid adding more uncertainty in these tough, uncertain times.
"We understand the full scope of the problem," he said. "We are using our tools to address that pretty vigorously."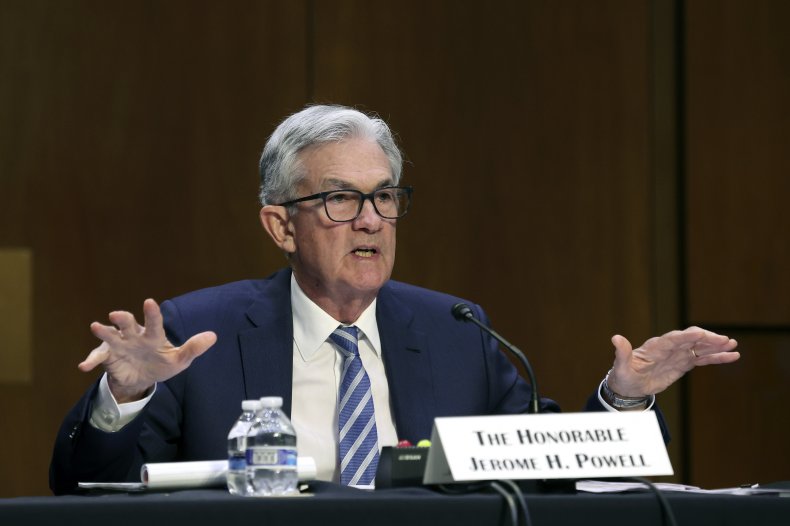 Rising Interest Rates Will Not Lower Gas, Food Prices
Democratic Senator Elizabeth Warren pressed Jerome Powell on what the Federal Reserve is and isn't doing to raise interest rates.
She asked Powell if raising interest rates will make gas or food prices go down.
"I wouldn't say so... no," Powell responded.
He said the hike in interest rates will "moderate demand" by balancing out supply and demand, moderating prices so people spend less and helping exchange rates by strengthening the dollar.
Warren pushed back, saying that high rates will increase the cost for companies to invest, like buying trucks and hiring people.
She said this, in turn, will prompt companies to fire employees and slash hours to cut wage costs. Rate increases will also make it more difficult for families to borrow money for a house, as mortgage rates soar, Warren added.
"You know what's worse than high inflation with low unemployment? High inflation and a recession with millions of people out of work," Warren said. "I hope you consider that before you drive the U.S. economy off a cliff."
WATCH: Powell Testimony
Federal Reserve Chair Jerome Powell is now testifying before the Senate Banking Committee. Watch live on CSPAN or below: