Fed and Treasury Look to Regulate Crypto, Semiconductor Shortage Hobbles U.S. Auto Industry
CRYPTOCORNER
The U.S. Treasury Department will require cryptocurrency transactions valued at $10,000 or more to be reported to the Internal Revenue Service.
It's part of the Biden Administration's plan to narrow the gap between taxes owed and taxes collected.
"Although cryptocurrency is a small share of current business transactions, such comprehensive reporting is necessary to minimize the incentives and opportunity to shift income out of the new information reporting regime," the Treasury Department said in a report.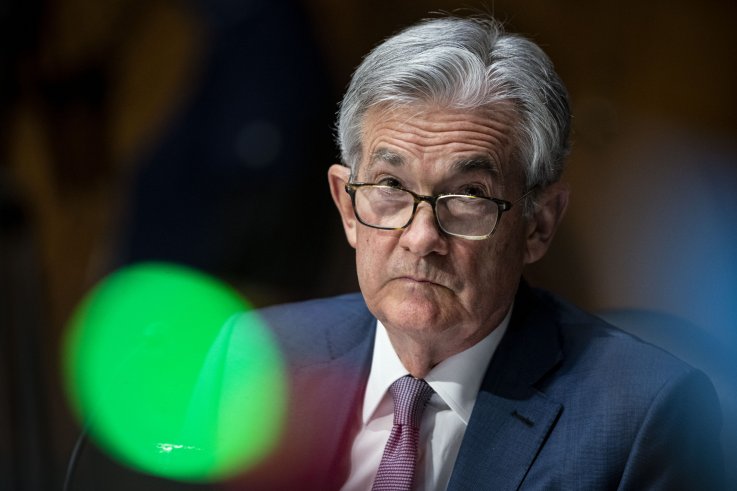 Federal Reserve Chairman Jerome Powell said Thursday that the U.S. is investigating the possibility of creating its own digital currency. Powell is pictured during a Senate Banking Committee hearing in Washington, D.C. on December 1, 2020.
Al Drago/Getty
The IRS has pegged the gap between tax liability and tax revenue at $441 million a year between 2011 and 2013. The projected gap increases to $584 billion in 2019 and swells to an estimated $7 trillion over the next 10 years.
The plan would add about 87,000 IRS employees over 10 years and, adjusted for inflation, boost the tax collection agency's budget about 40% from its 2011 budget.
"Cryptocurrency already poses a significant detection problem by facilitating illegal activity broadly including tax evasion," the Treasury Department said.
"This is why the President's proposal includes additional resources for the IRS to address the growth of cryptoassets," the report states. "Within the context of the new financial account reporting regime, cryptocurrencies and cryptoasset exchange accounts and payment service accounts that accept cryptocurrencies would be covered. Further, as with cash transactions, businesses that receive cryptassets with a fair market value of more than $10,000 would also be reported on."
Biden's proposal to increase tax enforcement means more agents and more audits, raising privacy concerns.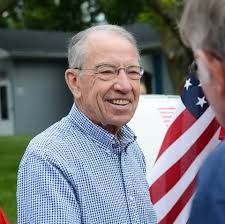 Republican Senator Chuck Grassley of Iowa said that government regulation of cryptocurrency would mean that "Businesses of all sizes would incur new and burdensome compliance costs and reporting requirements along the way. Instead of promising a chicken in every pot, Biden's plan promises an auditor at every kitchen table."
Senator Chuck Grassley, an Iowa Republican, expressed doubts about the administration's proposal in a guest column published recently in the Des Moines Register.
"Businesses of all sizes would incur new and burdensome compliance costs and reporting requirements along the way," Grassley wrote. "Instead of promising a chicken in every pot, Biden's plan promises an auditor at every kitchen table."
Analysts have repeatedly warned that new regulations are coming to the cryptocurrency market.
Gary Gensler, chairman of the U.S. Securities and Exchange Commission (SEC) and a former professor at the Massachusetts Institute of Technology's Sloan School of Management, is regarded as a cryptocurrency expert.
Earlier this month, he told Congress the SEC should regulate crypto exchange to protect investors and to prevent market manipulation. A British watchdog agency warned that investors should be prepared to lose all their money.
U.S. lawmakers have expressed concern that Bitcoin can be used to fund illicit activity, but such fear appears overblown.
"In total, just over 2% of the activity in the cryptocurrency space was linked to illicit activity in 2019, and that total was down to only 0.3% in 2020," Citi Global Perspectives & Solutions, widely known as Citi GPS, said in a 108-page research report. "However, the extent of such activity can often seem overblown based on news headlines alone."
China has banned the use of cryptos and India is considering a similar ban. Last month, Turkey banned the use of cryptos in commerce.
Official concern about Bitcoin's volatility and risk, while accurate, may be a stalking horse for governments worldwide to replace cryptocurrencies and regain control of all types of money.
An analyst said governments will not give up their monopoly to issue and regulate money—and that could mean trouble for cryptocurrencies.
"Until recently, regulators and authorities have been reluctant to move too fast into the cryptocurrency space because there has been a lot of innovation," Dr. Marion Laboure, an analyst at Deutsche Bank in London, said in a research report.
"This allowed the financial sector to innovate. Competition and innovation are usually positively correlated," she said. "But governments are unlikely to relinquish their monetary monopolies. As Bitcoin or other private cryptocurrencies start to seriously compete with . . . government currencies, regulators/policymakers will crack down."
The proposed IRS regulations may be part of that crackdown – and may diminish in importance because Bitcoin may be eclipsed in the long term by government-issued digital currencies.
The Federal Reserve, the nation's central bank, said it plans to issue a research paper this summer outlining the benefits and risks of issuing a U.S. digital currency.
"The paper represents the beginning of what will be a thoughtful and deliberative process," Fed Chairman Jerome Powell said Thursday in a video message.
Financial institutions fret that digital dollars could disrupt their business models, but Powell said the new currency would complement rather than replace cash and bank deposits.
"The design of a (Central Bank Digital Currency) would raise important monetary policy, financial stability, consumer protection, legal, and privacy considerations and will require careful thought and analysis – including input from the public and elected officials," Powell said.
China has launched a digital yuan and is testing it in selected cities.
Unlike Bitcoin, Ethereum or other cryptos, CBDCs would be issued by the government, backed by monetary reserves, centralized and regulated.
Researchers at MIT and the Federal Reserve Bank of Boston are developing a prototype.
"A CBDC is very different from existing electronic payment systems, because it is ultimately a liability on the central bank," MIT said in a research report. "This means the holder of CBDC does not have counterparty risk the way one does when one takes payments electronically through existing products and channels. In some designs, the holder would not be reliant upon such an institution at all to store and transfer that value, the way they do with cash. This could open up our payment systems, increasing competition, reducing costs, and spurring innovation."
That sounds like a cryptocurrency dream—but a crypto enthusiast's nightmare—crypto with governments in charge.
In mid-day trading Friday, Bitcoin changed hands at $36,762.30 down 8.80% in the last 24 hours but up 26.19% for the year. The 24-hour range is $36,253.33 to $42,278.01 The all-time high is $64,829.14. The current market cap is $687.99 billion, CoinDesk reported.
MARKET PULSE
The U.S. government won't provide special help to automakers during the global semiconductor shortage. Other industries, including consumer electronics, home appliances, video games, communications and medical devices, also contend with limited supplies.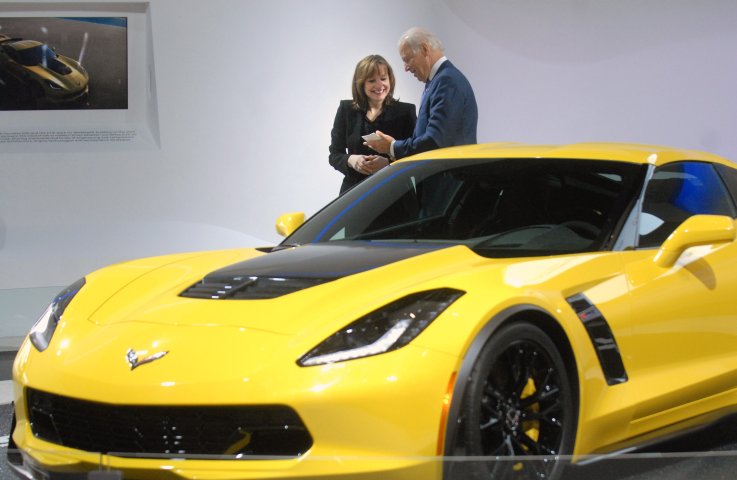 Then Vice-President Joe Biden and General Motors CEO Mary Barra seen at the North American International Auto Show industry preview at Cobo Hall on January 16, 2014 in Detroit, Michigan.
Paul Warner/Getty Images
The chip shortage hit the auto industry early and it asked the Biden administration for help. Commerce Secretary Gina Raimondo said she will do what she can, but won't put the auto industry ahead of other sectors struggling to find semiconductors.
The crunch hit in late 2020 after automakers underestimated demand during the shutdown intended to curb spread of the coronavirus.
"The chip shortage, highlighted by the COVID-19 pandemic, has created ripple effects throughout the tech industry," the Consumer Technology Association, an Arlington, Virginia-based trade group, said in a research report.
"About a year ago, when automotive manufacturers revised sales forecasts and cut-back on supplies, including semiconductor chips, available chip capacities were filled up by companies thriving in the 2020 stay-at-home economy such as laptops, tablets and gaming equipment," the report said.
Many industries saw order times lengthen and some companies increased their orders. Demand exceeded supply, driving up prices.
Worldwide sales of semiconductors totaled $123.1 billion in the first quarter of 2021, up 17.8% more than the same period a year ago, the Washington-based Semiconductor Industry Association reported.
Sales in all markets were up: China (25.6%), Asia Pacific/All Other (19.6%), Japan (13.0%), the Americas (9.2%), and Europe (8.7%), the trade group said.
The American Automotive Policy Council urged President Biden and members of Congress to strengthen the U.S. supply chain.
"The U.S. motor industry . . . (has) an outsized impact on the U.S. economy, responsible overall for 10.3 million jobs and $650 billion in paychecks for our workers each year," the organization said in a letter to Congressional leaders.
"As a result, we believe any legislation to fund multi-billion-dollar federal incentives to private semiconductor firms should prioritize production of the semiconductors necessary to assemble vehicles here in the United States<" the Council said. "This will ensure that motor vehicle manufactures have a fair share of chips needed to meet consumer demand."
Ford and GM have announced reduced schedules and temporary idling of plants in the Midwest, Canada and Mexico due to the semiconductor shortage. This has tightened inventory available to dealers and driven up prices.
Semiconductors are used in power steering, sensors, braking systems, dashboard displays and to improve engine performance.
Government officials have met with chipmakers, including Taiwan Semiconductor Manufacturing, the world's largest contract chipmaker. But there appears to be no immediate relief in sight, and supply problems are likely to persist with increased demand for electric vehicles and the growth of 5G, the fifth generation of broadband cellular networks.
President Biden has proposed a plan to spend tens of billions of dollars to increase domestic chip production, but companies are already expanding.
Intel has announced plans to spend $20 billion to construct two new chip fabrication plants in Chandler, Arizona. The company also has production facilities in Massachusetts, New Mexico and Oregon. It has overseas operations in Ireland, Israel and China.
Intel and IBM have formed a partnership to improve chip logic and speed in the next generation of chips. Intel will integrate IBM's software into Internet-enabled chips.
The partnership among long-time rivals is intended to speed development of the next generation of semiconductors.
"Pick your battle and invest in big partnerships," Mukesh Khare, vice president of Hybrid Cloud at IBM Research in Albany, New York, told IEEE Spectrum, a magazine produced by the Institute of Electrical and Electronics Engineers.
"Every company, however big they are, is good in only certain areas," Khare said. "Choose your strength and double down on it, and pick that market where you can differentiate yourself."