Federal Marijuana Decriminalization Was Opposed by These Two Democrats
Two House Democrats voted Friday against legislation decriminalizing marijuana at the federal level—in opposition to their party colleagues as well as three Republicans.
The Marijuana Opportunity, Reinvestment and Expungement (MORE) Act passed in the House with a narrow bipartisan margin, with 220 lawmakers in support and 204 opposed. Three Republicans—Representatives Matt Gaetz of Florida, Brian Mast of Florida and Tom McClintock of California—voted in support, along with the vast majority of Democrats.
Democratic Representatives Henry Cuellar of Texas and Chris Pappas of New Hampshire joined the majority of GOP House members in opposing the legislation.
The MORE Act would remove marijuana from the federal Controlled Substances Act. This would allow individual states to legalize cannabis markets without concerns about potential federal interference. The bill additionally provides for the expungement or resentencing of individuals with nonviolent federal marijuana convictions, while promoting diverse participation in state-regulated cannabis industries.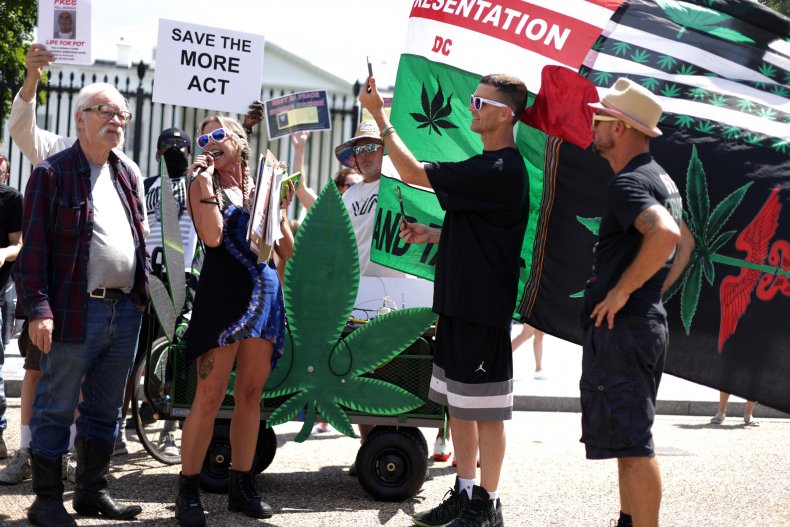 Pappas told Newsweek in a statement, "I support decriminalizing marijuana, taking it off Schedule I, and making important federal reforms so states can choose how to appropriately regulate these substances. But the MORE Act is not the right way to do this. It is a deeply flawed bill that contains loopholes that would jeopardize public safety for Granite Staters and all Americans."
Newsweek reached out to Cuellar's spokesperson for comment but did not immediately receive a response.
Polls show that a substantial majority of Americans support partial or full legalization of marijuana. Gallup's polling data showed that 68 percent of Americans—including 83 percent of Democrats, 50 percent of Republicans and 71 percent of independents—approved of fully legalizing marijuana as of November 2021.
Pew Research Center's polling conducted in April 2021 showed that 60 percent of Americans approve of legalizing the plant for medical and recreational use. An additional 31 percent said they supported legalization just for medical use. The survey found that 47 percent of Republicans support full legalization, as do 72 percent of Democrats.
Eighteen of 50 states have already legalized weed for recreational consumption, as have Washington, D.C., and two U.S. territories—the Northern Mariana Islands and Guam. Thirty-seven states have legalized the plant for use with a doctor's recommendation, as has the nation's capital and most of the country's inhabited territories.
Yet marijuana remains completely illegal under federal law. If the MORE Act is passed in the Senate and signed by President Joe Biden, the plant would be removed from its status as a Schedule 1 substance and become decriminalized nationwide.
"The time has come for federal lawmakers to put aside partisan differences and recognize that state-level legalization policies are publicly popular, successful, and are in the best interests of our country," Morgan Fox, the political director for marijuana advocacy group NORML, said in a statement sent to Newsweek.
"Now that the House has once again supported sensible and comprehensive cannabis policy reform, we strongly urge the Senate to move forward on this issue without delay," Fox urged.