Federal Raid on Ghost Gun Operation Shows Danger of Untraceable Firearms
Federal prosecutors have indicted an Oregon man for allegedly running the state's largest "ghost gun" manufacturing workshop, a case authorities say highlights how the homemade firearms can fuel crime.
A federal grand jury on Thursday indicted Tyler Ray Harnden on charges he allegedly provided fentanyl-laced counterfeit oxycodone pills to people with substance abuse disorders in exchange for making illegal straw purchases of firearms.
The charges stem from a raid on Harnden's Salem residence in February. There, agents from the Bureau of Alcohol, Tobacco, Firearms and Explosives (ATF) and local police found dozens of homemade firearm components, three drill presses and other manufacturing equipment.
Authorities allege Harnden was running a ghost gun outfit, in part of a larger problem of DIY weapons increasingly being used by criminal organizations and right-wing extremists to evade firearm laws. In response to their proliferation at crime scenes, federal authorities are now seeking to close a loophole used to manufacture ghost guns.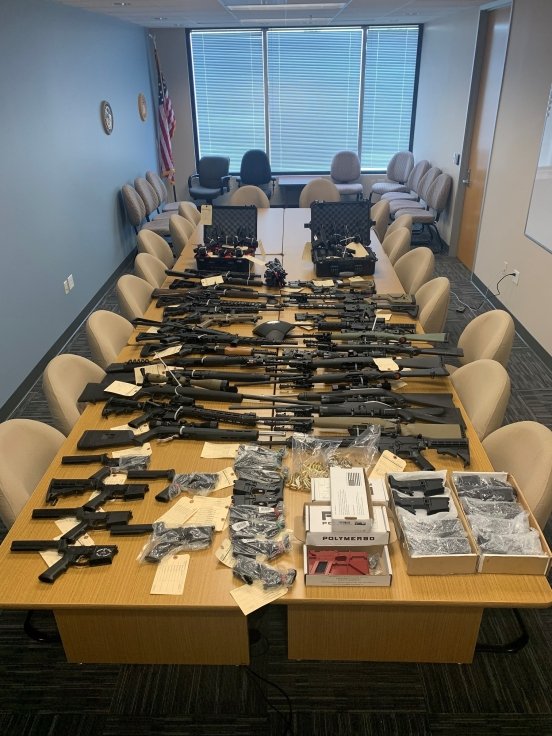 Oregon resident Tyler Harnden has been indicted by a federal grand jury for distributing counterfeit oxycodone pills containing fentanyl and operating a ghost gun manufacturing workshop. Pictured, a table of firearms seized from the home of Harnden by federal agents on February 16, 2022.
U.S. Department of Justice
"Ghost guns are homemade firearms without serial numbers assembled from kits or materials sold without background checks, making them easily acquired by criminals who otherwise would not be permitted to possess a firearm and nearly impossible for law enforcement to track," the U.S. Attorney's Office for the District of Oregon said in a press statement.
During the raid, federal agents seized two pistols, three completed ghost guns, thousands of rounds of ammunition and 15 loaded high-capacity magazines, in addition to manufacturing equipment and about 200 counterfeit oxycodone pills.
Harnden, 29, has been charged with possession with intent to distribute fentanyl and heroin, distribution of fentanyl, possessing a firearm in furtherance of a drug trafficking crime and illegally possessing a firearm as a convicted felon. Prosecutors allege Harnden obtained weapons using straw purchasers, someone who buys a gun with the intent of passing it along to someone ineligible to possess a firearm because of a previous criminal conviction.
Additionally, prosecutors allege Harnden tried to convince a relative to sell firearms being stored at their house to generate money for his jail spending account. Earlier this week, federal agents and local law enforcement executed a search warrant on the relative's house, seizing four gun safes and 63 additional firearms allegedly belonging to Harnden.
It's unclear if Harnden is being represented by an attorney.
The U.S. Department of Justice (DOJ) said in May of last year that more than 23,000 unserialized firearms were recovered by law enforcement between 2016 and 2020. Those include crime scenes at 325 homicides or attempted homicides.
People who are not legally allowed to own firearms can still purchase components used to quickly build a ghost gun without a background check, according to Everytown for Gun Safety. The frame and receivers used to assemble the guns lack subtle features that allow them to fall outside of federal regulations, according to the gun safety group.
Attorney General Merrick Garland announced last year the DOJ had initiated a process to update the federal definition of a "firearm" and related parts for the first time since 1968. The department is also seeking to update the definition of "frame or receiver," which it said would close a loophole used by ghost gun manufacturers.
"Criminals and others barred from owning a gun should not be able to exploit a loophole to evade background checks and to escape detection by law enforcement," Garland said in a press statement last year.
Newsweek has reached out to the U.S. Attorney's Office for the District of Oregon and the U.S. Department of Justice.