FedEx Worker Reveals Black Friday Fall-Out With Truck Stuffed With Parcels
A FedEx driver has shared just how different their delivery trucks look in the days following Black Friday.
As customers wait to receive the countless discounted items they purchased on Black Friday and Cyber Monday, it's the delivery drivers who see the most difference.
FedEx delivery driver and TikTok user Roger Ruiz posted footage of the inside of his delivery truck two days ago, writing: "This is what a FedEx truck looks like after Thanksgiving. Please shop in person."
The video showed boxed packages stacked up in the back of the truck on top of one another, covering the majority of the space. There remained nearly no room for Ruiz to walk to the other end of the truck.
In a comment, Ruiz confirmed that he hadn't finished loading the deliveries yet and actually ended up with 235.
"F*** work but i'll see y'all tomorrow," he captioned the video.
In a statement to Newsweek, FedEx said of the video: "The sentiments expressed in this video are inconsistent with the professionalism FedEx team members and service providers demonstrate every day in safely and securely delivering millions of packages to our customers.
"Throughout the robust FedEx global network, our 560,000 team members are currently delivering for the holidays during our peak shipping season, which runs from Black Friday to Christmas Eve. We have been working with our largest customers to shift volume to earlier in the season, and are encouraging all customers to shop and ship early."
With over 250,000 views, many took the opportunity to consider the delivery drivers having to work through the long list of Black Friday orders, while others even apologised for their own hefty packages.
"You make my life and so many others so much easier," noted one TikTok user.
"I used to be a delivery driver and all these people in the comments clearly have never worked those 70+ hour weeks to get everything delivered," wrote one user.
Similarly, a retail worker expressed similar stress around Black Friday, writing: "As a retail worker I feel you. Stressful on our end too. But I know, every year your trucks are going to get fuller and fuller."
Other however argued that the deliveries shown weren't actually that many, in comparison to other experiences: "I work at FedEx. That truck isn't even that full. I see lots of room on the shelves," commented one user.
Despite Ruiz's deliveries clearly being higher than usual, online spending on Black Friday this year actually decreased from the previous year. According to statistics from Adobe Analytics, online shoppers spent a total of $8.9 billion this year, slightly less than 2020's $9 billion.
This doesn't necessarily mean that individuals actually spent less overall however, as Adobe pinpointed early sales as a possible cause for the fall. Some retailers began offering Black Friday deals as early as October.
Global supply chain issues were also marked as another possible culprit, with a 124 percent increase in out-of-stock messages since January 2020, meaning many Black Friday shoppers simply couldn't buy the items they wanted.
Ruiz wouldn't be the first individual to go viral on TikTok for showing heaps of delivery parcels either. In August, TikTok user Tierra Lopez racked up millions of views after filming the mass amount of parcels delivered to her neighbor's house.
Boxes were captured stacked in the front garden of the house and the deliveries arrived over the space of three days, with parcels still arriving at the time. No exact amount was given, but Newsweek calculated over 150 boxes piled up, with more being unloaded in the video.
Later videos showed the parcels still in the front garden, covered by blue tarp, as a moving van reversed into the lawn to drop off even more.
Newsweek has contacted Roger Ruiz for comment.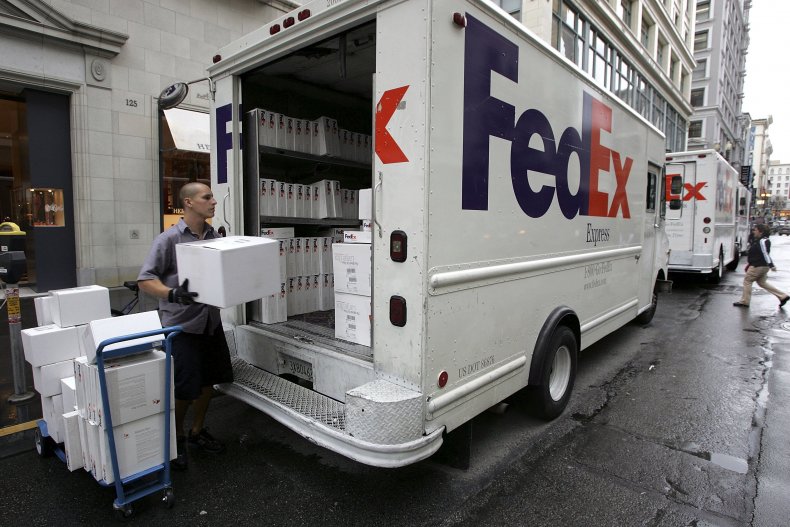 UPDATE 12/01/2021, 7:03 a.m. ET: This article was updated to include a statement from FedEx.