Feds 'Assessing' Whether Russian Attack on Nuke Plant Was a War Crime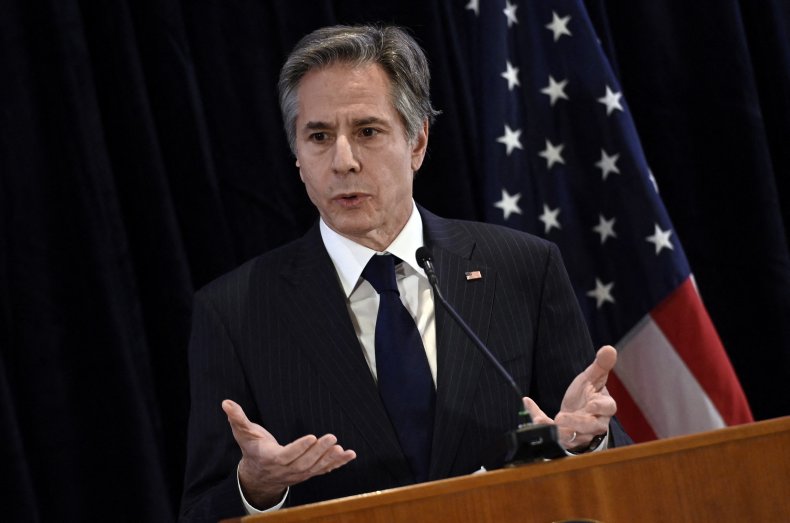 The U.S. Department of State is reportedly "assessing" whether Russia's attack on a nuclear power plant in Ukraine constituted a war crime.
Thursday's Russian attack on Ukraine's Zaporizhzhia plant, the largest nuclear power facility in Europe, sparked international condemnation and concerns about a fire caused by a Russian projectile. Some expressed fears that the attack would lead to a nuclear incident like the 1986 disaster at the now-decommissioned Chernobyl nuclear power plant—which Russian forces captured shortly after launching the invasion—although experts dismissed the comparison.
Ukrainian President Volodymyr Zelensky described the attack as an act of "nuclear terrorism," while the Twitter account of the U.S. Embassy in Kyiv suggested the attack was a war crime on Friday morning before the State Department quickly attempted to walk back the comment. In response to a query by Agence France-Presse, a State Department spokesman said that the legality of the attack was being studied.
"The intentional targeting of civilians or civilian objects, including nuclear power plants, is a war crime, and we are assessing the circumstances of this operation," the spokesman said. "But regardless of the legality, this action was the height of irresponsibility, and the Kremlin must cease operations around nuclear infrastructure."
Hours earlier, the embassy in Kyiv said that the attack had escalated Russian President Vladimir Putin's "reign of terror" in a tweet alongside hashtags that included a reference to The Hague, Netherlands—home to the International Criminal Court, which is already investigating potential war crimes committed by Russia in Ukraine.
"It is a war crime to attack a nuclear power plant. Putin's shelling of Europe's largest nuclear plant takes his reign of terror one step further," the embassy tweeted. "#TheHague #Zaporizhzhia #StandwithUkraine"
The tweet remained online as of Friday night. The State Department reportedly sent an urgent memo to all of its embassies in Europe shortly after the tweet, directing the embassies to not spread the message any further.
"URGENT: Do Not/Not Retweet Emb. Kyiv's Tweet on Reactor," a State Department email read, according to NBC News. "All - do not/not retweet Embassy Kyiv's tweet on shelling of the facility being a possible war crime. If you have retweeted it - un-re-tweet it ASAP."
Although Ukraine has accused Russia of multiple war crimes during the invasion, U.S. officials have been far more hesitant to apply the label. On Wednesday, President Joe Biden said that while it was "clear" Russian troops were targeting civilians in Ukraine, it was too "early to say" whether war crimes were being committed.
Secretary of State Antony Blinken has not repeated the Kyiv embassy's war crimes claim. Before a meeting with NATO Secretary-General Jens Stoltenberg in Brussels on Friday, he said that the U.S. would be "ready" to stand with allies and "defend every inch of NATO territory" if Russia launches military assaults beyond Ukraine.
Some European allies have been less cautious in their assessments. Irish Foreign Minister Simon Coveney said on Friday that there was not "any credible argument now that war crimes aren't being committed on a daily basis," while British Prime Minister Boris Johnson said Wednesday that Putin's attack on civilians "already fully qualifies as a war crime."
Newsweek reached out to the State Department for comment.