After blasting Russia for its invasion of Ukraine in his State of the Union address, President Joe Biden says "it's clear" that Russian troops are intentionally targeting Ukrainian civilians. However, Biden believes it's too early to say whether Russia's troops have committed war crimes.
On Wednesday, a reporter on White House lawn asked Biden, "Do you believe Russia is committing war crimes in Ukraine?" Biden responded, "We are following it very closely. It's early to say that."
Another reporter asked, "Do you believe Russia is intentionally targeting civilian areas? There are over 2,000 civilian deaths right now." Biden answered, "It's clear they are."
Russia is under investigation for possible war crimes in Ukraine by the International Criminal Court (ICC) following reports that Russian strikes used cluster munitions and vacuum bombs. Such weapons have been denounced by over 100 countries. If used against civilians, the action could be considered a breach of the Geneva Convention, the protocols that set the standards for humanitarian treatment in war.
In his Tuesday night State of the Union address, Biden referred to Russian President Vladimir Putin as a "dictator" who has "unleashed violence and chaos" on the Ukrainian people. However, Biden didn't make any mention of war crimes.
"Putin's latest attack on Ukraine was premeditated and unprovoked," Biden said. "And now that he has acted the free world is holding him accountable...Putin is now isolated from the world more than ever."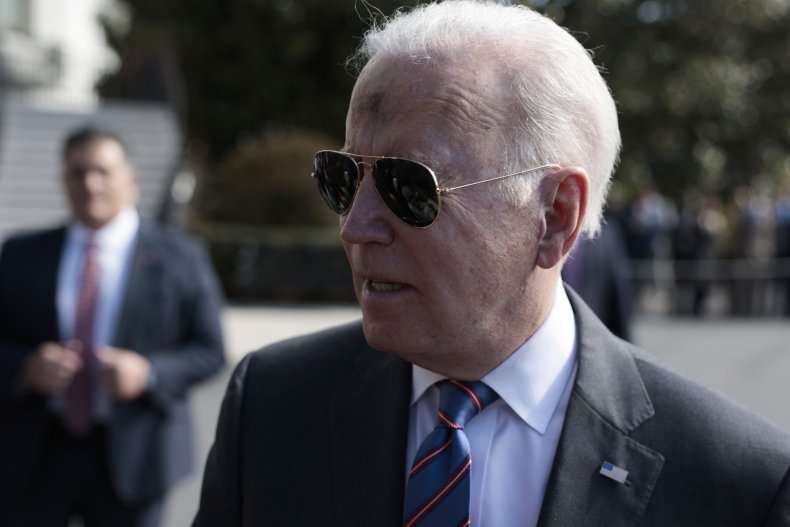 On Monday, White House press secretary Jen Psaki said that the Biden administration hadn't received confirmation of the weapons' use. She added, "If that were true, it would potentially be a war crime."
"Obviously, there are a range of international fora that would assess that," Psaki said. "So, certainly, we would look to that to be a part of that conversation."
However, others have been quicker to declare that Russia has committed war crimes.
Republican Senator Lindsey Graham of South Carolina said on Wednesday that the U.S. should "pursue war crimes allegations against Vladimir Putin and his military commanders."
That same day, U.K. Prime Minister Boris Johnson said he believed that the use of munitions against innocent civilians "already fully qualifies as a war crime."
On Tuesday, Ukraine President Volodymyr Zelensky accused Russia of committing war crimes after a Russian military strike hit the center of Kharkiv.
Zelensky called the attack "frank, undisguised terror," stating, "Nobody will forgive. Nobody will forget. This attack on Kharkiv is a war crime."
Ukraine's Foreign Minister Dmytro Kuleba backed up Zelensky's assertion, stating, "[Putin] commits more war crimes out of fury, murders innocent civilians."
Russian forces have attacked a kindergarten and orphanage in northeastern Ukraine and a hospital in the southeast, according to Human Rights Watch. The attacks reportedly killed civilians, including some children.
"The Russian military has shown a blatant disregard for civilian lives by using ballistic missiles and other explosive weapons with wide-area effects in densely-populated areas," Agnès Callamard, Amnesty International's Secretary-General, said in a statement. "Some of these attacks may be war crimes."
Bellingcat, a Netherlands-based investigative journalism group, has also set up a partnership with Mnemonic, a non-governmental organization that archives evidence collected from social media and mobile phones, to collect and verify online videos of alleged attacks on Ukrainian citizens, The Guardian reported. The evidence could one day help prove whether Russia has committed war crimes.
As sanctions from western allied countries negatively impact the Russian economy, Putin could resort to increasingly brutal tactics, including war crimes, Mathieu Boulègue, a research fellow with the Russia and Eurasia program at the Royal Institute of International Affairs in London, told The Guardian.
While it can be difficult to count civilian and troop deaths during wartime, the Russian Defense Ministry has said that 2,870 Ukrainians have been killed with an additional 3,700 injured and 572 captured. It's unclear how many were non-combatant civilians.
Newsweek contacted the White House for comment.