Feds Probe Extremist Ties of Ricky Shiffer, Gunman Killed in FBI Standoff
Ricky Shiffer, a man who authorities said was killed after attempting to break into an FBI field office, reportedly made threatening social media posts and was possibly at the January 6 insurrection.
Authorities said officers shot and killed Shiffer on Thursday after he attempted to force his way into the Cincinnati FBI building while armed and clad in body armor. The incident came days after the FBI raided former President Donald Trump's Mar-a-Lago estate in Florida, triggering Republican outrage and a wave of threats against the bureau. The attack on the FBI field office is raising questions about what ties Shiffer may have had to extremist groups.
The Ohio State Patrol said Shiffer fled the FBI office before stopping in a rural part of nearby Clinton County where he exchanged gunfire with officers. Shiffer was fatally shot by police, the patrol said.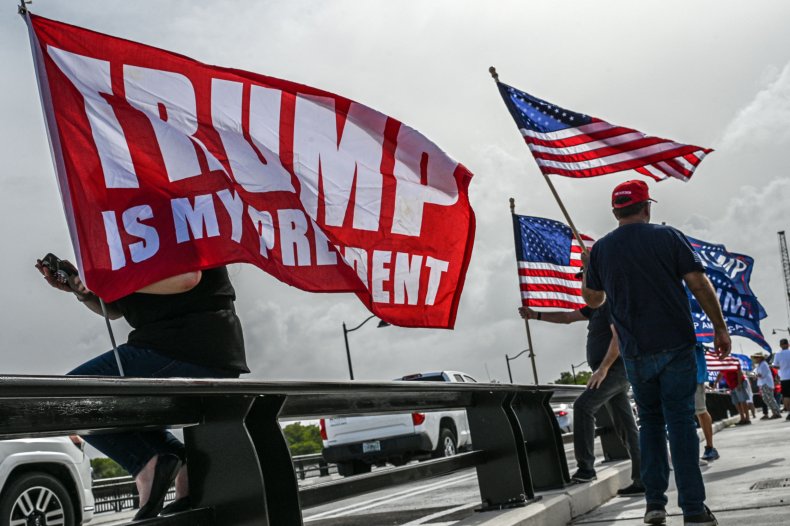 Shiffer, 42, was suspected of being in Washington, D.C., leading up to the January 6 insurrection and may have been inside the Capitol as a pro-Trump mob attempted to stop Congress from certifying the 2020 election, an unnamed source told the Associated Press.
While Shiffer was not charged for any crimes linked to January 6, federal investigators are looking into any connections he may have had with far-right groups, such as the Proud Boys, the AP reported.
Shiffer's suspected social media accounts, including Twitter and Truth Social, appear to have been deleted or suspended following the standoff in Ohio.
But The New York Times found what appears to be a video posted to Facebook of Shiffer attending a pro-Trump rally in Washington, D.C., the night before the attack on the Capitol. A Twitter account with the user name Ricky Shiffer made posts about being present at the Capitol during the attack and denied that it was Trump's supporters who stormed the building, the paper reported.
"Save ammunition, get in touch with the Proud Boys and learn how they did it in the Revolutionary War, because submitting to tyranny while lawfully protesting was never the American way," the same user said in another Twitter post, according to the Times.
Now-deleted posts to Truth Social from what appears to be Shiffer's account warned of an imminent confrontation with the FBI, according to a review by Vice News. The account's profile described Shiffer as a construction electrician who had been blocked from other social media platforms, according to Vice.
After news broke that Mar-a-Lago had been raided, Shiffer posted that Trump "was my hero just a year ago" and he expected the former president to issue a call for peace, according to Vice. But then Shiffer took a troubling tone.
"People this is it," he wrote. "I hope a call to arms comes from someone better qualified, but if not, this is your call to arms from me. Leave work tomorrow as soon as the gun shop/Army-Navy store/ pawn shop opens, get whatever you need to be ready for combat. We must not tolerate this one. They have been conditioning us to accept tyranny and we must respond with force."
Shiffer was reportedly armed with an AR-15-style rifle and fired a nail gun at the Cincinnati FBI building before fleeing.
Travis View, a far-right extremist researcher, posted to Twitter what he said was Shiffer's final post to Truth Social.
"Well, I thought I had a way through bullet proof glass, and I didn't," wrote Shiffer. "If you don't hear from me, it is true I tried attacking the F.B.I. and it'll mean either I was taken off the internet, the F.B.I. got me, or they sent the regular cops."
The FBI told Newsweek in a statement that it is reviewing the shooting.
"The FBI takes all shooting incidents involving our agents or task force members seriously," the statement said. "In accordance with FBI policy, the shooting incident is under investigation by the FBI's Inspection Division. The review process is thorough and objective, and is conducted as expeditiously as possible under the circumstances."
Update 8/12/22, 4:35 p.m. ET: This story has been updated with additional comment from the FBI.