Trump House Raid Rocks MAGA World: 'Smash the FBl Into a Million Pieces'
Allies of Donald Trump are likening the U.S. to a "third-world country" and calling for the FBI and Justice Department to be dismantled in response to a raid on the former president's home.
Trump on Monday evening confirmed that FBI agents had searched his residence on his Mar-a-Lago estate in Palm Beach, Florida. While the reason for the raid remains unclear, Trump denounced it as politically motivated in a lengthy statement. Trump's defenders swiftly took to social media to echo the former his claims while attacking Attorney General Merrick Garland and federal law enforcement agencies.
"The FBI and the DOJ have ruthlessly violated the Constitution and law in America," conservative political commentator Lou Dobbs said in a tweet. "Joe Biden and Merrick Garland are no more than Marxist thugs, not public servants. They're an outrage against decency, judgment, a former President, and the American people."
In a statement posted to his Truth Social network, Trump said the raid was part of a long history of being politically targeted by federal law enforcement. Trump described his home as "under siege, raided, and occupied" despite what he said was his cooperation with "Government agencies." Trump said FBI agents even "broke into my safe!"
A judge would need to sign off on a search warrant for Trump's home after the FBI presented evidence that a crime had been committed. The DOJ has not issued a public statement on the raid and the FBI declined comment to Newsweek.
But Trump's defenders were already deeply skeptical of any evidence the FBI might have used to justify the search.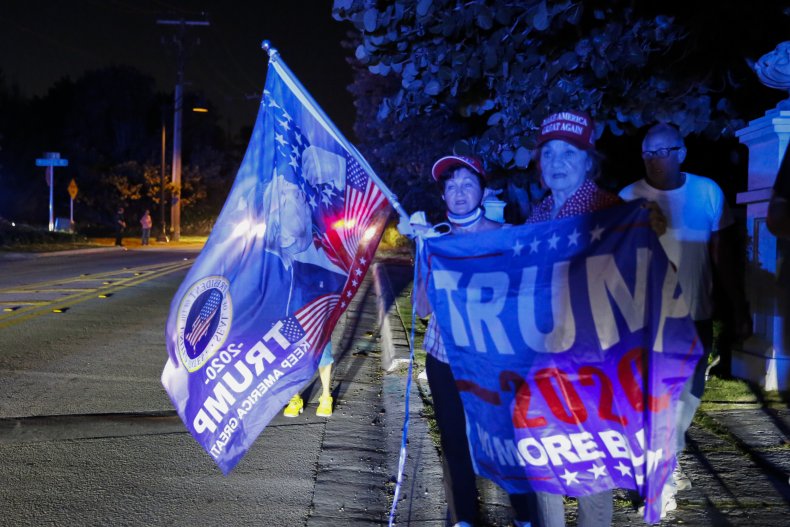 Republican Representative Don Bishop of North Carolina said in a tweet that the FBI and DOJ are "acting as the political enforcers of the Democrat Party." Bishop demanded that the FBI hand over the information used to obtain the search warrant to the House Judiciary Committee, of which he is a member, and that Garland and FBI Director Christopher Wray testify.
"Republicans must smash the FBl into a million pieces," he said.
Republican Senator Marco Rubio of Florida said in a tweet that "using government power to persecute political opponents is something we have seen many times from 3rd world Marxist dictatorships. But never before in America."
"The FBI raid on President Trump's home is an unprecedented political weaponization of the Justice Department," South Dakota Governor Kristi Noem said in a tweet. "They've been after President Trump as a candidate, as President, and now as a former President. Using the criminal justice system in this manner is un-American."
The raid comes after months of pressure on Garland to prosecute Trump for his actions regarding the attempt to overturn the results of the 2020 presidential election. But the reason for the raid may be for a lower-profile issue.
The National Archives and Records Administration earlier this year requested assistance from the FBI in recovering boxes of classified documents that Trump allegedly took to his resort in violation of the Presidential Records Act, according to a report from The Washington Post.
Fox News personality Brian Kilmeade said in a tweet that Eric Trump, son of the former president, said FBI agents were acting on behalf of the National Archives.
House Minority Leader Kevin McCarthy issued an ominous warning to Garland in a tweet, repeating Trump's accusations that the DOJ had become politicized.
"When Republicans take back the House, we will conduct immediate oversight of this department, follow the facts, and leave no stone unturned," he said. "Attorney General Garland, preserve your documents and clear your calendar."
Other allies of Trump, such as Florida Representative Matt Gaetz, suggested the raid was intended distract from an investigation concerning Hunter Biden, son of President Joe Biden. Specifically, the probe is looking into alleged foreign influence peddling, tax evasion and other charges.
Florida Governor Ron DeSantis said in a tweet that the raid is "another escalation in the weaponization of federal agencies against the Regime's political opponents, while people like Hunter Biden get treated with kid gloves."
Newsweek has reached out to Trump for comment.