Some of the documents reportedly taken by former President Donald Trump to his Florida Mar-a-Lago residence were clearly marked as classified, with some listed as "top secret," according to The Washington Post.
The number of top secret documents is unknown, but the Post also reported that some documents were marked with classifications above top secret, which is information that few high-level officials would be authorized to view.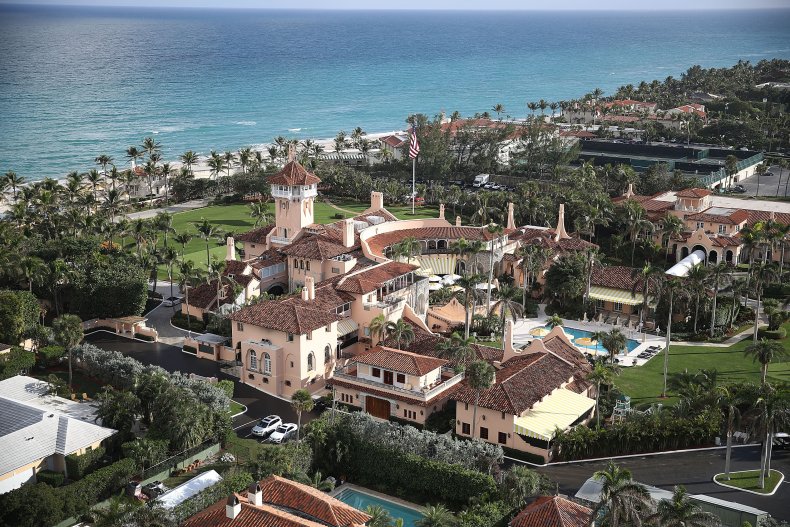 Last month, the National Archives and Records Administration reportedly assisted in retrieving as many as 15 boxes of documents from the Florida resort, according to The Post. The Archives denied their involvement in a "raid" of Mar-a-Lago, but said earlier this week in a statement that they coordinated with Trump's representation to arrange the return of documents not previously turned over to Washington in accordance with the Presidential Records Act.
Representatives from the Archives discovered the top secret classifications and have requested the FBI's assistance in reviewing them, The Post reported.
Included in the documents returned to the Archives were letters sent between Trump and North Korean President Kim Jong-un.
The top secret documents are being stored by the Justice Department while it is determined if the transport of the documents from Washington to Mar-a-Lago warrants a larger investigation into the record-keeping practices of the Trump administration, according to The Post.
"It is clear that a normal and routine process is being weaponized by anonymous, politically motivated government sources to peddle Fake News," Trump spokesperson Taylor Budowich told The Post. "The only entity with the ability to credibly dispute this false reporting, the National Archives, is providing no comment."
"Top secret" classifications are given to documents that contain "information, the unauthorized disclosure of which reasonably could be expected to cause exceptionally grave damage to national security," according to the National Archives Information Security Oversight Office.
The documents and Trump's habits of dealing with them have gained increased attention in recent weeks after it was reported that some of the documents sent by the Archives to the House committee investigating the events of January 6 arrived and looked like they had been torn apart and taped back together, The Post reported.
The documents were turned over to the House committee following several legal challenges from Trump that ended with the Supreme Court rejecting his attempts to keep the documents sealed.
It was also revealed Thursday that White House staff occasionally found toilets in the building clogged with what was discovered to be crumpled up pieces of paper, with many believing Trump attempted to flush documents down the toilet, according to reporting on New York Times reporter Maggie Haberman's upcoming book on Trump.
Update 2/10/22, 6:57 p.m.: This story has been updated with additional context and information.