The Federal Emergency Management Agency (FEMA) has increased the amount that Americans can claim for the funeral expenses of loved ones who died because of COVID-19.
Last week, FEMA announced that up to $2 billion, or $7,000 per family, would be available for COVID-related funeral expenses incurred after January 20, 2020, although further details were to be finalized.
The funds came from the Coronavirus Response and Relief Supplemental Appropriations Act and the American Rescue Plan and aimed to alleviate the financial burden on families already facing stress from their loss.
But on Wednesday, Senator Chuck Schumer (D-N.Y.) and Representative Alexandria Ocasio-Cortez (D-N.Y.), who have worked with FEMA to develop the funeral assistance program, announced that this amount would be increased to $9,000.
There is no requirement for the deceased person to be a U.S. citizen, non-citizen national or qualified alien, although the person applying must meet one of the criteria.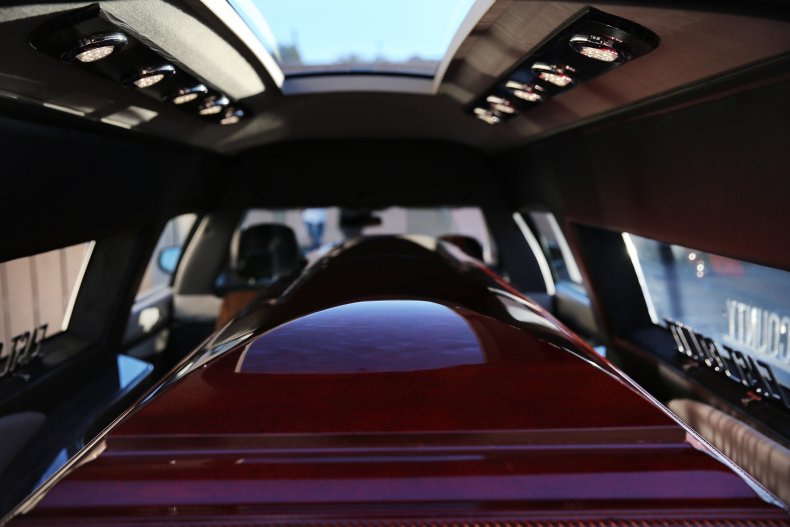 The death also must have also happened in the United States, including the District of Columbia and U.S. territories.
"The economic upheaval and added financial strain of this pandemic makes the added cost of funerals and burials unbearable for so many who have already lost so much," Schumer said in the statement.
People can start applying next month and applicants are encouraged to start gathering their documents.
They will be required to provide a copy of the death certificate, which must indicate that the death "may have been caused by" or "was likely a result of" COVID-19 or COVID-19-like symptoms. Other kinds of wording may be accepted.
Documentation also must include proof that the funeral expenses were incurred after January 20, 2020, and contain the names of the applicant and the deceased. People can claim for expenses ranging from the casket, burial plot, funeral services and cremation or burial costs.
FEMA will only grant the funeral assistance on a single application. If a number of people contributed toward the funeral expenses, they would need to register under a single application as applicant and co-applicant.
There will also be an free phone number set up for more information and applicants can get information on a page on the FEMA website, which will be updated as more details become available. People can apply to receive the money either as a check by mail, or funds by direct deposit.
Acting FEMA Administrator Robert Fenton said in a statement that with the pandemic bringing "overwhelming grief to many" it was able to help families "with the substantial cost of funerals and burials that so many weren't expecting."
The graphic below provided by Statista shows how the COVID death rate has declined before the start of this month.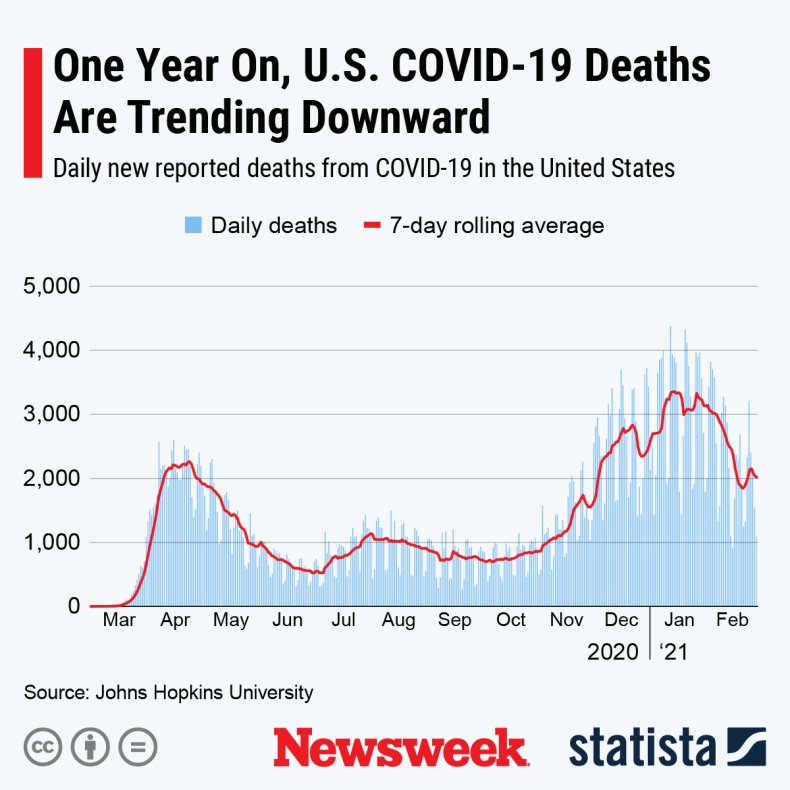 Newsweek, in partnership with NewsGuard, is dedicated to providing accurate and verifiable vaccine and health information. With NewsGuard's HealthGuard browser extension, users can verify if a website is a trustworthy source of health information. Visit the Newsweek VaxFacts website to learn more and to download the HealthGuard browser extension.