Are Female Hair Transplants on the Rise? Two Women on Their Hair Loss
Long associated with male celebrities clinging to their youth, hair transplants are getting a new lease of life—and it's thanks to women.
According to the International Society of Hair Restoration Surgery, 35 million men and 21 million women in the U.S. struggle with hair loss annually. Whether caused by genetics or conditions such as alopecia, hair loss can shatter a person's confidence and result in anxiety and depression.
Despite it being more socially acceptable for men to be bald, until recently, hair loss was viewed as solely a "male problem," with women less likely to seek help due to embarrassment.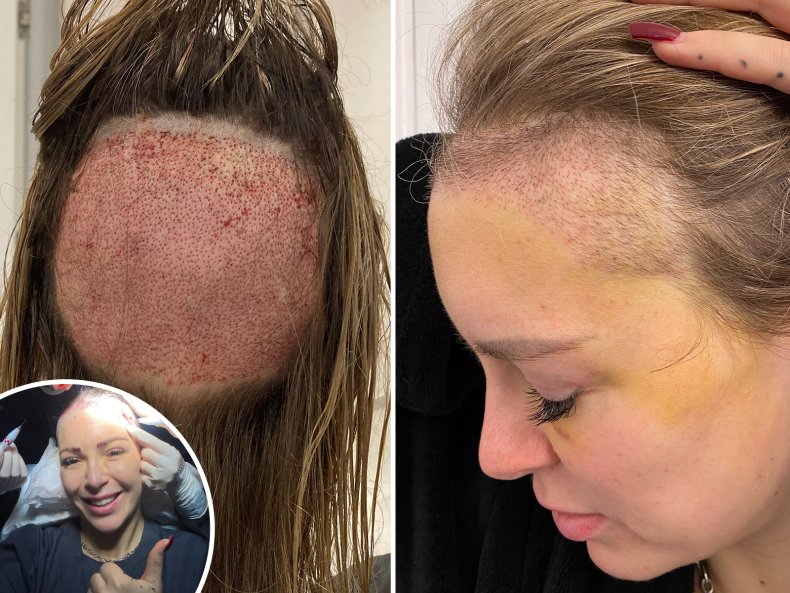 But attitudes are changing, with surgeons seeing an increase in women undergoing hair transplants—and speaking out about it.
Newsweek spoke to two women who shared their hair transplant journeys with the world, in the hope of normalizing the procedure and helping other women battling hair loss.
What Is a Hair Transplant?
A hair transplant involves taking follicles from one area of a person's head and reinserting them in another to replace lost or thinning hair.
Although hair restoration procedures date back to the 1950s, they could be rather gruesome, with techniques including flap surgery (where bald sections of scalp are cut away and replaced with hair-bearing pieces) and scalp reduction (where the scalp is stretched to cover balding areas).
The minimally invasive process used today is known as "grafting" or "plugs," and first became popular in the late 1980s and 90s. A number of male celebrities rumored to have undergone the procedure include Joe Biden and Matthew McConaughey, while singer Akon has been open about his decision to have a hair transplant.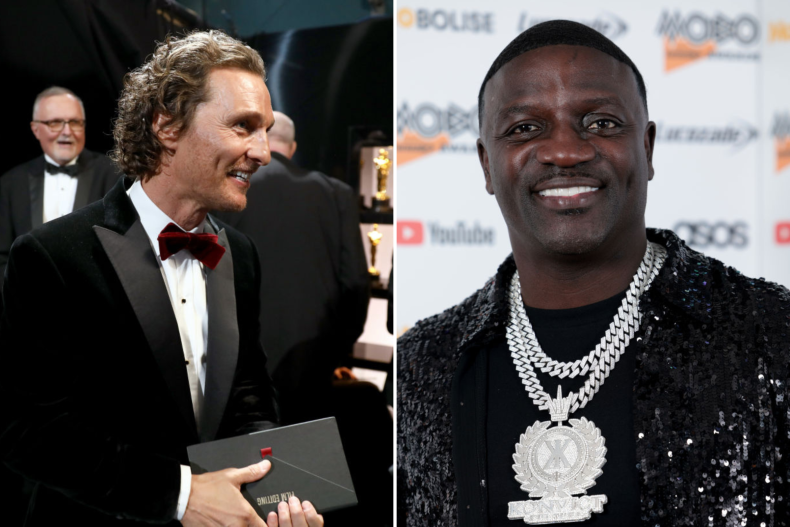 Despite A-listers embracing the trend, hair transplants have long been viewed as vain or cringe-worthy. However, the stigma has begun to lessen in recent years.
The International Society of Hair Restoration Surgery (ISHRS) reported over 703,183 hair restoration procedures worldwide in 2021—a 126 percent increase since 2012. Women made up 12.7 percent of surgical hair restoration procedures, as well as 37.5 percent of non-surgical options.
Why Are More Women Getting Hair Transplants?
Dr. Joseph Bryce Hart, director of MAXIM Hair Restoration, said the number of female patients visiting his clinic had risen from 1 percent to 15 percent in five years.
"This is partly due to the evolution in technology, such as the ability to perform no-shave extractions," he told Newsweek.
"But we [also] live in an age of information and social awareness, so it's likely that
women are becoming more conscious of their options."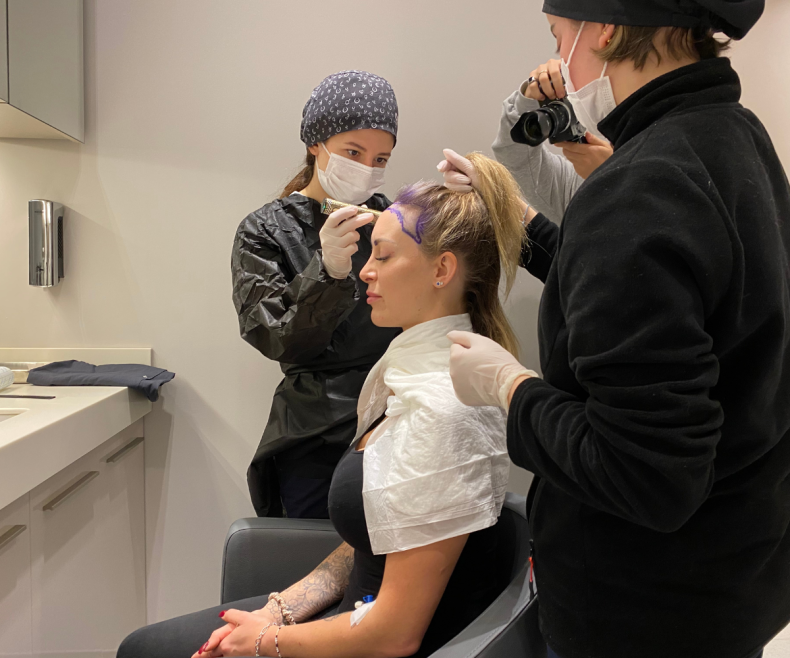 Across MAXIM's 15 U.S. offices, Hart has also seen a surge in women having grafts to thicken or reshape their eyebrows into face-framing arches.
"[It] produces a far more realistic and appealing brow than you would see with microblading or various forms of permanent make-up," he said.
Grafting is not suitable for everyone. Women with diffuse hair loss—where hair is thinning all over the head, rather than in specific areas—are likely to lose their transplanted tresses.
However, those struggling with traction alopecia (caused by hair extensions, chemicals or heavy accessories), scars, or have a receding or naturally high hairline are good candidates.
Grafting is minimally-invasive and low-risk, but possible issues include nerve damage, shock loss (where the transplanted hair falls out, but begins to regrow a few months later), infection and tissue necrosis.
"That said, we see countless patients coming in with the hopes of fixing a botched procedure," Hart said.
"The key to mitigating risk for your transplant is to do research and find a reputable clinic with a decent online presence, and whose primary focus is hair restoration."
'I Was Told Hair Transplants Were Only for Men'
Tracey Kiss, 35, from Buckinghamshire in the U.K, began experiencing hair loss 10 years ago. She noticed her hairline receding shortly after the birth of her second child, when clumps of hair began falling out in the shower.
"I was told it was a part of parenthood and put it down to hormone changes and a lack of sleep," she told Newsweek.
But her hair loss continued to worsen, so she spoke to her doctor. They conducted a blood test, but couldn't find anything medically wrong.
"When the results came back as normal, I felt a little embarrassed for wasting their time and didn't ask for medical help ever again," she said.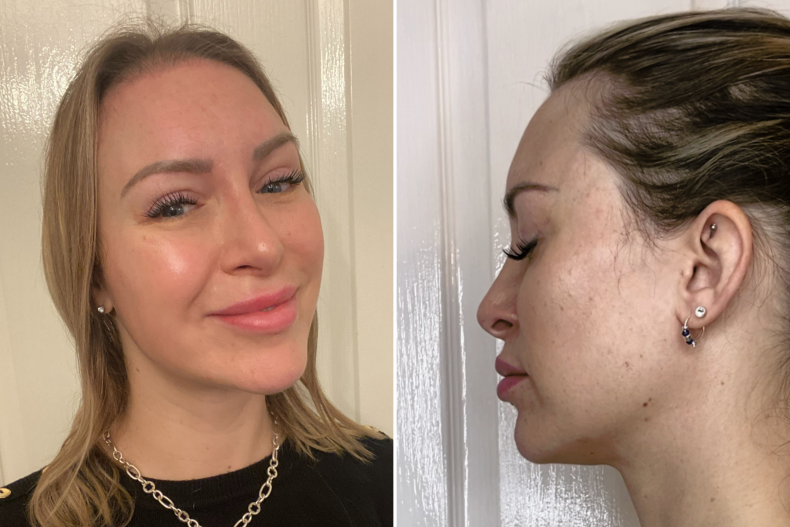 Over the years, people would comment on her thinning hair, and her self-esteem continued to erode.
"I'd panic, ruffle up my hair and change the subject," she said. "It was painful to acknowledge."
She spent years researching possible treatments, trying "every cream, oil and shampoo" possible. She experimented with wigs, but they made her sweaty and uncomfortable, while hair extensions put pressure on her remaining locks.
She reached out to hair transplant clinics, but they turned her down, telling her the procedure was "only for men," or would only help her if she became completely bald.
"I cried behind closed doors for many nights at the thought of helplessly waiting to go bald," she said.
'Looking Like the Happiest Hedgehog in the World'
A year ago, a photograph on social media caught Kiss' eye. It was a woman who had just successfully undergone hair transplant surgery, causing Kiss to "shriek with joy."
She contacted Get More Hair, a surgical concierge that arranges procedures and accommodation for hair transplant patients in Turkey.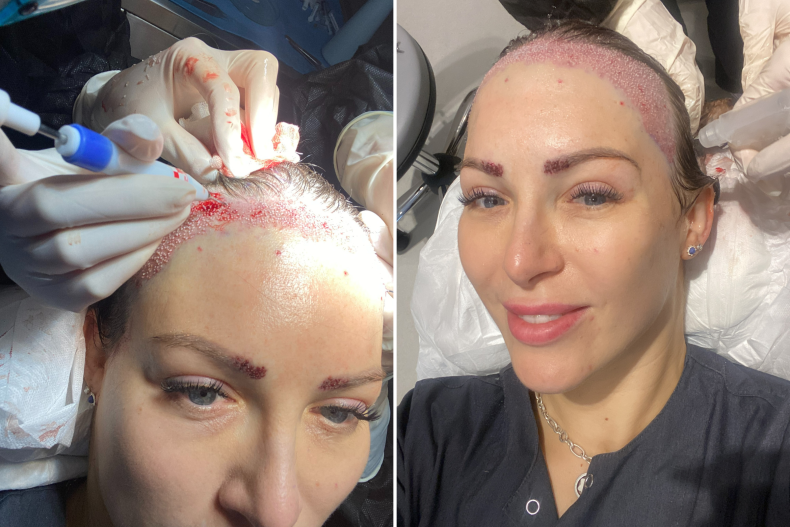 In November 2022, Kiss took a four-hour flight to Istanbul. She was given a combination of pain relief and local anesthesia, so was awake during the operation. She received 20 injections to the back of her head and 20 in her hairline to numb the area, a sensation she describes as a series of "sharp scratches."
Over six hours, the surgeon transferred 2,500 hair follicles from the back of Kiss's head to her hairline, scalp and temples. She also had follicles transplanted into the center of her brows to give them a fuller shape.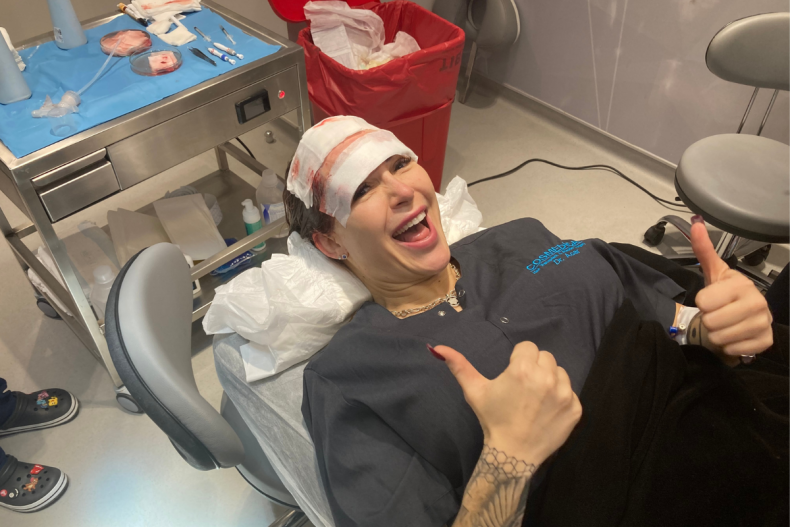 "Whilst my head was entirely numb, the tearing and crunching sounds of the hair being cut out, slits made for the new follicles, and hairs inserted into their new locations were unusual sensations," she said.
Kiss spent a long weekend recovering in the city. Between shopping, eating out and watching the sunset, she visited the clinic for check-ups with her surgeon and received daily hair washes performed by a nurse.
"I decided to cover my hair with a fashionable silk head scarf as my transplant was scabbing over," she said.
"I [also wore] dark glasses to hide the swelling and bruising of my two black eyes caused by my eyebrow transplant."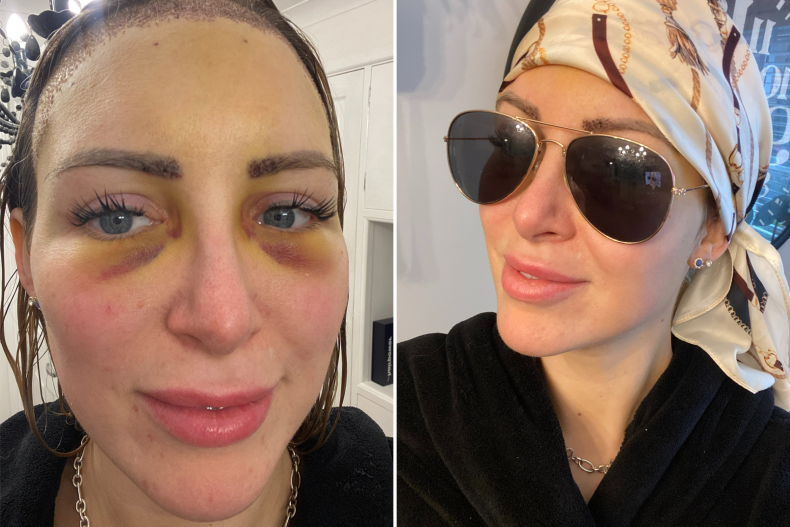 In the weeks post-surgery, Kiss had to take antibiotics, wear a compression band to reduce swelling and to sleep upright. The scabs began to fall off 10 days later, revealing her new hair.
"I had the cutest stubble and spent the first couple of months looking like the happiest hedgehog in the world," she said.
Once her hair reached 2 inches, it began to seemingly blend with her existing locks. Kiss documented her surgery journey on TikTok to help other women struggling with hair loss.
"The thought of another person being able to experience the self-love and positivity that I do from my surgery makes me want to cry with happiness," she said.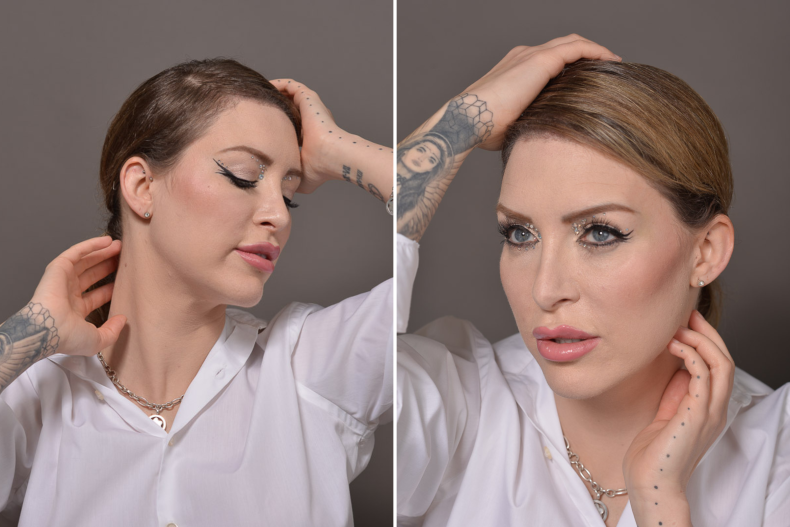 'Why Not Use My Experience to Guide Other Women'
Kiss isn't the only woman whose life was transformed by the procedure. Sonja van den Berg, 33, from the Netherlands, was so thrilled with her hair transplant, she now helps others to do the same.
Van den Berg first became self-conscious of her naturally high hairline in her teen years, a trait she "inherited from her father."
"People never really got to see my big forehead because I was always making sure my hair covered most of it," she told Newsweek.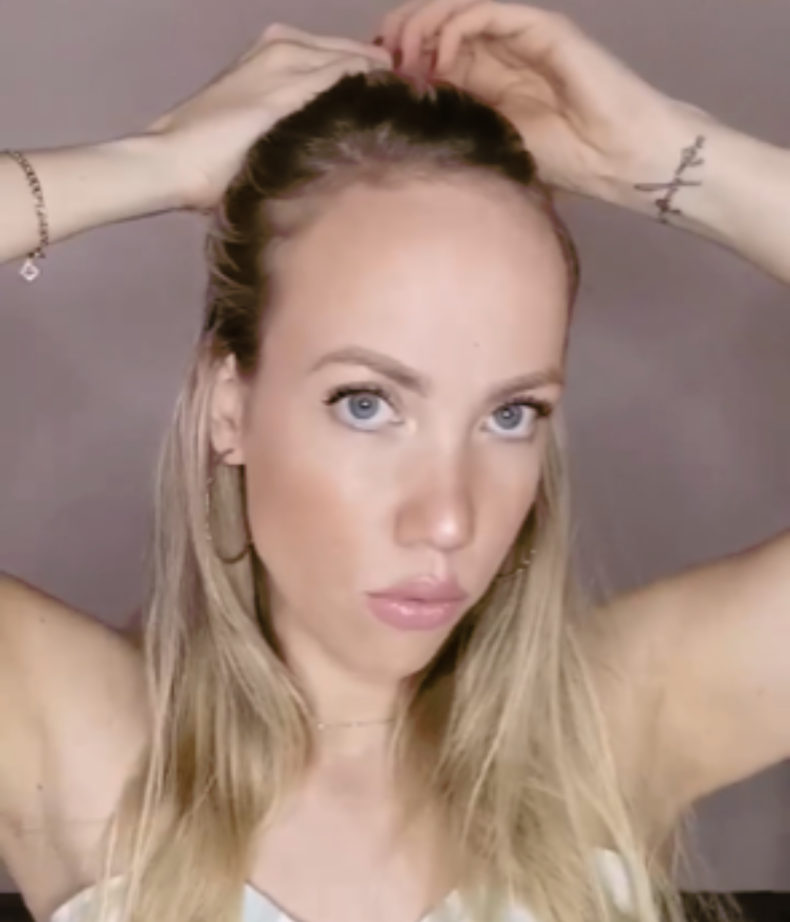 "When I found out it was possible to reduce the size of my forehead with a hair transplant, I immediately contacted a few clinics."
She found a clinic highly experienced in performing hair transplants, and like Kiss, she was awake during the procedure. Although she felt fine physically, the surgery made her emotional.
"The first time I saw myself in the mirror I cried. It wasn't a very pretty sight," she said.
"My head was so swollen that it seemed like my forehead was even bigger than it was before! I was doubting if I made the right choice."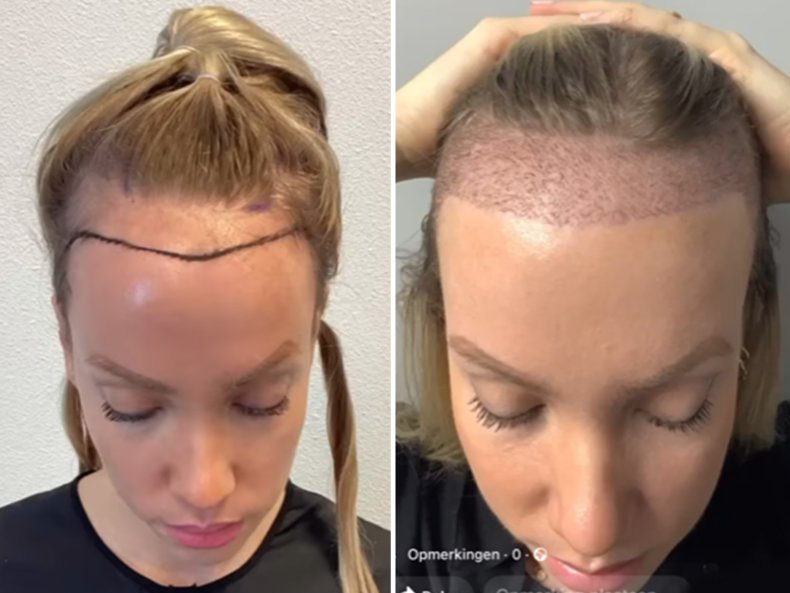 Fortunately, as the swelling began to calm down, van den Berg could see her results more clearly.
"In month three, new hair growth started to show up," she said. "By month four, it [started to grow] really fast."
Now, she loves her new hair. Alongside her role as a management assistant at a pharmaceutical company, she founded BeautyGainz, where she supports women in booking their own procedures in Turkey. She collaborates with two clinics, both of which specialize in hair transplants for women.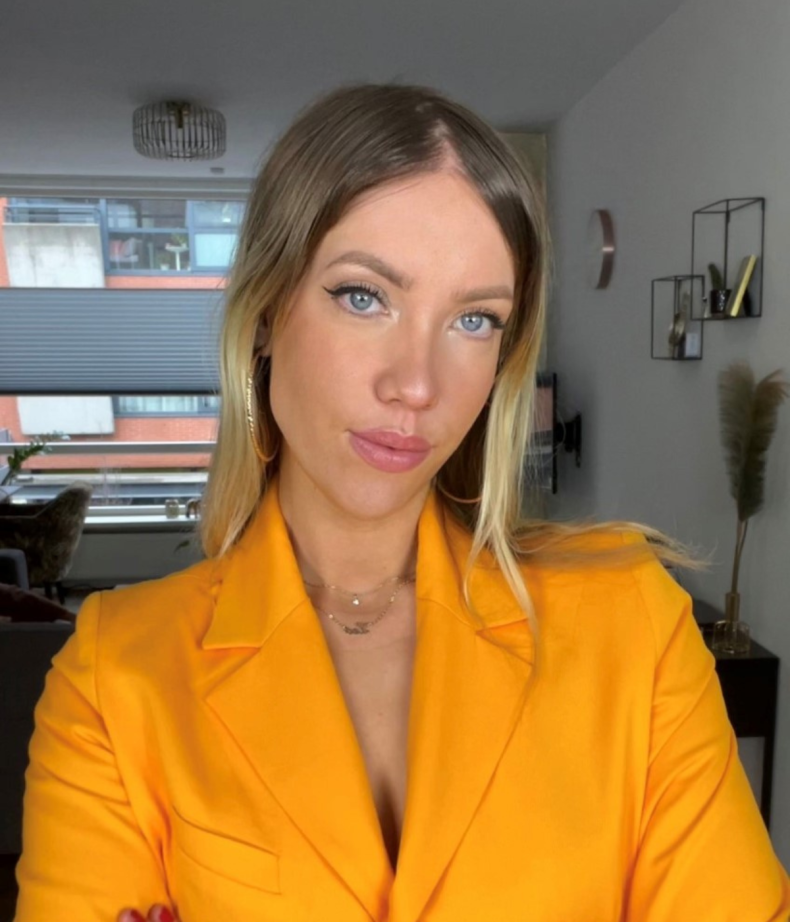 The package includes the maximum number of grafts (as in the U.S. and Europe, patients pay per graft), a platelet-rich plasma session (where a patient's blood is injected into the area to accelerate healing), a post-surgery, a three-night stay in a four or five star hotel, and a 12-month aftercare program.
"I thought, why not use my experience to guide other women who share the same insecurities and problems," she said.
"It's funny that a subtle change can make such a big difference. I wish someone would have told me about hair transplants sooner."