Fentanyl, Cocaine Pills Marked as Tylenol Discovered by Police
A police department in Ohio is warning citizens to be wary of potentially purchasing illegal drugs thought to be over-the-counter medication.
Two suspects, one male and one female, were arrested and charged for multiple crimes in Lorain, Ohio, including drug possession, drug paraphernalia, speeding and tampering with evidence. Drugs collected by police included cocaine and fentanyl. This comes as Maryhaven says Ohio has 200,000 drug addicts within its borders and opioid-related deaths are nearly double the national average.
In a March 22 Facebook post, the Lorain Police Department posted a side-by-side photo of a regular Tylenol pill and also one made to look like the over-the-counter medication but was actually fentanyl.
"We would like to advise the public to always be cautious when handling medication, even if it appears to be over-the-counter medication," police warned.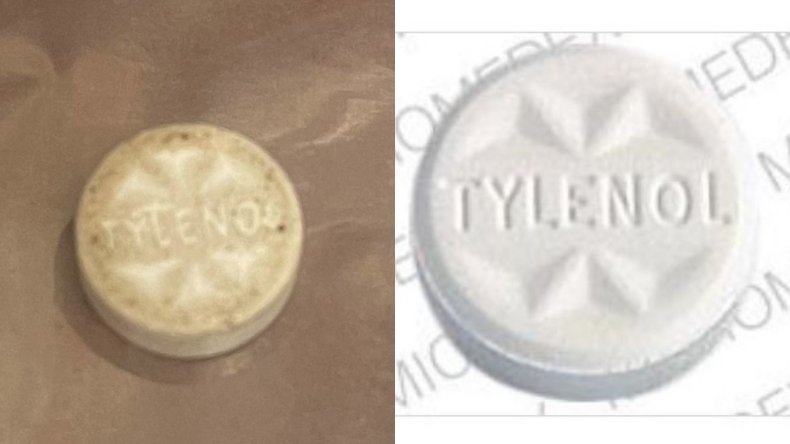 The U.S. Drug Enforcement Administration says fentanyl is a synthetic opioid that's 80-100 times stronger than morphine and added to heroin to increase potency. Overdose deaths often occur when individuals intend to purchase heroin but are unaware they actually bought fentanyl.
A police report obtained by Newsweek showed that Alexander Molina, 36, and Cheyanne Witter, 24, both residents of Lorain, were arrested in the pill seizure on January 20 of this year when two Lorain Police Department officers conducted undercover surveillance on a residence known for drug complaints. A dark-gray Honda Odyssey was tailed near the scene and later pulled over for a traffic stop, with officers reporting that a passenger had thrown an unknown item out of the window.
Another officer conducted an area check and reportedly found a gray zippered bag in the snow. It was collected for evidence.
It was later added at one officer's discretion that he observed the gray bag allegedly containing narcotics thrown out of the window "at a high trajectory towards the top half of the window frame," making him believe that the vehicle's driver, Molina, threw out the contents.
A K-9 narcotics sniff search of the vehicle's exterior conducted by Rye reportedly led to a "positive alert" by the dog in reference to a black knit cap reportedly located in the driver's side door panel. A brown purse located on the floorboard also drew the dog's attention.
A more thorough search of the vehicle by police allegedly led to the discovery of a white pill with the word "Tylenol," as well as the number "325" inscribed on the face, which was located in a purse pocket. In the same pocket, officers allegedly found a small white rock-like substance "immediately recognized to be consistent with crack cocaine."
A field test of the substance tested a presumptive positive for the presence of cocaine, police said. The purse also allegedly contained a small white piece of paper folded numerous times, with a purple rock-like substance inside.
When asked if either of their fingerprints or DNA would be on the narcotics bag thrown out the window, both Molina and Witter reportedly each denied they were responsible.
Evidence collected by police included: 7.9 grams, 11.4 grams and 26.1 grams of cocaine, respectively, all in knotted plastic bags; a digital scale with white powder residue; a gray zippered bag that allegedly contained scale and narcotics; 0.6 grams of a purple-rock substance; one "Tylenol" pill later determined to be fentanyl; a black fixed-blade knife with a tan sheath; and about $15,000 in cash tied together and separated into 11 separate bundles.
Regarding the money, Molina reportedly told police that he and his wife, Keisha, had the $15,000 to purchase a new vehicle.
Keisha Molina, according to police, called authorities on February 2 and said the $15,000 seized during the traffic stop and arrest was her money. She reportedly said she had left the money in the vehicle after going car shopping, but didn't end up buying a car—adding that Molina wasn't working and that the majority of her money was saved from federal government stimulus checks.
In a call with both Alexander and Keisha Molina, they reportedly told police that they received over $20,000 in stimulus checks. But the couple, which has four children, would only receive about $8,400 in government money.
When an officer told Alexander Molina he could get favorable consideration in his case if he provided information and conducted controlled buys from his cocaine supplier, the suspect allegedly handed the phone back to his wife and said "he's not going to snitch."
Fentanyl isn't constrained within the borders of Ohio, obviously. Recently, six cadets from the West Point U.S. Military Academy were hospitalized after reportedly overdosing on fentanyl-laced cocaine while on spring break in Florida. And In California, border patrol agents seized approximately $300,000 worth of methamphetamine and fentanyl pills hidden in a car floorboard.