Ferrari Just Built a Special Project That You Will Never See Again
Ferrari's Special Projects program caters to its most important clients, who don't just want a run-of-the-mill F8 Tributo, 296 or 812. It creates "one-offs," which are unique vehicles built by the Ferrari Styling Center for a single client. The latest is called the SP48 Unica and it's based on the aforementioned F8.
The two-seat supercar uses the same platform as the F8 and the same engine. That means the SP48 works with a 3.9-liter twin-turbocharged V8 making 710 horsepower and 568 pound-feet (lb-ft) torque. That's all fed through a seven-speed dual-clutch transmission with paddle shifters that puts power only to the rear wheels. Top speed is 211 miles per hour (mph).
This Special Project is more the looks. It starts with the redesigned headlights and relocation of the brake air intakes while keeping the arrow-shaped front end. Ferrari says it did a ton of 3D prototyping to perfect the new grille, which looks like one continuous piece.
The roof graphic was another feature that took some creative design. It matches the grille pattern as the color transitions from the dark windshield and black on the roof to the orange across the rest of the body. The pattern repeats at the carbon fiber engine cover under the molded spoiler. The windshield and side windows make a visor shape, which is more pronounced with the lack of a rear window.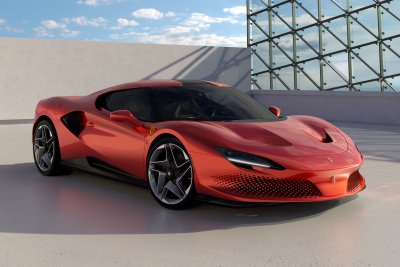 Ferrari keeps that high-strung V8 cool using thermal-fluid-dynamic design that not only delivers the correct amount of cooling to each part, but it also strikes a different aerodynamic balance than the car it is based on. The company says that the biggest changes from the F8 to the SP48 are the air intakes, which are split on the new car.
The company says that every section was optimized for airflow. The new configuration also allowed for intercooler (an extra radiator on turbocharged engines) intakes behind the side windows. Because they were able to catch more air, they could be made smaller. The longer overhang at the rear also improves rear downforce by reducing suction from the roof.
The interior keeps the F8's look, according to Ferrari, though it didn't provide any pictures (but you can see it in the video above). It uses special Alcantara that it perforates with a laser on the seats and trim. Beneath those perforations is a iridescent red/orange fabric that matches the exterior. It features pattern-matching hexagons to link with the roof on the polished door sills and matte carbon fiber in other spots.
As usual, Ferrari didn't list a price for this one-of-one, but the current F8 Tributo costs $267,550, before options. This custom SP48 could have easily doubled that.