Festive Fast Food and Drinks Menus 2021: From Starbucks and Dunkin' to IHOP
Get into the Christmas spirit with some decadent holiday-themed food and beverages. Here we look at some of the latest festive menus on offer from various fast food chains and other eating venues.
Starbucks
Starbucks launched its festive food and drink menus on November 4, which include the new Iced Sugar Cookie Almondmilk Latte, Starbucks' first non-dairy iced holiday coffee beverage.
Available both hot and iced, the new drink was inspired by home-baked holiday cookies and is made with sugar cookie-flavored syrup, Starbucks' Blonde Espresso and creamy almond milk, topped with festive red and green sprinkles.
Other Starbucks holiday drinks include the following:
Toasted White Chocolate Mocha
Caramel Brulee Latte
Chestnut Praline Latte
Irish Cream Cold Brew
Peppermint Mocha
Starbucks Reserve Christmas 2021 coffee (available in select stores)
The Starbucks holiday food menu includes the new Reindeer Cake Pop, as well as the Sugar Plum Cheese Danish, Cranberry Bliss Bar and Snowman Cookie.
Dunkin'
The coffee and doughnut chain has added several new items to its holiday food and drink offerings.
Dunkin' holiday drink menu
Holiday Blend Coffee (new): A blend of Colombian and Ethiopian coffees featuring the seasonal flavor notes of sweet molasses and dried fruit.
Toasted White Chocolate Signature Latte (new): A latte with a creamy white chocolate flavor, topped with whipped cream, caramel drizzle and cinnamon sugar.
White Mocha Hot Chocolate (new): A holiday classic with a twist, featuring "a creamy milk chocolate profile and notes of white chocolate."
Peppermint Mocha Signature Latte: Back by popular demand, the holiday beverage features "warm notes balanced with cooling peppermint" and is topped with whipped cream, mocha drizzle and cocoa powder.
Dunkin' holiday food menu
Cranberry Orange Muffin (new): Available for a limited time, the Cranberry Orange Muffin is made with real cranberries and topped with sanding sugar.
Pancake Minis (new): Dunkin' introduced the new breakfast/snack item "to keep America runnin' through the busiest time of the year." One order comes with six mini pancakes filled with "maple-flavored bits" and a side of syrup.
Chicken, Bacon & Cheese Croissant Stuffers: The returning snack item is stuffed with savory chicken, bacon and Colby Jack cheese and topped with "everything seasoning." They are available at participating Dunkin' locations.
Applebee's
Applebee's festive Sleigh Bell Sips are the latest drinks from its "$5 Mucho Cocktails" offering, which are made with "premium spirits and served in a signature Mucho glass," according to the company.
Customers can enjoy the following two Sleigh Bell Sips drinks:
Tipsy Reindeer: A refreshing vodka lemonade with a cranberry twist, made with Smirnoff Vodka, Ocean Spray Cranberry, cherry and lemonade
Strawberry Merry Swirl: A holiday-themed margarita made with Dwayne "The Rock" Johnson's Teremana Blanco Tequila, melon liqueur, strawberry and lime.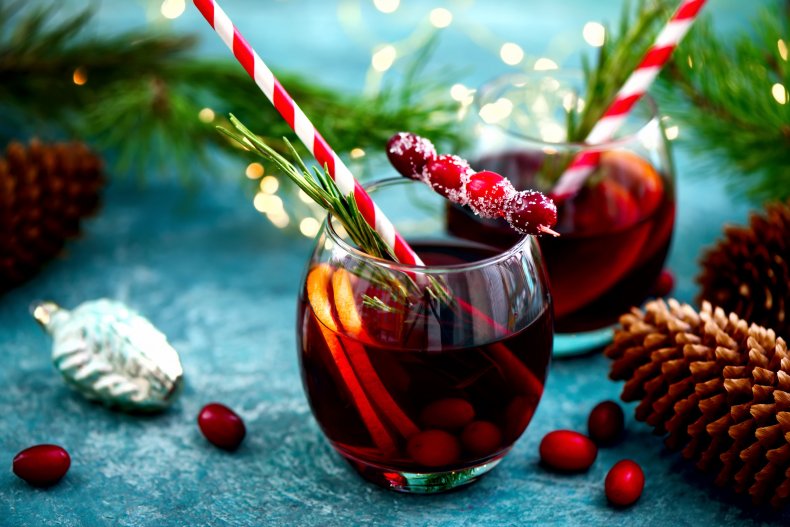 IHOP
The restaurant chain unveiled several new pancakes and other foods for its holiday menu, which is available through January 2, 2022.
Winter Wonderland Pancakes (new): Two buttermilk pancakes topped with a "shimmering blue vanilla swirl" as well as marshmallows and powdered sugar.
Cranberry Vanilla Pancakes (new): Two buttermilk pancakes topped with creamy vanilla bean mousse, cranberry topping, whipped topping and powdered sugar.
Pumpkin Spice Pancakes: Two pancakes made with real pumpkin and seasonal spices and garnished with a creamy whipped topping.
Frozen Hot Chocolate Milkshake (new): Premium vanilla ice cream blended with milk and hot chocolate. Garnished with whipped topping, chocolate drizzle and marshmallows.
Cali Roasted Turkey Melt (new): Roasted turkey breast and hickory-smoked bacon, topped with Wisconsin whole milk cheese, roasted cherry tomatoes, fresh avocado and mayonnaise, served on grilled multi-grain bread with your choice of a side dish.
Winter Wonderland Kids Combo (new): A Winter Wonderland pancake served with one hickory-smoked bacon strip, one pork sausage link and a scrambled egg.
Holiday Celebrations Family Feast (new): Four servings of scrambled eggs and golden hash browns, eight hickory-smoked bacon strips or eight pork sausage links, and eight buttermilk pancakes. The feast comes with vanilla bean mousse, cranberry topping, "shimmering blue vanilla sauce" and marshmallows. The offer, which serves four people, is available for IHOP 'N Go only and isn't available for dine-in.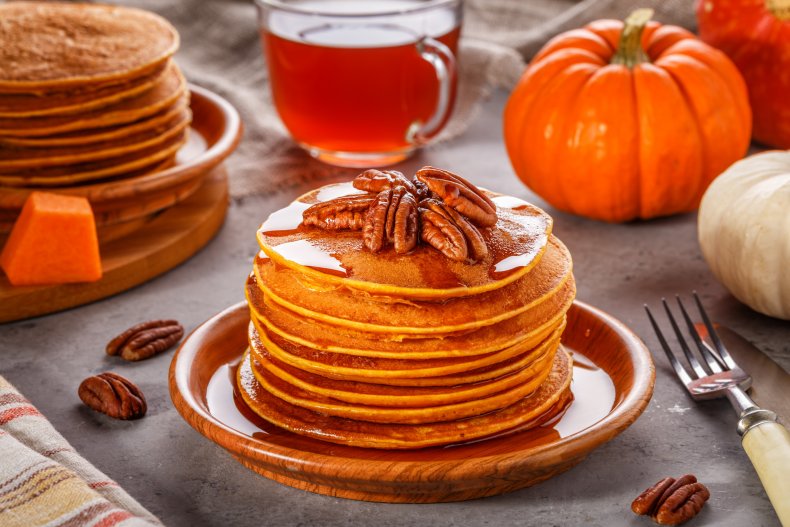 Caribou Coffee
The coffee chain's festival menu, available from November 4, includes the following:
Ho Ho Mint Mocha: A holiday classic made with melted chocolate and steamed milk mixed with espresso and mint flavor, topped with whipped cream and crushed candy canes.
Spicy Mocha: The spicy mix is made with cinnamon, ancho chilies and chipotle peppers as well as chocolate melted into steamed milk and topped with whipped cream and chocolate chips.
Fa La Latte: This creamy drink blends sweet eggnog with espresso, topped with whipped cream and a sprinkle of nutmeg.
Maple Waffle Breakfast Sandwich: Caribou's take on chicken and waffles is made with chicken sausage, gouda and a cage-free egg, served between two maple waffles.
Gingerbread: A classic gingerbread made with a hint of ginger spice and topped with sweet icing.
Peet's Coffee
The coffee chain's festive drinks include the Peppermint Mocha, the Holiday Spice Latte and the Holiday Spice Cold Brew Latte, the company's plant-based twist on a signature favorite.
Au Bon Pain
The bakery chain offers several holiday-themed items such as freshly baked gingerbread and raspberry shortbread cookies as well as lobster corn bisque and its new smoked salmon avocado sandwich.