FDA officials are due to meet next month to discuss the future of the COVID-19 booster dose rollout just as U.S. uptake has waned.
The Vaccines and Related Biological Products Advisory Committee will meet on April 6 to "discuss considerations for use of COVID-19 vaccine booster doses and the process for COVID-19 vaccine strain selection to address current and emerging variants," according to the meeting description on the FDA's advisory committee calendar.
On Thursday last week, vaccine manufacturer Moderna announced that it had submitted a request to the FDA to allow emergency use authorization (EUA) for a fourth COVID-19 dose—or a second booster shot—of its Spikevax vaccine in adults aged 18 and older who have already received one booster of any other authorized COVID-19 vaccine.
It followed a similar announcement from pharmaceutical firm Pfizer, which said on Tuesday that it had applied for an EUA for a second booster dose for adults aged 65 or older who had already had one.
Pfizer said it was making its request based on data from Israel which it said showed that an additional booster shot "lowers rates of confirmed infections and severe illness."
It is unclear whether these applications will be discussed in the FDA committee meeting next month.
It comes as less than half of the adult U.S. population have received a booster vaccine to help protect them against COVID-19. According to data from the Centers for Disease Control and Prevention (CDC), 48 percent of the population aged 18 or above have had a booster shot.
This compares to more than three quarters of the adult population who have had two shots (or one shot of a single-dose vaccine)—which the CDC still considers to be the definition of "fully vaccinated" in the context of its data tracker. Data shows 75.3 percent of the population aged 18 or over are fully-vaccinated.
Meanwhile, more than ten percent of the adult U.S. population have not received any COVID-19 vaccine at all.
The amount of people getting vaccinated in the U.S. has slowed to a crawl after an initial surge through the first half of 2021 that saw more than half the country get fully vaccinated.
So far through 2022 the percentage of the population getting fully vaccinated has barely increased, according to official data collated by Our World in Data.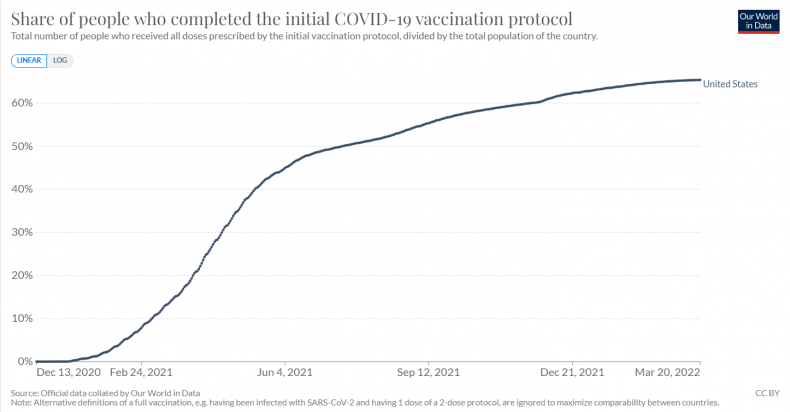 "It is very much slow gains from here on out," Rupali Limaye, an associate scientist who studies vaccine messaging at the Johns Hopkins Bloomberg School of Public Health, told The New York Times this week.
The lull in vaccine uptake is despite the huge Omicron wave over winter which saw daily U.S. cases rise to record highs.
Although that wave appears to have passed in the U.S., experts have noted a sharp increase in the proportion of the Omicron sub-variant BA.2 in U.S. COVID samples while COVID-19 cases are on the increase in a number of European countries, such as the U.K., France, and Italy.