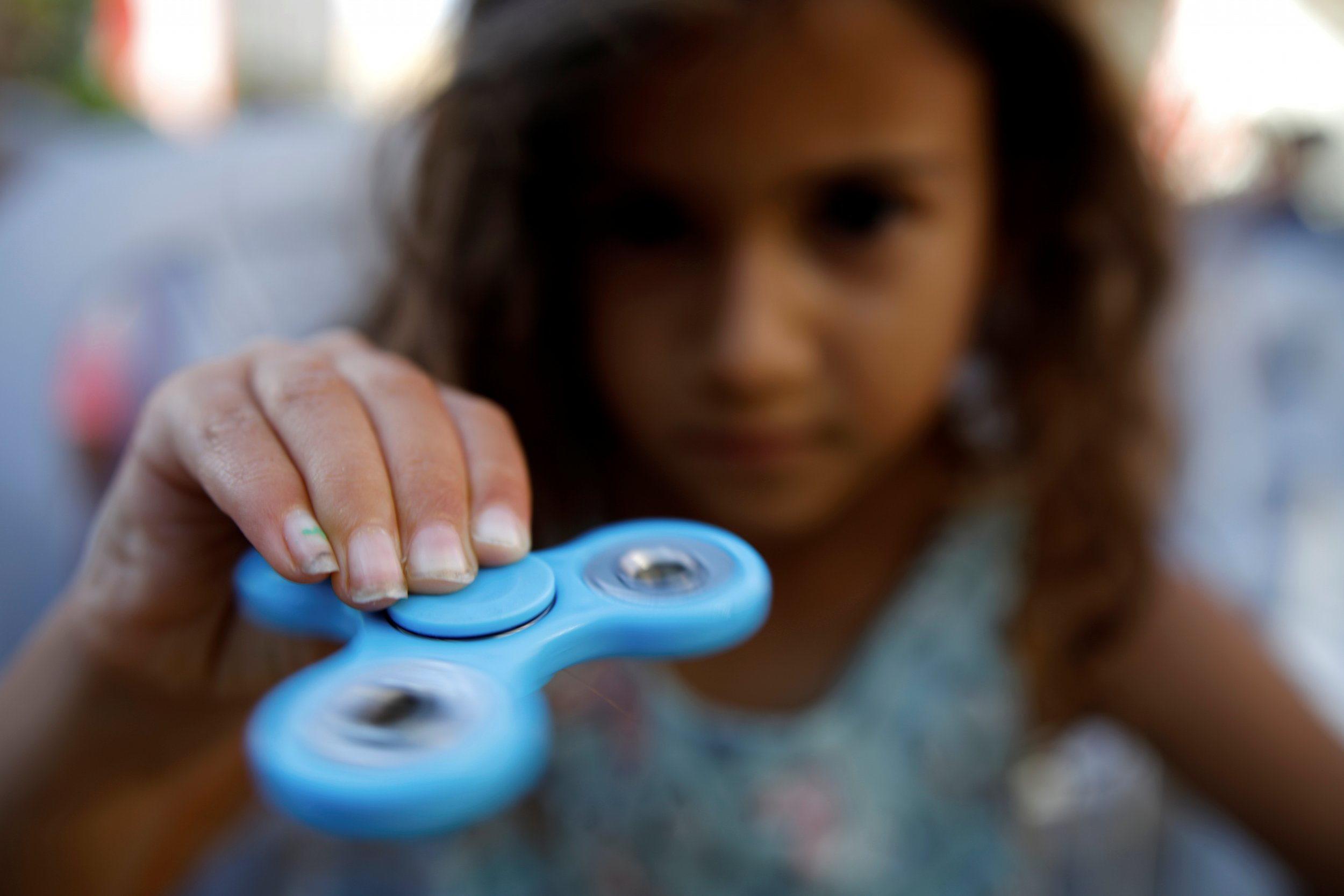 Unless you've been living under a rock for the past month—and man, if you have, we are jealous—you've probably seen a fidget spinner. The small stress-relieving toys are popping up essentially everywhere, making appearances on the subway, in classrooms and now in hospitals.
Kelly Rose Joniec, a mom in Houston, went viral this week after posting a lengthy Facebook status about having to take her young daughter to the emergency room after the girl swallowed part of her fidget spinner. Britton, age 10, had put a metal piece of her fidget spinner in her mouth to clean it, and it went down her throat.
Related: Do fidget spinners help anxiety and ADHD? Experts are skeptical
Joniec and Britton took an ambulance to the Texas Children's Hospital, where an X-ray revealed the part—called a bushing—was stuck in her esophagus. The girl had to have surgery to "endoscopically locate and remove the object," which was about the size of a quarter, as her mom shared on Facebook.
"Fortunately we had a positive outcome, but it was pretty scary there for a while...not only because of the initial ingestion, but then the concern about the composition and structure of the object, and finally, the risk with general anesthesia," Joniec wrote. "From this I wish to offer some word of caution to parents. Fidget spinners are the current craze so they are widely distributed. Kids of all ages may be getting them, but not all spinners come with age-appropriate warnings."
Britton is recovering, as her family told CNN in a statement, but her medical emergency could be yet another blow to the still-spreading fidget spinner trend. The toys, designed to help with children's attention deficit hyperactivity disorder, have been banned from schools across the country, as doctors have expressed skepticism about whether they actually aid in reducing anxiety and restlessness.
"They're not FDA-approved, so there's no regulation in terms of how they're being made," pediatrician James DuRant told WCNC. "You don't know where they're being made or the conditions they're being made in, so you really don't know exactly what you're getting when you're getting these toys."
Britton's injury isn't the first to result from fidget spinner use.
An 11-year-old in Australia got an eye wound earlier this month when he threw his toy into the air and missed catching it, according to Kidspot. Romper pointed out that there are dozens of YouTube videos of gruesome fidget spinner injuries.
The backlash has been swift: In Florida, a middle school reportedly took away a boy's fidget spinner because it had three points, like a throwing star weapon. A school in Scotland, meanwhile, sent out a memo telling students to leave the gadgets at home because "if they were to be thrown they could really hurt someone."